The DU Magazine is a bi-monthly magazine that provides in-depth articles on a variety of topics related to waterfowl, wetlands, conservation, and outdoor recreation. The magazine also features stunning photography that showcases the beauty of waterfowl and their habitats. Each issue of the DU Magazine includes updates on the latest conservation efforts and issues affecting waterfowl and wetlands, as well as profiles of people who are making a difference in the world of conservation. The magazine is a must have for anyone who is passionate about waterfowl and the outdoors.
Not receiving this magazine?
---
November/December 2023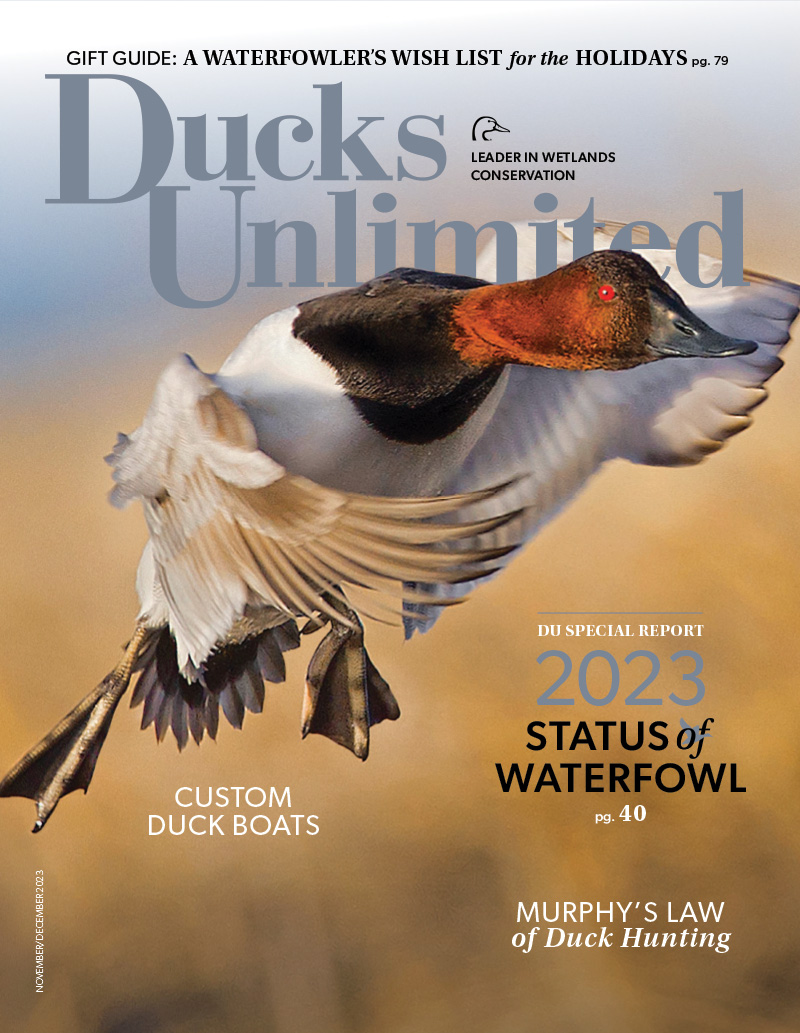 On the Cover: This stunning close-up of a bull canvasback was captured by frequent DU contributor Tom Martineau.
---
Contents: Vol. 87, No. 6
Features
This year's waterfowl survey results reflected variable weather and habitat condition on key breeding areas across the continent
by Mike Brasher, PhD; Dan Smith, PhD; and John Coluccy, PhD
Varying in size, shape, and functionality, these specialized watercraft have one thing in common—they help you get to where the birds are
by Chris Jennings
If Murphy had been a waterfowler, how might he have applied hsi famous law to the quirky, ironic, and sometimes absurd principles that seem to govern our experiences in the marsh?
by Brian Haines
A master decoy carver and creator of painstakingly accurate scale models and dioramas, Tom Boozer is keeping history alive from his workshop in South Carolina's Lowcountry
by T. Edward Nickens
An executive summary of DU's financial and conservation accomplishments during the past fiscal year
by Ducks Unlimited
Find the perfect present for the waterfowl hunter on your list
by Chris Jennings
---
Contents: In Every Issue
Mixed Bag
The Ultimate Resource for Today's Waterfowlers
Essential knowledge for hunters headed to the flooded woods
by Phil Bourjaily
Concealment tips for mobile hunters
by Bill Buckley
Untreated dental problems in dogs can sometimes lead to more serious health issues
by Tom Davis
Practical presents for duck hunters
by Chris Jennings
Sauces made with these tart berries are an excellent accompaniment to wild game any time of year
by Scott Leysath
Between getting skunked and getting a limit, there's a lot to appreciate about a duck hunt
by T. Edward Nickens
No matter your age of physical condition, the marsh is only a memory away
by Antoinette C. Wetzel
---
The Mission
Filling the Skies with Waterfowl Today, Tomorrow, and Forever
In Alaska, a warming climate is having profound impacts on waterfowl and their habitats
by Mark Lindberg, PhD
Livestock producers are among DU's most important conservation partners
by Jennifer Boudart
An overview of wetland conditions on key migration and wintering areas
by DU Field Biologists
---