The DU Magazine is a bi-monthly magazine that provides in-depth articles on a variety of topics related to waterfowl, wetlands, conservation, and outdoor recreation. The magazine also features stunning photography that showcases the beauty of waterfowl and their habitats. Each issue of the DU Magazine includes updates on the latest conservation efforts and issues affecting waterfowl and wetlands, as well as profiles of people who are making a difference in the world of conservation. The magazine is a must have for anyone who is passionate about waterfowl and the outdoors.
Not receiving this magazine?
---
September/October 2023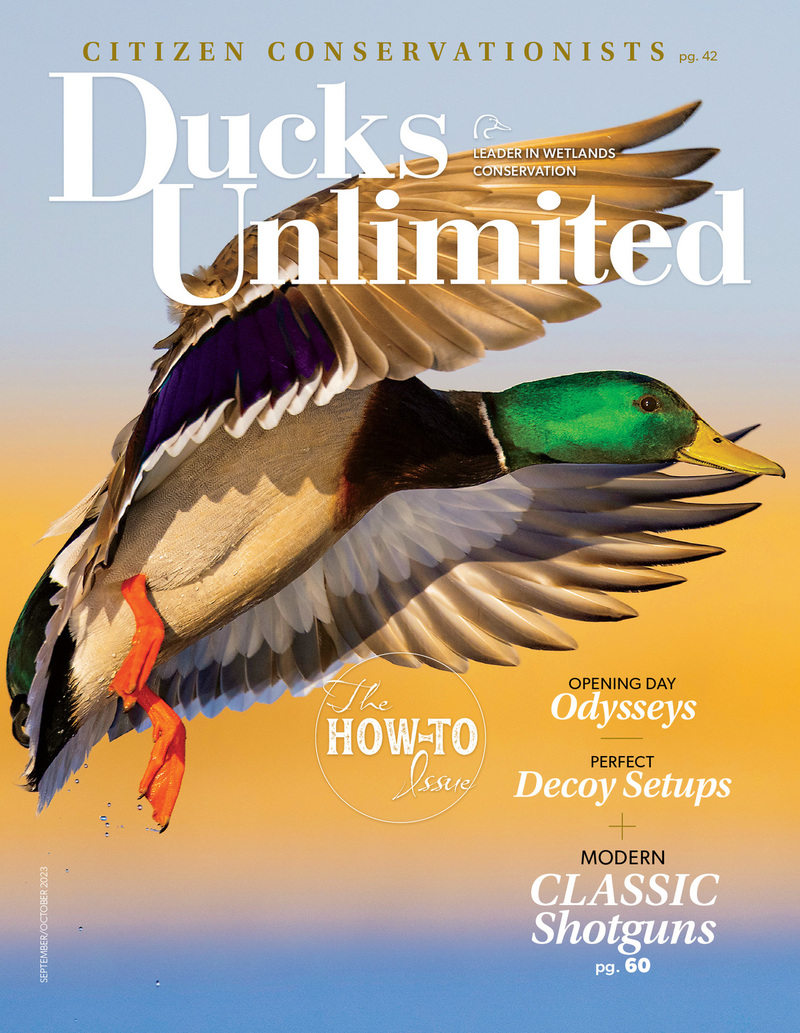 On the Cover: Steve Oehlenschlager captured this spectacular image of a drake mallard during a South Dakota spring photo shoot.
---
Contents: Vol. 87, No. 5
Features
In Minnesota's Prairie Pothole Country, a dedicated group of waterfowlers are bringing back long-lost wetlands
by Eric Keszler
It's the most anticipated day of the year . . . and often the most memorable too
by T. Edward Nickens
DU's Gun of the Year program has been going strong for half a century. Here's a look at some of the most memorable shotguns in the collection
by Phil Bourjaily
Blind Faith
Veteran waterfowlers discuss their favorite blinds and what makes them so effective
by Hampton Bourne
Five Perfect Setups
You can't miss with these deadly decoy spreads designed for classic waterfowl habitats
by Phil Bourjaily
Sage advice to help you prepare for the opportunities and challenges of hunting in your golden years
by T. Edward Nickens
A pilgrimage to the legendary hunting grounds of the Old Duck Hunters' Association, Inc.
by Keith R. Crowley
---
Contents: In Every Issue
Mixed Bag
The Ultimate Resource for Today's Waterfowlers
New nontoxic loads have made 20- and 28-gauge shotguns increasingly popular among waterfowlers
by Phil Bourjaily
Stuffers just might be the most effective goose decoys ever devised
by Bill Buckley
Finding and retrieving crippled birds is a duck dog's most valuable skill
by Tom Davis
Fall is here, and this collection of new products will help you get ready for opening day
by Chris Jennings
You only need a few ingredients and some basic cooking skills to create this mouth watering dish
by Scott Leysath
Hunting with an aging retriever can be simultaneously joyous and heartbreaking
by T. Edward Nickens
---
The Mission
Filling the Skies with Waterfowl Today, Tomorrow, and Forever
Scientists are relying on cell phone technology to better understand waterfowl migration and habitat use
by Joe Genzel
Wetlands play a vital role in conserving and managing California's precious water resources
by Jennifer Boudart
Wetland conditions were variable this year across the Prairie Pothole Region and other key breeding areas
by DU Field Biologists
---