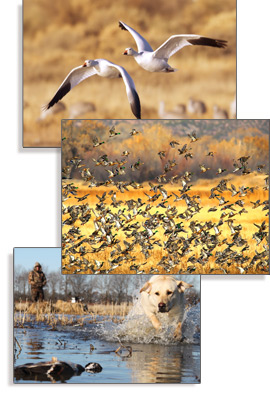 Evidently, more and more waterfowl hunters are packing cameras along with shotguns these days. In this, the third annual Ducks Unlimited magazine photo contest, the number of entrants was more than double that of our initial competition. That's a good thing. Memories are being preserved, perhaps at a record rate, thanks to the ease and affordability of digital photography. Camera mobility also plays a role in this merging of modern technology with outdoor tradition.

This year's flood of entries ran the gamut—covering all aspects of our nation's proud waterfowling heritage. Some photographers focused on the birds, a number captured in-the-field hunting settings, and others celebrated retrievers of all breeds. The mix was refreshing. Through these photos, contestants share their experiences with like-minded individuals who also treasure time spent in the marsh. These are their stories, in pictures.

Photos by Richard Curtin, Russ Verbofsky & Mark Cunningham Jr.
Best Overall Winner
Russ Verbofsky
Russ Verbofsky, an occasional hunter, takes a couple of trips each year to places where his camera is by far the most important piece of accompanying gear. Bosque del Apache National Wildlife Refuge, which covers more than 57,000 acres in Socorro County, New Mexico, is one of his favorite haunts. "It's a known migration funnel for waterfowl," Verbofsky says. "We were there for a week and saw flocks of ducks, like in this photo, almost continuously in the morning and afternoon."

The refuge is known to host nearly 400 bird species. Tens of thousands of birds winter there. Verbofsky favors pintails, but was notably impressed by the huge numbers of mallards present on a special November day. "I just love being outdoors," Verbofsky says. "And I love being able to bring it to people through photography. Being able to show people what great things we have in this world is my high."

Best Overall Runner-Up
Jeff Gudenkauf
Waterfowl Hunting Winner
Doug Frey
When Doug Frey volunteered to help out with a California youth duck hunt in February, he took a camera along just in case. His foresight paid off. Frey captured this moment early one morning on Humboldt Bay. In case you are wondering, the fold-up plywood blind is standard equipment while hunting Pacific brant in this tidal area.

California youth hunts are held each year after the regular waterfowl season ends. "Hunts like these give youngsters who might not have the opportunity a chance to get out and see what it's all about," Frey says. "There were four youths in the blind and two adults, who kept an eye on them and for safety purposes. It was a beautiful morning, and those youngsters got their birds."

Waterfowl Hunting Runner-Up
Adam Rothermich
Retrievers Winner
Mark Cunningham Jr.
When a pintail drake fell to the gun and filled out the bag limit on the final day of the Mississippi waterfowl season, Mark Cunningham Jr. was ready. "I had bought a camera just for taking pictures during duck season," Cunningham says. "That was the last duck of the day so I got the camera and told the guys to let me get out of my layout blind and get a picture of the dog retrieving that duck."

Gauge, the yellow Labrador retriever pictured, is Cunningham's father's dog. Cunningham Sr. is depicted in the background awaiting Gauge's return with the bird. The photo was taken at Wild Wings Hunting Club near Crenshaw. "I got the camera low on the water, and that's the way it turned out," Cunningham says. "Next season, I'm going to put more time into taking photos."

Retrievers Runner-Up
Zach Cunningham
Waterfowl Winner
Richard Curtin
Watching a large flock of snow geese take off en masse can be breathtaking. Capturing a pair via telephoto lens up close and personal is even more dramatic. Richard Curtin rose early to photograph these snow geese at Bosque del Apache National Wildlife Refuge in New Mexico.

"There are sometimes 30,000 to 40,000 snow geese on the refuge during fall and winter," Curtin says. "These were taking off and coming right toward me. I love Bosque—it's the main place I go to photograph birds." Three years ago, Curtin volunteered to clear brush at the refuge to create open spaces for would-be photographers. "I was talking with refuge staff and they told me how much work Ducks Unlimited had done at the refuge. I joined DU shortly after that."

Waterfowl Runner-Up
Joe Subolefsky