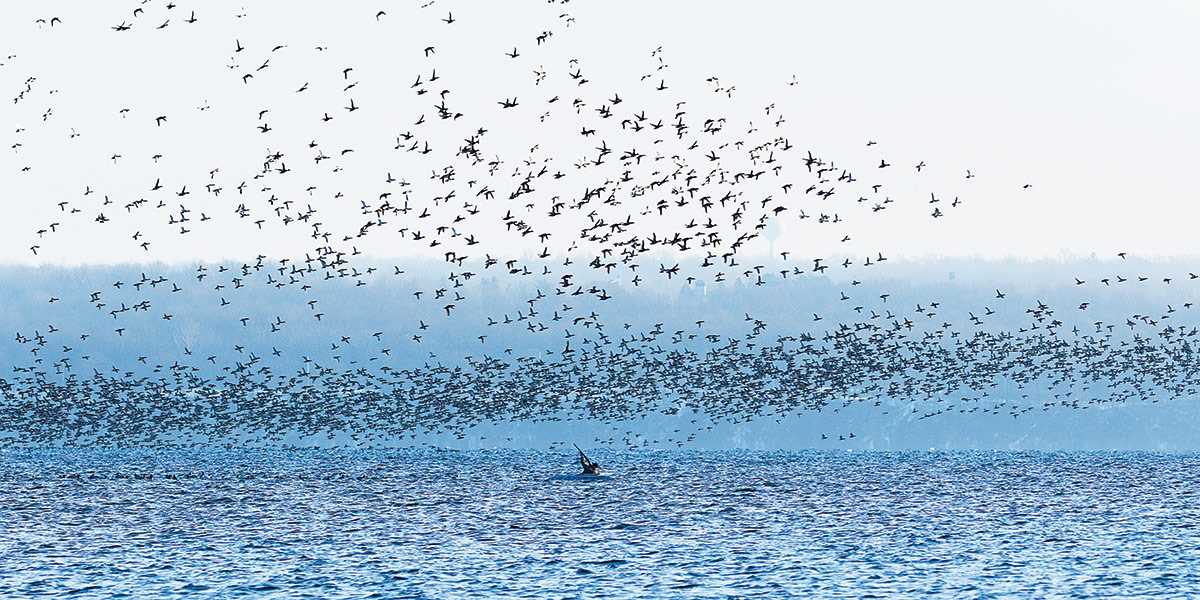 OVERALL WINNER
STEVE LESSEL
Bethlehem, Pennsylvania
This year's overall winner, Steve Lessel, was born and raised in Pennsylvania's Lehigh Valley. Now 53, he still resides in the area, working as a residential and commercial electrician. He became involved with Ducks Unlimited about 20 years ago, but his passion for the outdoors began long before.
"I started out deer hunting with my uncle, but it was my best friend in high school, Brett Wirth, and his father, Dennis, who really introduced me to hunting and fishing," Lessel says. "Dennis was my mentor growing up and took me out hunting for many years."
In 1996, another friend took Lessel to the New Jersey shore for his first waterfowl hunt. This area is a prime location for Atlantic Flyway waterfowl and an epicenter of DU's habitat conservation work on the East Coast. After that trip, Lessel was hooked on ducks.
It was also in the late '90s that Lessel's love of photography gained steam. "I started out taking pictures as a teen with a 110 point-and-shoot, but when my aunt gave me a film camera with a 400 mm lens, I started taking it more seriously," he recalls. "I got my first DSLR in 2008 and now my camera is with me on just about every duck hunting trip."
Lessel also takes trips exclusively to shoot photos, traveling to other neighboring states such as Delaware, Maryland, and New York in addition to New Jersey. He captured this year's winning image in New York's Finger Lakes region, an area he visits once or twice per year.
"Redheads tend to raft up out on the open water, where it's extremely deep, and then they'll all get up together and shift down the lake a mile or two. Those large flocks don't really work the decoys, but it's thrilling to see," Lessel says. "My friend John Hoefen was in the layout boat while another friend and I were in the tender boat about a quarter mile away. I know a lot of people would look at this photo and think, 'How could he miss?' But most of those birds were actually another quarter mile past him, so it was hard to get a shot. Even though he didn't bag any birds in that flock, John still encouraged me to enter the photo in the contest."
WATERFOWL WINNER
AUSTIN MOFFET
Loveland, Colorado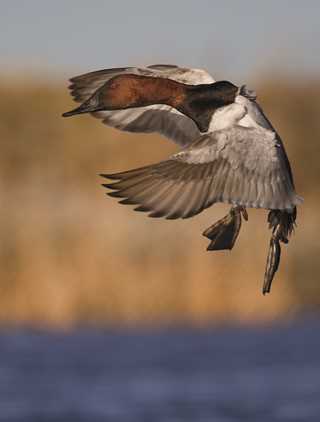 While many waterfowlers get a taste for this time-honored tradition at the side of a fellow duck hunter, Austin Moffet got his thanks to his grandfather, Jim, who was an avid angler.
"My grandfather was a member of a fishing club lake and a lifelong fisherman. I shot my first duck over that lake," says Moffet, 27. "I never got into fishing like he was, but his love of the sport and the outdoors was what got me into waterfowl hunting."
Moffet's passion for duck hunting only grew from there. Today, he and a tight-knit group of friends travel each waterfowl season from Colorado to neighboring states and up to Canada in pursuit of ducks and geese.
"We take one or two trips to Saskatchewan every year and several to Kansas and Nebraska," Moffet says. "The hunting pressure on Colorado's Front Range has gotten really intense over the last 10 years, so we tend to travel to find ducks and geese."
But Moffet still has ducks on his mind when he returns to the Front Range in the spring. "I'm a duck hunter first, so I don't take my camera on hunts, but when the season ends, I spend the spring photographing waterfowl closer to home," he explains. "We see everything from cinnamon teal to pintails to canvasbacks—pretty much anything that comes down the Central Flyway shows up on the Front Range. Last spring, I saw four different hybrid combinations and a Eurasian wigeon."
Moffet captured his winning submission of a landing drake canvasback on Wellington State Wildlife Area, north of Fort Collins. He remembers it as a landmark day for his photography. "The ice was just coming off and the pond was about halfway open. Before that day I'd never really gotten a good picture of a canvasback," he says. "I was excited to see 30 or 40 drakes on the pond. I tucked myself into the weeds and got several really good shots of them."
WATERFOWL RUNNER-UP
LINDA GRENZER
Tomahawk, Wisconsin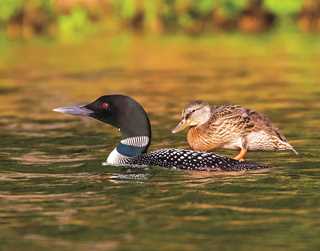 WATERFOWL HUNTING WINNER
ANDREW PRUISMANN
Surprise, Arizona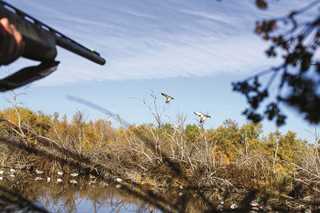 Sometimes scouting mixed with a little good luck can result in the best hunts. That's how it was for Andrew Pruismann and his friends, Britt Morris and Matt Cronk, on their way north this past fall for an early-season hunt in Canada.
"On the drive up, we happened to see a bunch of waterfowl off in the distance. We told each other we were going to stop on the way back and check it out," Pruismann recalls. "The birds were on public land near St. George, Utah. We planned a trip and went back there in November."
It was on this adventure that Pruismann captured his winning photo. "In addition to the wigeon, we shot a snow goose that day, which is rare for us. We also had three drake pintails come in and we each got one. We thought it might be a good area, so we took a chance, and it ended up being awesome."
Pruismann, 31, grew up in the suburbs of Des Moines, Iowa, and took to hunting at a young age. His uncle Jeff was an avid outdoorsman and, although he passed away when Pruismann was young, his legacy lived on through his nephew. "I remember seeing deer heads hanging up in his shop," Pruismann says. "Every year when the Cabela's catalog would come, I'd read it cover to cover. Even though my parents weren't hunters, I think they knew from early on that I would be."
Pruismann took up deer hunting around age 10, then moved on to upland birds and waterfowl in the years that followed. Although his current home outside Phoenix is surrounded by desert, his passion for waterfowl hasn't suffered a bit.
When he isn't busy with his job as a nuclear reactor service technician, he and his friends hunt nearby public and private land throughout the waterfowl season, as well as venturing north. Living and hunting in that region has also shown Pruismann the importance of supporting wetlands conservation.
"Out here water conservation is everything. Anything we can do to help with that effort is important," Pruismann says. "What I like most about Ducks Unlimited is the habitat management efforts, all the moist-soil management work that goes in during the off-season to keep wetlands healthy so we'll keep seeing ducks every year. I also like to see my dollars going to the breeding grounds up north, where there's bigger potential to impact the waterfowl populations that we see down here every year."
WATERFOWL HUNTING RUNNER-UP
RICHIE BLUE
Brooklandville, Maryland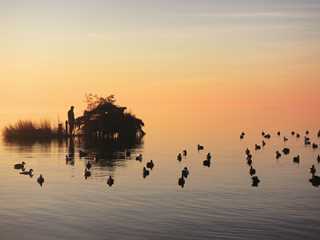 RETRIEVERS WINNER
EDWARD WALL
Brandon, Mississippi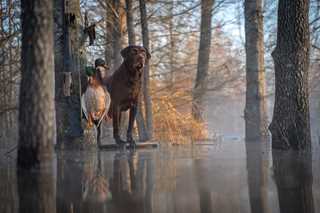 What began as a photography hobby six years ago has now turned into a career for DU volunteer and Bronze Sponsor Edward Wall. As the owner of Wall Media, he provides photography, videography, and other content creation services for outdoor companies as well as other businesses near his home in Brandon, Mississippi. Fortunately, this venture allows Wall's passion for waterfowling to be front and center in his career, as he demonstrated in his largest project of 2019, a five-episode video series called Lost Brake.
"I partnered with Mossy Oak and their streaming service, Mossy Oak GO, to produce Lost Brake, which centers on a 1,200-acre island in the Mississippi River owned by my good friends, Harrison Gregory III and Brooks Tinsley," says Wall, 38. "I shot the series myself, edited and produced it, and it's gotten a great response. We plan to film season two during the 2020–21 duck season."
For Wall, one of the highlights of shooting Lost Brake was the youth hunt featured in episode two. "The three guys I profiled in the series all have kids, and they came out for youth weekend," he says. "Harrison's son, Harrison IV, is three and it was his first duck hunt. It was neat to be able to capture that and know that in just a couple of years I'm going to be able to take my son, Jett, out to do the same thing."
Although Wall stays busy with his thriving business and young family, he makes sure to enter the DU photo contest every year. Regular readers may remember Wall's name from the 2018 and 2019 contests, in which he earned the titles of Retrievers Winner and Overall Winner, respectively. This year he returns to the top of the Retrievers category with another great shot of his award-winning chocolate Lab, Diche.
"It was the one day during the season that we hunted my friend Dillon DeWeese's property in Holcomb, Mississippi, the same spot I photographed Diche in 2018," Wall says. "It was a real sunny day and the colors came out so perfect. My friends joke that Diche is the most photographed dog in the world. He's a great subject."
While Wall says he usually agonizes over which photos to submit for the contest, this year was easier. "I usually send several photos to the guys I hunt with and photographer friends to have them pick their top three. But this was my best year ever from a photography standpoint, and there were three images that stood out to me from the start," he says. "Having my photos printed in DU magazine has always been one of my biggest goals as a photographer, and I'm honored to have been able to do it three years in a row."
RETRIEVERS RUNNER-UP
LUKE MOCHERMAN
Louisville, Kentucky