By Chris Jennings
Senior Editor of Ducks Unlimited magazine
OVERALL CATEGORY
Randy Shipley
Medford, Oregon
Randy Shipley is a lifelong waterfowler who picked up a camera roughly 12 years ago to extend his waterfowl season. Last year he traveled from his home in Oregon to visit one of his bucket-list waterfowl migration and wintering destinations—Bosque del Apache National Wildlife Refuge near San Antonio, New Mexico.
"I sat at the edge of a pond for four or five hours, taking pictures of a wide variety of species," Shipley said. "I photographed snow geese, American wigeon, northern pintails, mallards, and several other species. I probably shot thousands of photos that day. Once you really get into photographing waterfowl, you quickly realize it's actually easier to get them into shotgun range than to get perfect images with a camera."
Shipley was so focused on trying to frame up waterfowl in flight that he admits that he was a bit surprised when he discovered the image of a double-banded northern pintail while reviewing photos on his camera after the shoot.
"I was shocked. Pintails in flight are my favorite birds to photograph, but they are also very difficult to get just right in terms of frame and focus," Shipley said. "I knew this shot was pretty special when I saw the double bands, and I was very proud of this image and the entire sequence. I highly recommend all waterfowl hunters try photography. There are no limits, no seasons, and it becomes a year-round pursuit. It's just tough on the dog," he added with a laugh.
As Shipley reviewed the rest of the images from that day, he discovered several other photos of banded birds. "It was very noticeable as I went through the pictures," he said. "There were mallards, teal, and geese with bands, which was interesting to see. But that pintail was the only double-banded duck."
Equipment: Nikon D500 and 600X lens with a 1.4 teleconverter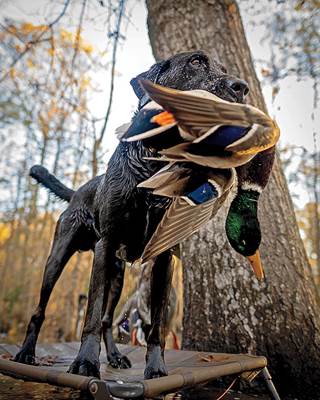 Runner-Up
Austin Ross
Shreveport, Louisiana
WATERFOWL CATEGORY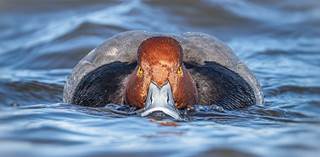 Heather Orkis
Townsend, Delaware
Heather Orkis has been an avid photographer for 10 years, and waterfowl are her favorite subjects. She isn't a hunter, but she gets tips on the locations of large concentrations of ducks and geese from friends who hunt.
Orkis and her husband were on their way to lunch at their favorite restaurant last January, but when they arrived they discovered it was closed. Luckily, she had brought her camera gear along, so they decided to check one of her favorite places to photograph waterfowl along Maryland's Choptank River. She wasn't upset about missing lunch when she saw all the ducks.
"It was high tide, and I walked down to the water and immediately saw bluebills, canvasbacks, and wigeons," Orkis said. "This redhead drake had a hen behind him, and another drake was coming right at him, so he started driving the other drake away. Of course, I didn't bring my waders, because we were only planning to have lunch, but I laid down in the water to take the shot anyway."
Soaking wet and cold, she raced back to the truck. She had a feeling she had taken a great photo but wasn't able to check her camera until she got back inside the cab.
"As soon as I saw that I got it, I was so excited," Orkis said. "I was on a high from this one photo for six months. I even made greeting cards with it. The other part of that day that I'll never forget was trying to get warm in the truck on the way home."
Equipment: Sony a7R IV and Sigma 60x600 lens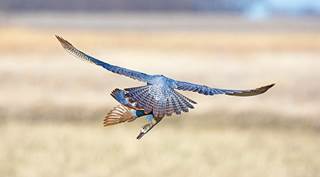 Runner-Up
Carter DeNeui
Chokio, Minnesota
WATERFOWL HUNTING CATEGORY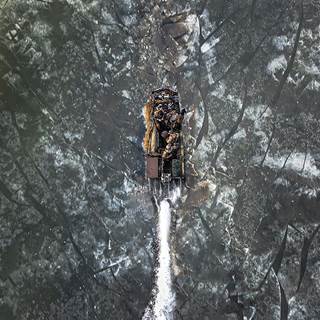 Jake Birrenkott
Madison, Wisconsin
Jake Birrenkott grew up an avid deer hunter, but several years ago, while he was attending college, he went on his first duck hunt and fell in love with the social aspects of waterfowling. After that experience, he dove into the sport headfirst, and he now trains retrievers on the side. Recently, he began capturing drone images of his hunts and retriever training sessions.
Birrenkott explained that on a typical hunt, he runs the boat and handles the dog, so he usually doesn't have an opportunity to focus on photography. On the day he captured this winning image, however, he hunted from his friend's boat, so he brought the drone along, knowing that he would get a chance to use it.
"Using a drone is a fun way to capture different angles that you don't normally get to see," he said. "This was actually a perfect representation of how we hunt out of the boat."
Birrenkott explained that they had to break ice on the way to their hunting area, and as they headed out for the day, he used the drone to capture this spectacular shot. "It was just a perfect day all around," he said. "The image does a good job of capturing the elements that waterfowlers face. It's cold, windy, icy. I had a couple of my good friends and the dog I've been training in the boat, and we had a good hunt. It was special to capture all of that."
Equipment: DJI Mavic Air 2 drone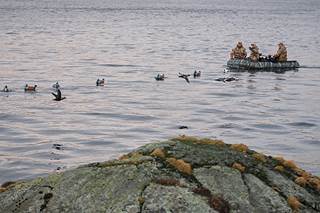 Runner-Up
Chad Fix
Lino Lakes, Minnesota
RETRIEVER CATEGORY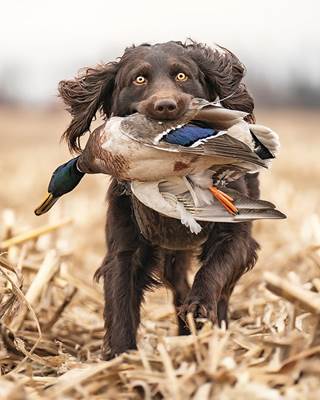 Matthew Hicks
Arcanum, Ohio
After returning from an Arkansas waterfowling trip, Matthew Hicks and his hunting partners learned that a cold snap had pushed a good number of ducks into their local hunting spot. The trio headed out to hunt, and Hicks, owner of Last Flight Calls, grabbed his camera to capture some images for his website. Ideal mid-January conditions for west-central Ohio led to a good shoot, and that's when Hicks shot the winning photo of his cousin's Boykin spaniel, Clyde, retrieving a fat mallard drake.
"I typically shoot pictures on almost every hunt and use them for our website and for external advertising," he said. "This day was no exception, and I just happened to catch this image at the right time."
Hicks knew he had a great photo as soon as he pressed the shutter release. "This was one of the better shots that I took all season," he said. "The way he was holding the duck, the way his eyes are truly the focal point and really jump out—it's one of those moments we see a lot, but they are hard to get with a camera."
Equipment: Sony a7R III and Tamaron 70x180 2.8 lens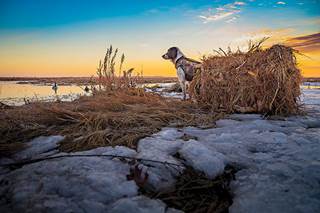 Runner-Up
Seth Tremblay
Wolfeboro, New Hampshire
HONORABLE MENTIONS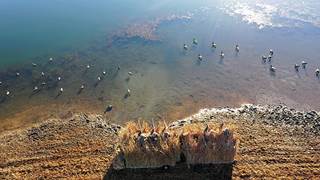 JUSTIN DEYOUNG Groves, Texas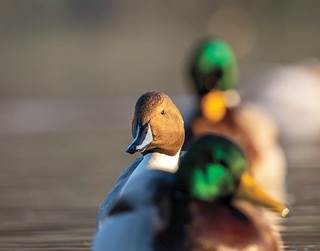 GABE JONES Dallas, Texas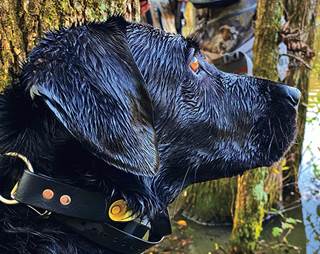 DOUG MCNEELY Little Rock, Arkansas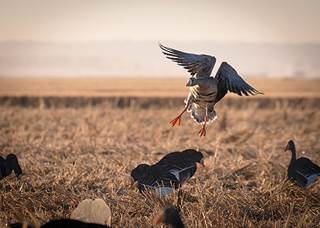 ANTHONY POZZI Troy, Missouri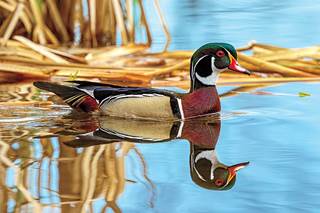 PEGGY FLORY Maumee, Ohio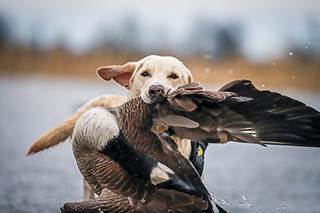 JEFF CAMMON St. Louis, Missouri