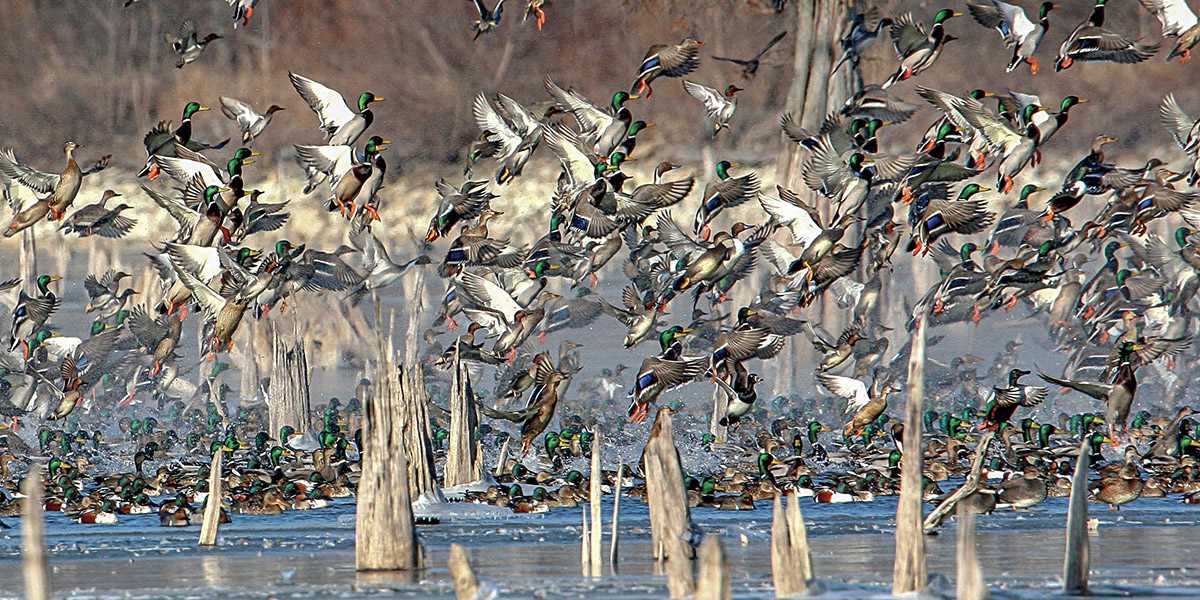 OVERALL WINNER
Edward Wall
Brandon, Mississippi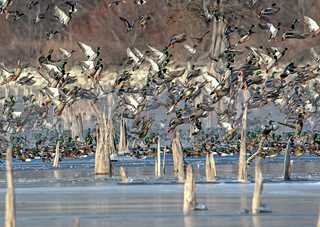 Rising to the top of this year's DU Member Photo Contest is volunteer and Bronze Sponsor Edward Wall. Wall's photo of his award-winning chocolate Lab, Diche, earned top honors in the Retrievers category in the 2018 contest. This year the 37-year-old Mississippi native secured the title of Overall Winner with an image of a massive mixed flock of ducks on Lake Ashbaugh in
northeast Arkansas.
"My buddies Josh Raggio, Brooks Tinsley, and Harrison Gregory bought a house in Peach Orchard, about five minutes from the lake. We hunt public land there every year on Dave Donaldson Black River Wildlife Management Area. After a morning of hunting and scouting, I usually break off from the group and head to the lake to take photos," Wall says.
On that frigid January morning, almost all of the lake's more than 500 acres were locked up with ice, save for a spot right in the center. "This huge concentration of birds had kept this one hole open and there were about 13 bald eagles hovering around the ducks, swooping down and picking them off," Wall recalls. "I ventured out a couple hundred yards and started snapping pictures."
Wall's love of photography began about five years ago, when he purchased his first camera to take photos of Diche on their hunts together. While he maintains his full-time job as the owner of a freight-brokering company, he now gets to share his passion with the world as an outdoor photographer for companies such as Raggio Custom Calls, Wren and Ivy, Apex Ammunition, and DU Proud Partner Drake Waterfowl.
"I've traveled to Texas, Arkansas, and other parts of Mississippi to shoot product photos for these great companies," Wall says. "It's pretty cool to find folks who think your work is good enough that they're willing to pay you to take pictures while you hunt."
Another new addition to Wall's life has him even more excited than this new photography venture, however. He and his wife, Erin, welcomed a baby boy, Jett, to their family in early February. "He is such a big blessing," Wall says. "We haven't gotten much sleep since he's been born, but after hunting 53 of 60 days last waterfowl season, many of them on public land, I'm used to running on no sleep! I'm so looking forward to sharing those experiences with him as he grows up."
---
WATERFOWL WINNER
Mark Boyd
Conestoga, Pennsylvania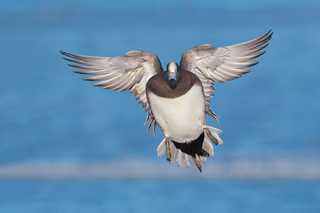 Mark Boyd was born and raised in the rich farmlands of Lancaster County, Pennsylvania, near the Susquehanna River, a hotbed for waterfowl activity. This fostered in him a deep sense of connection with the outdoors.
"We were an outdoors family. I loved hiking, hunting, and wildlife viewing," Boyd, 48, recalls. "My dad took me out hunting when I was 12. We started with small game and deer, then eventually turkeys. As an adult, I had another family member take me out duck and goose hunting for the first time, which is where I learned about Ducks Unlimited."
This passion for the outdoors and conservation also came forth through Boyd's photography, which started as a hobby in his teen years. "My interest in photography slowly progressed until about 19 years ago, when I went on a trip to Glacier National Park and then visited Yellowstone National Park the following year," he says. "Bringing back some really good images from those trips and the great experiences that went along with them really kindled a passion to pursue my photography hobby more."
Since then Boyd has donated prints of his photographs to his local DU banquet and earned top honors in several local photo contests. He also received awards for work displayed in the Wilmington International Exhibition of Photography.
Boyd's image of an incoming drake American wigeon secured him the top spot in the Waterfowl category in this year's DU Member Photo Contest. He captured the image in early January 2018 on the Choptank River in Cambridge, Maryland.
"I go there a few times a year to take photos of the hundreds of ducks that winter there," Boyd says. "On this day the river was almost entirely frozen over from a recent cold snap and the only remaining open water was near Great Marsh Park, which provided me an opportunity to photograph a variety of ducks on the lookout for a place to land."
WATERFOWL RUNNER-UP
Steve Jamsa
Bonners Ferry, Idaho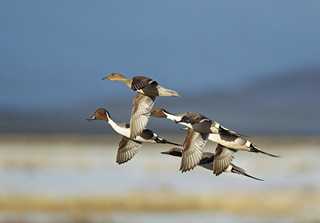 ---
WATERFOWL HUNTING WINNER
Justin DeYoung
Groves, Texas

As a Boy Scout who attained the rank of Eagle Scout, Justin DeYoung grew up camping, shooting, and fishing along the Texas Gulf Coast. About six years ago, he finally added hunting to his outdoor portfolio, both personally and professionally.
"I was on assignment doing a story on Charlie Holder, the CEO and owner of Sure-Shot Game Calls," says DeYoung, 36, who works as a TV videographer for KFDM in Beaumont, Texas. "He said, 'I need someone to shoot our products for our next catalog,' and I told him that was something I could do. After that first catalog, I started going on hunts with Sure-Shot and taking photos and video for their social media.
"I've shot a little bit of everything: portraits, weddings, sports—you name it, I've probably shot it. But ducks, other wildlife, and hunting have become a big part of what I photograph now. I go out with Sure-Shot about 10 to 12 times per season to try to build our media library to last the year."
It was on one such trip that DeYoung captured his winning photo of a hunter in the blind at sunrise. A group of seven or eight filled the blind that cold January morning in southern Oklahoma.
"Hunting on land like that over a little pond is just such a different experience from what we're used to down here in the swamps and bayous of southeast Texas," DeYoung says. "The action was slow until daybreak, but that was just a beautiful sight, with the sun coming up, the clouds, and all the colors. The other hunters were down in the blind when somebody popped up and was kind of taking it all in. It felt like the perfect time for a picture."
DeYoung's journey as an outdoor photographer has not always been smooth sailing, however. "I didn't have the best start with waterfowl photography. The very first hunt I went on, I fell in the water with the camera. The camera didn't survive," he recalls with a laugh. "It didn't deter me, but I'm a lot more careful now. I look forward to hunting season and being able to use my skills to help encourage others to get involved in the sport."
WATERFOWL HUNTING RUNNER-UP
Michael Parrish
Sandy Hook, Virginia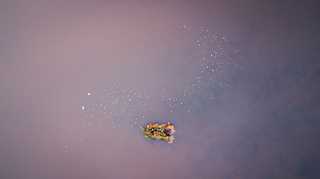 ---
RETRIEVERS WINNER
Patrick "Buzz" Hayes
Virginia Beach, Virginia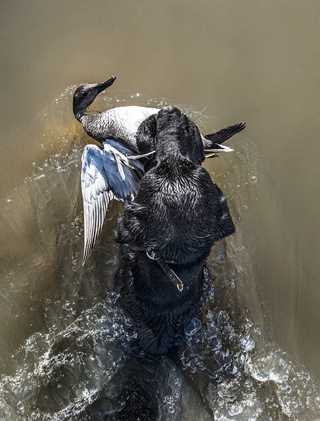 For Patrick "Buzz" Hayes, water has been a central thread woven through all 54 years of his life. He is a lifelong fisherman and, since moving with his family from Kentucky to Virginia Beach at 16, he has been a surfer and an avid waterfowler. "Any time I can be on the water, I'm happy," Hayes says. "I hunt ducks on North Carolina's Currituck Sound, as well as on several inland timber holes, and this is where I started my art and photography career."
Hayes followed in the footsteps of his father and two brothers by joining the U.S. Army as a paratrooper in the 82nd Airborne, stationed at Fort Bragg. Following his time in the military, he earned a degree in art and design from Old Dominion University.
"I took photography as an elective in school and started carrying a camera on hunts so I could show people what I saw in the woods," Hayes says. "My grandparents were both journalists, and when they found out I was taking that class, they gave me all their old camera equipment and darkroom gear. I started to develop all my film at home and it grew from a hobby to a passion and finally a full-time job."
While on an early photography assignment with DU Proud Partner Mossy Oak at Honey Brake Lodge in central Louisiana, Hayes met the individuals who would help shape his future career as a photographer.
"The guys at Honey Brake had a TV show, but they wanted to form a media company. They offered me a job doing all the creative for The Confluence Group and I've been doing that for the past three years," Hayes says. "I shoot photos for Honey Brake and several other key clients."
Hayes focuses mainly on outdoor lifestyle photography, but he says photographing dogs is one of the best parts of his job. Hayes earned top honors in the Retrievers category with a unique overhead shot of a black Lab named Zink, owned by Jared Mophett, head guide and habitat manager for Honey Brake.
"Whenever I can, I like to get down to water level to capture the retrieves," Hayes says. "I got out of the tree blind when Zink went on a multi-duck retrieve. He was right beside me and something made me think to shoot down directly over his head. When I saw the composition and the lighting of the image, I thought it was cool—I hadn't seen many shots like that before."
RETRIEVERS RUNNER-UP
Sam Hendrix
Wellington, Colorado