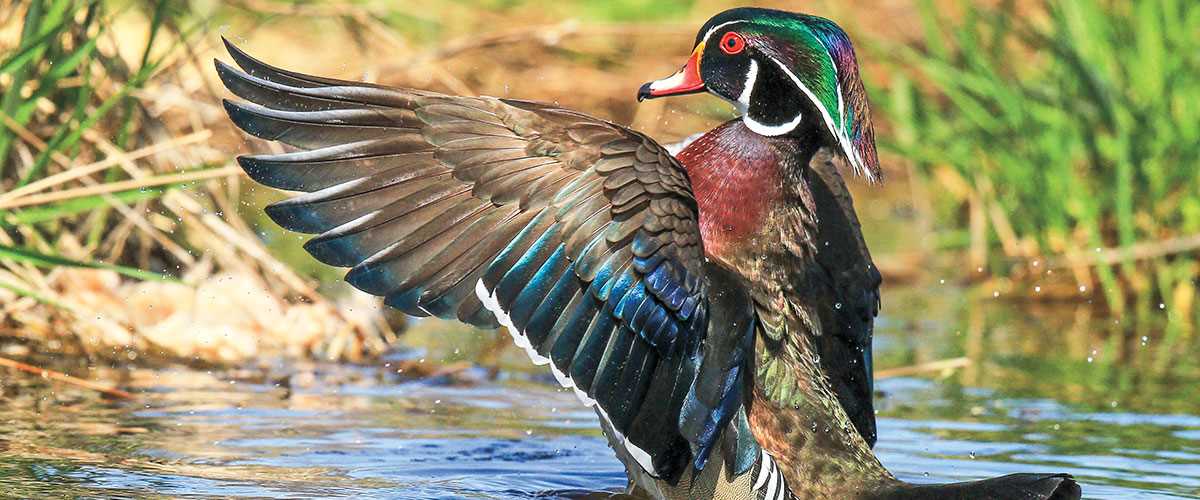 OVERALL WINNER
Laura Reich
Oxford, Michigan
This year's overall winner, Laura Reich, has enjoyed a life lived in the company of animals. The Michigan native spent her teens and early 20s training and showing horses. Just over a decade later, after getting married and having a child, Reich decided to dust off her training skills and add a yellow Labrador retriever to their family.
"Lea was our first American Kennel Club (AKC) Lab and the start of our family's breeding and training kennel, Lor-al Labradors," Reich says. "After working with horses for so many years, dogs were an easy transition for me."
While Al, her husband, was an upland game and deer hunter, Laura had no real experience with field work. She didn't let that deter her, however. "We joined the Huron River Labrador Retriever Club, which had many experienced trainers and hunters among its members and soon started sponsoring annual AKC hunting retriever tests," she says. "Field work with the dogs provided Al and me with total enjoyment and gratification. There's nothing better than watching your dog persevere on a challenging retrieve. After many years, and many dogs, we achieved the necessary qualifications to become AKC hunt test judges."
When Reich wasn't training and showing dogs, she was photographing them, having picked up the hobby in the late 1970s. "I bought Al a camera for his birthday. He didn't seem interested in it, but I was," she recalls. "I started out taking photos of our son, Jeremy, but continued with dogs, both at home and at shows and events."
Reich retired after 30 years as a buyer for Stanley Door Systems, and she and Al purchased a fixer-upper home surrounded by acreage and two ponds in Oxford, Michigan. It was there that Reich realized she no longer had to go searching for subjects for her photography—they were all around her, including the striking wood duck depicted in her winning submission.
"We have had as many as 30 wood ducks here at once, and I positioned the blind Al built for me to take advantage of the afternoon sun so I could capture the beautiful iridescent colors of their feathers," Reich says. "I have also photographed great blue herons, sandhill cranes, egrets, muskrats, red-tailed hawks, great horned owls, songbirds, and many other ducks right here at home. Photography has opened up a whole new world for me, and I have never been more aware of nature. It is the best thing about retirement."
OVERALL RUNNER-UP
Nicole Belke
Minooka, Illinois
---
WATERFOWL WINNER
Conner Lundeen
Issaquah, Washington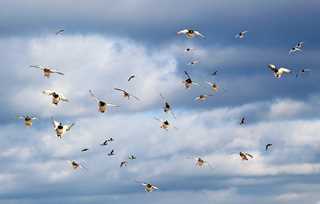 If you're looking for a sign that the next generation is committed to the future of wetlands and waterfowl, you needn't look much further than Conner Lundeen. The 24-year-old spent his early years exploring the streams and woods near his childhood home in Grand Haven, Michigan, in pursuit of waterfowl and white-tailed deer. His growing passion for conservation took him to the University of Minnesota–Duluth, where he studied environmental sustainability, natural resources, and fisheries. Today he remains an avid outdoorsman, works as a fisheries consulting technician, and will soon be pursuing his master's degree in fisheries management from Oregon State University. At the heart of it all is his love of the outdoors.
"One of the things I enjoy most is connecting with other young people who are passionate about the future of our public land and water," Lundeen says. "It bothers me to know that the places I have hunted and fished could be gone one day. This concern for our land and wildlife drives me every day."
Lundeen began volunteering for Ducks Unlimited during college. Even in those early days of installing wood duck nest boxes in and around Duluth, he was already learning a great deal about DU's mission. "I have visited and hunted on many DU properties and have seen firsthand the benefits of restoration," Lundeen says. "I also like that DU brings together sportsmen and women and gives them a voice."
Lundeen captured his winning photograph on a small tributary of southwest Michigan's Grand River. What began as a morning of light scouting quickly turned into a camera-worthy moment when Lundeen came upon a noisy pocket of open water.
"When I hopped out of the truck, I thought I was hearing a few hundred ducks. I tried to sneak in for a better look, but I got too close and to my surprise more than a thousand mallards got up off the water," Lundeen recalls. "What I didn't realize was that this small pocket of water was the only open water for miles. I was kicking myself for scaring off the birds, but quickly realized that they weren't leaving—they were circling and waiting for me to leave. So I backed off, concealed myself as best I could, and waited for them to return. That's when I got this shot."
WATERFOWL RUNNER-UP
Chuck Heiting
Stratford, Wisconsin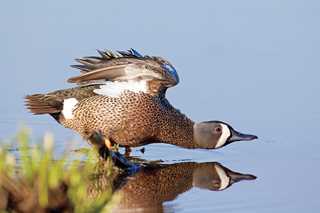 ---
WATERFOWL HUNTING WINNER
Tim Amorello
Zachary, Louisiana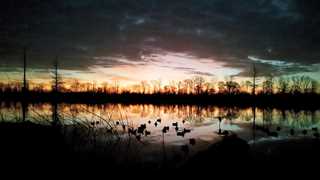 There are countless things to enjoy about waterfowl hunting, but among the simplest—and yet the most breathtaking—are the sunrises. Once the decoy spread is set, the dog is hidden, and the guns are loaded, the sky's changing colors help mark time until the action can begin.
"The sunrises you get while duck hunting, you can't beat them," says Tim Amorello, this year's Waterfowl Hunting category winner. "It's amazing to see how beautiful this earth is and how God truly is an artist. You see evidence of Him on almost every hunt."
Amorello, a construction project estimator born and raised near Baton Rouge, Louisiana, captured one such sunrise in his winning photo, taken near his family's hunting camp on Lake Mary, Mississippi. Amorello was introduced to deer hunting by his "Pawpaw" at 12 years old, and later to duck hunting by his eldest brother, Joe. Now 29, Amorello shares the blind with Joe; middle brother, Nick; and their father. All four are avid hunters and fishermen, and Amorello looks forward to passing on the family's outdoor traditions to his seven nieces and nephews and to his own son, due July 4.
"The camaraderie of waterfowl hunting is awesome," Amorello says. "You get to go out with your best friends—or your brothers—and your dogs. You can drink coffee and eat breakfast together in the blind, joke with each other about missing a shot, or high-five someone for great shooting. That's what makes it so memorable."
While many photographers have a bag full of equipment, Amorello's winning entry was shot on his mobile phone. "I take pictures on almost every hunt and use them as screensavers on my computer at work, so I can share the stories of my trips with people when they come into my office," he says. "Smartphones make it so easy to document my adventures."
WATERFOWL HUNTING RUNNER-UP
Brian O'Neil
Bethel, Ohio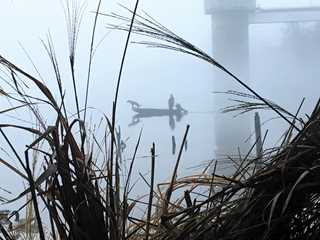 ---
RETRIEVERS WINNER
William Heyer
Austin, Texas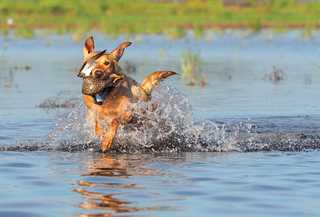 Labrador retrievers have long been regarded as the ideal combination of a hard-charging duck dog and a friendly family pet. William Heyer, who took home top honors in the Retrievers category for his photo of his yellow Lab, Brandy, has spent his life developing a deep respect for these multifaceted canine companions.
"I absolutely love Labs," says Heyer, a real estate attorney from Austin, Texas. "I don't remember a time when I didn't have one in my home. Their ability to work in the field and then play a loving and integrated role in the family is exceptional. I think it's very important for children to grow up around animals like these."
When Heyer was seven years old, his father, George, who was a passionate waterfowler and Ducks Unlimited supporter, took him to the duck blind for the first time. Today, Heyer shares this rich tradition with his children, Nicole, 13, and Will, 6. The family's beloved retrievers are always an integral part of the hunting experience.
"For me, waterfowling and working with a retriever are inextricably linked," Heyer says. "As I have matured as a hunter, the satisfaction I get from watching a dog make a great retrieve is even greater than the satisfaction I get from a good hunt. Working in partnership with a dog and seeing her do what she was bred to do is one of the great joys in my life."
Heyer acquired Brandy from a Wisconsin-based breeder of British Labrador retrievers and had her skillfully trained by Josh Miller of River Stone Kennels. Heyer lists her even temperament, natural intelligence, strong hunting drive, and desire to please as her top qualities—a mix that makes for a perfect duck dog. He captured this unforgettable photo of Brandy, then 13 months old, on the outskirts of Eagle Lake, Texas, during the September early teal season.
"It's one of those photos where you get lucky and everything just lines up," says Heyer, who has been pursuing photography for over 40 years. "It shows the incredible joy and boundless energy that a dog has while making a retrieve, and her focus on delivering the bird to me. You can shoot photos for years and never get a shot that conveys so much. It is probably one of the best photos I've taken."
RETRIEVERS RUNNER-UP
Eric Anderson
Waupaca, Wisconsin