The DU Magazine is a bi-monthly magazine that provides in-depth articles on a variety of topics related to waterfowl, wetlands, conservation, and outdoor recreation. The magazine also features stunning photography that showcases the beauty of waterfowl and their habitats. Each issue of the DU Magazine includes updates on the latest conservation efforts and issues affecting waterfowl and wetlands, as well as profiles of people who are making a difference in the world of conservation. The magazine is a must have for anyone who is passionate about waterfowl and the outdoors.
Not receiving this magazine?
---
May/June 2023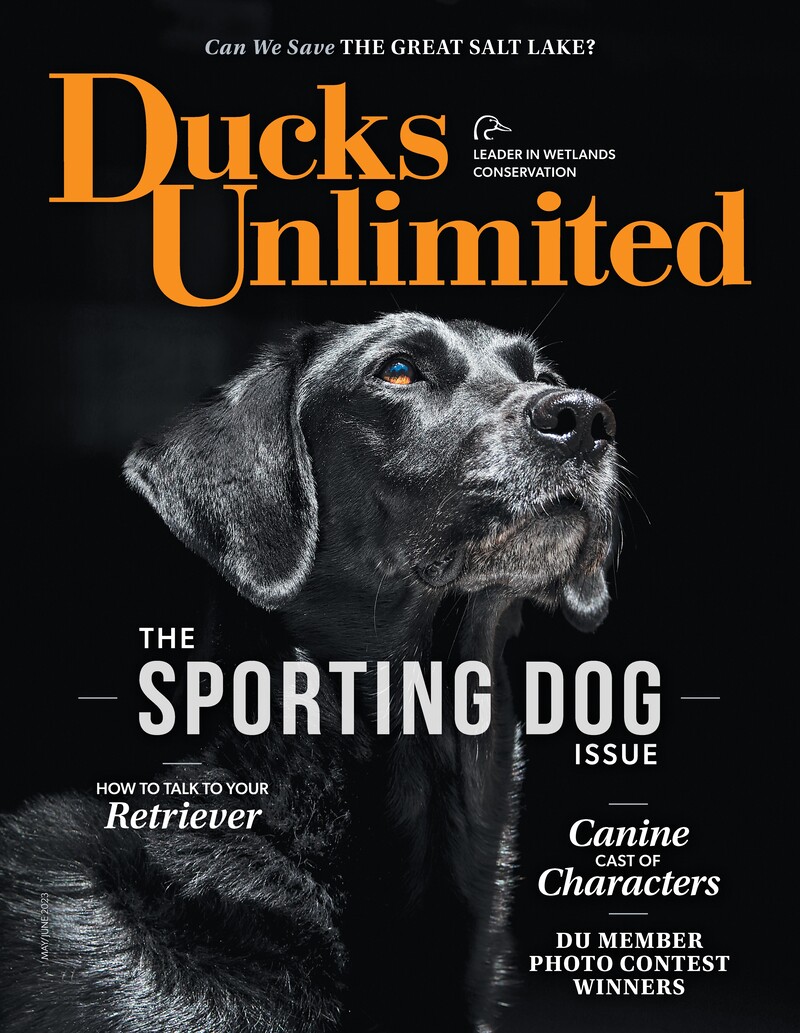 On the Cover: Professional photographer Katie Behnke captured this striking portrait of her 10-year-old male Lab, Wildrose Black Ice.
---
Contents: Vol. 87, No. 3
Features
On a waterfowling trip to Utah's famous inland sea, the author gets a firsthand look at the crisis facing one of the most important wetland ecosystems in the arid West
by T. Edward Nickens
Effective communication is the foundation of a retriever training
by Eric Keszler
Our retrievers come in many shapes and sizes, with varying talents, abilities, and personality quirks
by Doug Larsen
These remarkable images took top honors among another impressive pool of entries
by Chris Jennings
---
Contents: In Every Issue
Mixed Bag
The Ultimate Resource for Today's Waterfowlers
Some modern over/unders and side-by-sides are made with waterfowlers in mind
by Phil Bourjaily
Many waterfowlers are sitting on a gold mine of fly-tying materials
by Bill Buckley
After a serious injury or illness, your retriever needs a solid rehabilitation plan
by Tom Davis
The latest products for your four-legged companion
by Chris Jennings
The magic ingredient in this simple recipe is homemade barbecue sauce
by Scott Leysath
Making a duck call by hand is a unique combination of art and science
by T. Edward Nickens
The Mission
Filling the Skies with Waterfowl Today, Tomorrow, and Forever
By excluding invasive carp, DU Canada and its partners are restoring this legendary waterfowl staging area to its former glory
by Lauren Bortolotti, PhD, and Paige Kowal, MS
Public policy at the state level provides crucial support for DU's mission
by Jennifer Boudart
An overview of wetland conditions across key waterfowl breeding areas
by DU Field Biologists
---