Stuffed Fillets
This imaginative dish tastes as good as it looks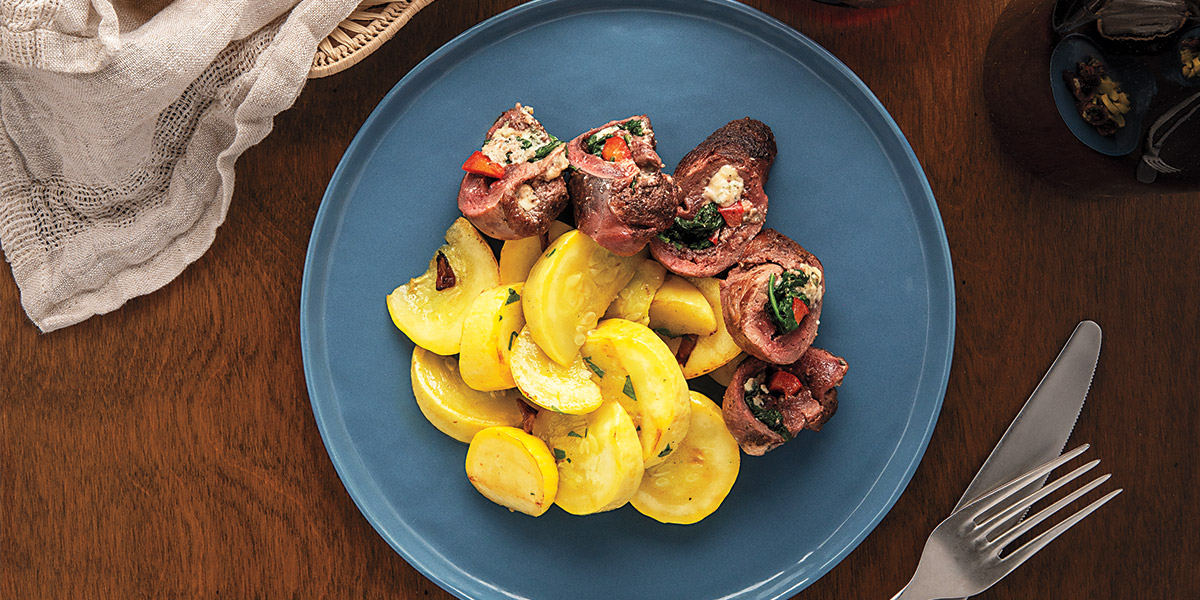 When I'm cooking for myself, I usually keep it pretty simple. But when my goal is to impress my dinner guests, I'll create a dish-like this one-that is more complex and visually striking. Duck or goose breasts work well in any stuffed fillet recipe, but be sure to brine them for several hours in a mild salty solution or a store-bought brine before cooking. This will greatly reduce the amount of liquid that is released while cooking, which tends to discolor the stuffing. After brining the breast fillets, pat them dry and proceed with the recipe.
Stuffed Goose or Duck Breast Fillets
Yields: 4 servings
When using smaller ducks or geese, adjust the number of stuffed breast fillets to serve four adults. Maytag blue cheese is a personal favorite of mine and worth looking for at your local market. If blue cheese isn't your thing, substitute your own favorite cheese.
INGREDIENTS
4 duck or goose breast fillets
Salt and pepper
1 cup cooked spinach
1 small red bell pepper, cut into 1/4-inch-thick strips
1/2 cup crumbled Maytag blue cheese
2 tablespoons Japanese bread crumbs (or any bread crumbs)
Olive oil
3/4 cup dry red wine
2 tablespoons balsamic vinegar
Pinch sugar
6 tablespoons chilled butter, cut into chunks
Preparation
1. Preheat oven to 350 degrees. Place one breast fillet on a firm surface and slice it lengthwise from the thinner edge toward the thicker edge, but do not slice all the way through the meat. Stop slicing about 1/2 inch from the edge and open the fillet like a book. Press down firmly to flatten the fillet, then place it inside a zip-top bag or between sheets of plastic wrap and pound until it is about 1/4 inch thick. Remove from bag or plastic wrap and season both sides with salt and pepper. Repeat this process with the remaining fillets.
2. Squeeze as much moisture as possible out of the cooked spinach. Spread an equal portion of spinach along the middle of each fillet and then add a strip or two of bell pepper. Combine blue cheese with bread crumbs and place this mixture on top of the spinach and peppers. Roll up the fillet, keeping the ends tucked in. Secure with toothpicks or tie with string.
3. Heat a thin layer of oil over medium-high heat in a large oven-safe skillet. Place stuffed fillets, seam side down, in the skillet. Cook in this position for a few minutes to help seal the seam before lightly browning on all sides. Then place the skillet in the preheated oven for 5 minutes.
4. Remove skillet from the oven, transfer stuffed breast fillets to a plate, and loosely tent the plate with foil to keep the fillets warm. Return the skillet to the stovetop over high heat. Add wine and balsamic vinegar while scraping to dislodge any bits stuck to the skillet. Stir in sugar and a pinch of black pepper. Reduce liquid to about 3 tablespoons. Remove skillet from heat and whisk in chilled butter until emulsified.
5. To serve, remove toothpicks or string and slice each stuffed fillet into 3 or 4 medallions. Spoon a dollop of sauce from skillet onto each plate and arrange sliced fillets over the sauce.
The Stuffing of Legends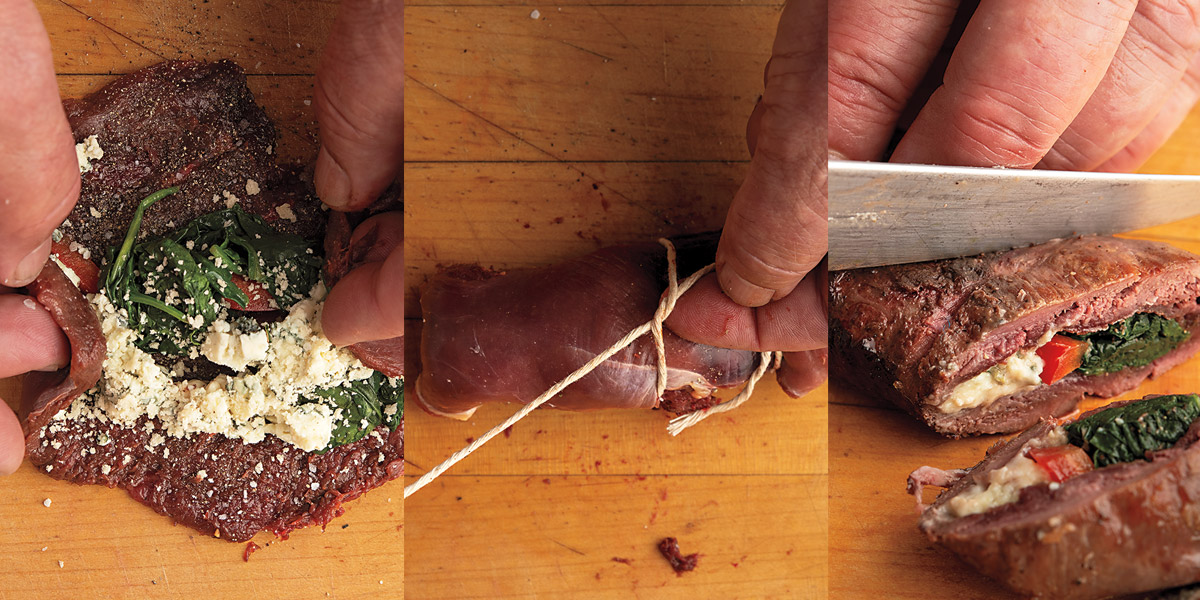 You can customize this recipe by using different ingredients for the stuffing, and your choices are almost unlimited. Cheese, herbs, vegetables, sausage, and mushrooms are all popular. When mushrooms are part of the mix, slice them first and then roast them in a 325-degree oven until most of the liquid has been cooked out. This will help intensify the earthy flavor. Cheese is always a popular choice, but it tends to escape as the stuffed breast fillets reach serving temperature. A light sprinkle of bread crumbs over the cheese will help keep everything intact. As tempting as it may be to cram as much as possible into the fillets, be careful not to overstuff them, or the finished dish will fall apart when sliced.