Spicy Duck or Goose Wraps
This twist on the traditional sandwich is the perfect on-the-go summer meal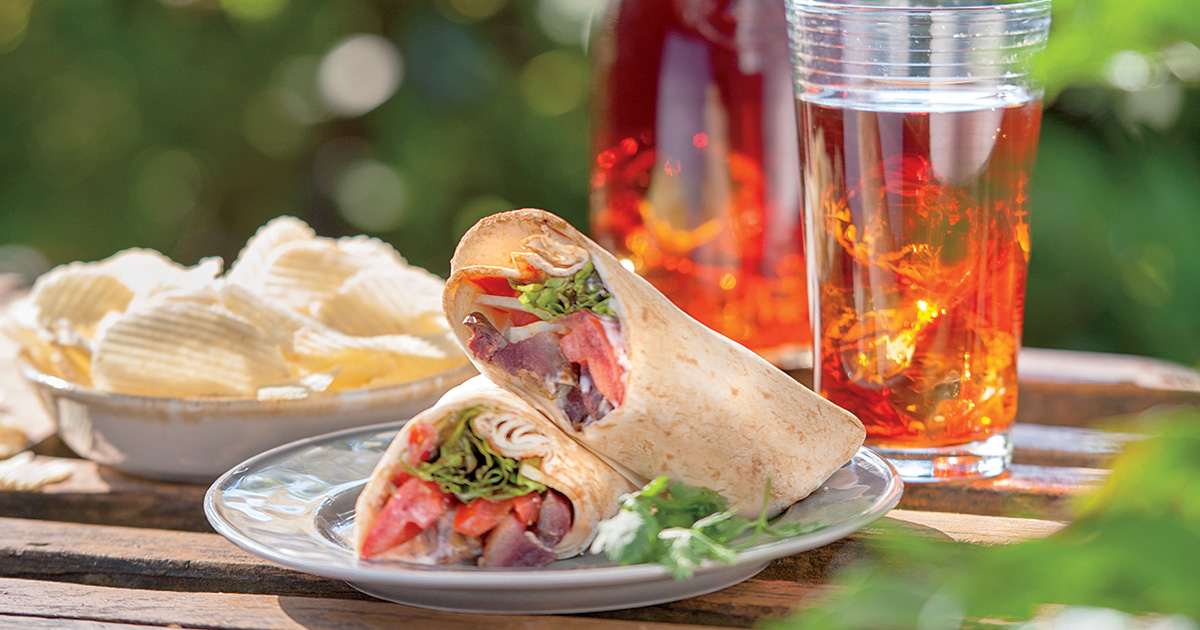 There was a time when making a sandwich was as simple as putting a few pieces of meat, cheese, and maybe some lettuce between two slices of bread. The meat was usually something purchased from a store. I was raised on a concoction called "sandwich spread," which came in either a plastic tube or a smallish can. I was always suspicious about what exactly was in the spread. As a general rule, it's best to know what's in your sandwich. You've got that covered in this recipe, which features something you shot, cleaned, and cooked yourself... rolled up nicely in a large flour tortilla.
Making your own mayonnaise from scratch is one of the basic things home chefs should know. The color, flavor, and texture is much better than the store-bought variety and it takes just a minute or two in a blender to whip it up. Commercially manufactured mayonnaise usually contains a sweetener like sugar. Mine does not. Once you get the hang of it, let your creative side take over and add other ingredients like roasted peppers, citrus zest, or pepper flakes to create your own signature mayo. Spread it over grilled burgers, chicken, and fish.
Don't let the word "spicy" turn you away from this recipe. The amount of spicy heat can easily be adjusted, or eliminated altogether. You can turn down the heat by removing the ribs and seeds from the pepper and reducing the amount of Sriracha sauce in the marinade.
---
Preparation Time: 10-15 minutes
Cooking Time: 10-15 minutes
Serves: 4
---
Ingredients
2 cups skinless duck or goose breast fillets, sliced across the grain
4 large flour tortillas
Lettuce
Tomato
Jack cheese
Marinade
1/2 cup low-sodium soy sauce
2 tablespoons Sriracha sauce
2 tablespoons brown sugar
1 tablespoon freshly squeezed lime juice
1 jalapeño pepper, sliced into rings
1 teaspoon cracked black pepper
2 garlic cloves, minced
2 green onions, roughly chopped 1/2 cup olive oil
Herb Mayonnaise
2 large egg yolks
3/4 teaspoon Dijon mustard
1 tablespoon freshly squeezed lemon juice
1 clove garlic, minced 1 cup vegetable oil
1/4 cup finely chopped fresh herbs-parsley, basil, chives, oregano, etc.
Salt and pepper
Directions
[Step 1] To prepare the marinade, whisk together all ingredients except the olive oil in a medium bowl. Once the mixture is well blended, add the olive oil in a thin stream, whisking until emulsified.
[Step 2] Add the sliced duck or goose to the marinade, toss to coat evenly, cover, and refrigerate for 6 to 12 hours, turning occasionally.
[Step 3] To prepare the mayonnaise, place the egg yolks, mustard, lemon juice, and garlic in a blender or food processor. Pulse to blend. With the motor running on low speed, add the vegetable oil in a thin stream until the mayonnaise is creamy. Add the herbs and season the mayo to taste with salt and pepper. Store in the refrigerator for up to 2 weeks.
[Step 4] Remove the sliced breast fillets from the marinade and pat dry. Cook in a hot, lightly oiled skillet for 2 to 3 minutes or until desired doneness.
[Step 5] To serve, spread a layer of mayonnaise over each flour tortilla. Add the cooked breast fillets, lettuce, tomato, and cheese. Fold over the bottom flap and roll tightly.