Specklebelly Steakhouse Salad
This delicious dish just might be the perfect summertime meal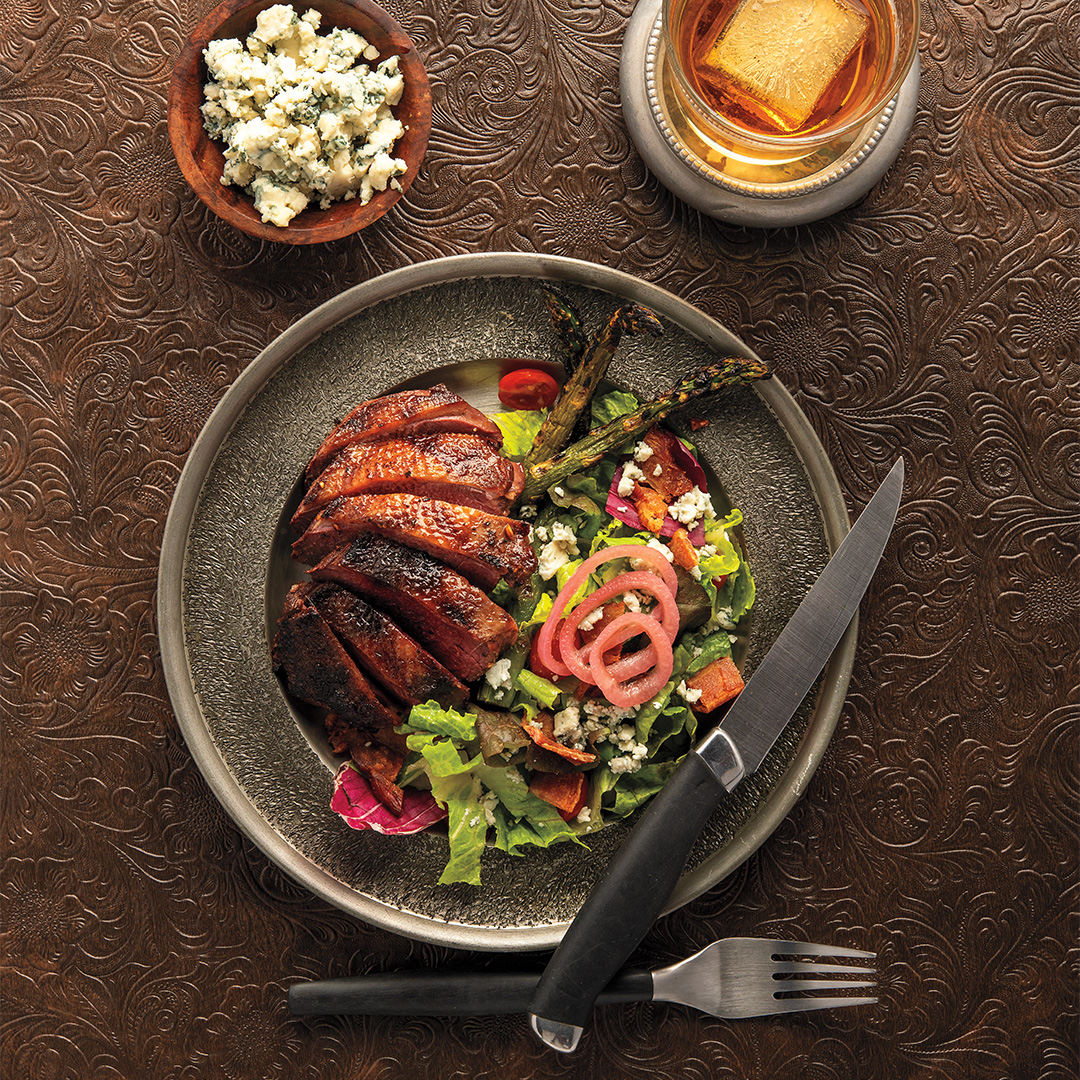 During the hot summer months, I'm more likely to eat meals that are much lighter than the stews and other heavy comfort foods of winter. Somehow, a big bowl of chili doesn't do it for me in July. But a meaty salad with blue cheese and in-season asparagus checks all the boxes on my warm-weather meal plan. This recipe is reminiscent of a popular beef salad found in steakhouses across the country. To me, it is the ideal summer meal, combining salad, vegetables, and meat all on the same plate.
Although a specklebelly (a.k.a. greater white-fronted goose) has a milder flavor than other geese, this recipe will work well with any goose breast. When treated properly, the meat will have a mild taste and be reminiscent of good roast beef. Hold on. Even snow geese? Yep. If you are among those who have maligned the taste of snow goose for years, it's time to give it another try. Also, try this recipe with duck breast fillets, venison, and sandhill crane.
Specklebelly Steakhouse Salad
Yields: 6 servings
Brining waterfowl in a salty solution adds moisture and flavor. If you discover that your goose is a tad strong, double the brining and marinating time.
INGREDIENTS
3 to 4 specklebelly goose breast fillets, skin on or off
1 quart water
1/4 cup each kosher salt and brown sugar
1/4 cup olive oil
3 tablespoons soy sauce
3 garlic cloves, minced
1 tablespoon freshly ground pepper
6 handfuls spring mix (or chopped romaine lettuce)
14 cherry tomatoes, halved
18 grilled asparagus spears
6 strips cooked bacon, chopped
1/3 cup crumbled blue cheese
Pickled red onion slices (see below)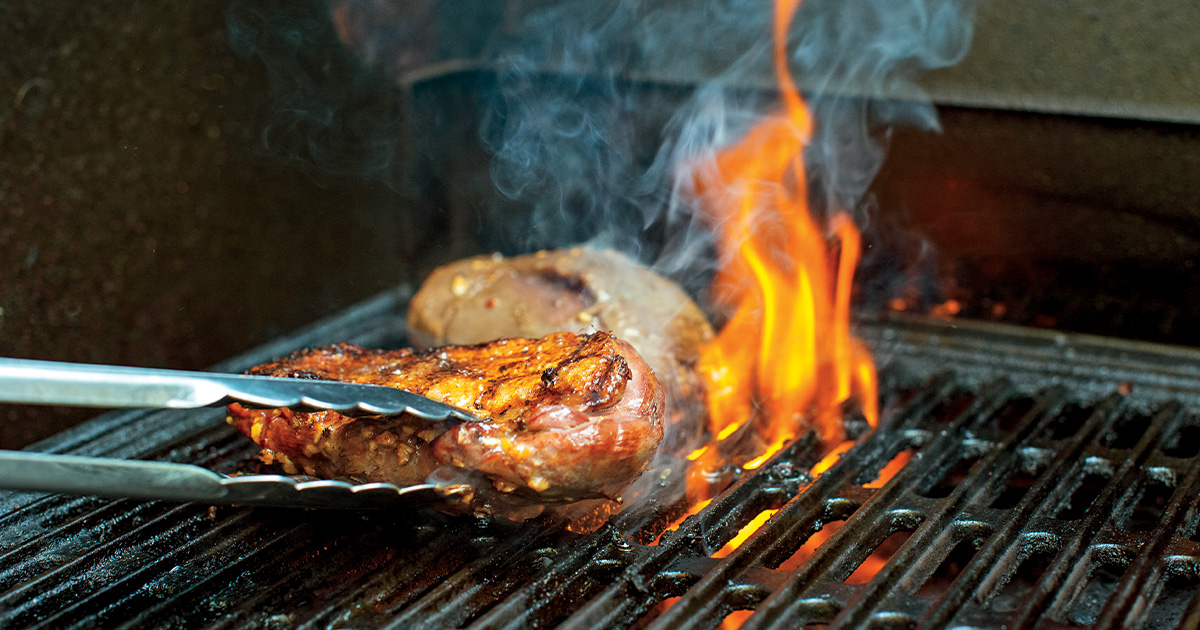 PREPARATION
1. To prepare the brine, heat the water, kosher salt, and brown sugar in a saucepan over medium heat until the salt and sugar are dissolved. Remove from heat and allow to cool completely. Refrigerate the cooled brine for 1 to 2 hours. Add goose breast fillets to cooled brine and refrigerate for 3 to 12 hours. Remove fillets from the brine and pat dry.
2. In a bowl, combine olive oil, soy sauce, garlic, and pepper. Add goose breast fillets, cover, and refrigerate for 3 to 24 hours. Allow meat to drain. Grill or pan-sear fillets until browned on the outside but still medium rare in the center (internal temperature of 125 to
135 degrees). Allow to cool before slicing across the grain into 1/4-inch-thick slices.
3. To make the balsamic vinaigrette dressing, combine all the ingredients in a jar with a tight-fitting lid and shake vigorously to blend.
4. Arrange spring mix or romaine lettuce, cherry tomatoes, and asparagus on plates. Top with sliced goose breast, bacon, crumbled blue cheese, and a few pickled onion slices. Serve with dressing on the side.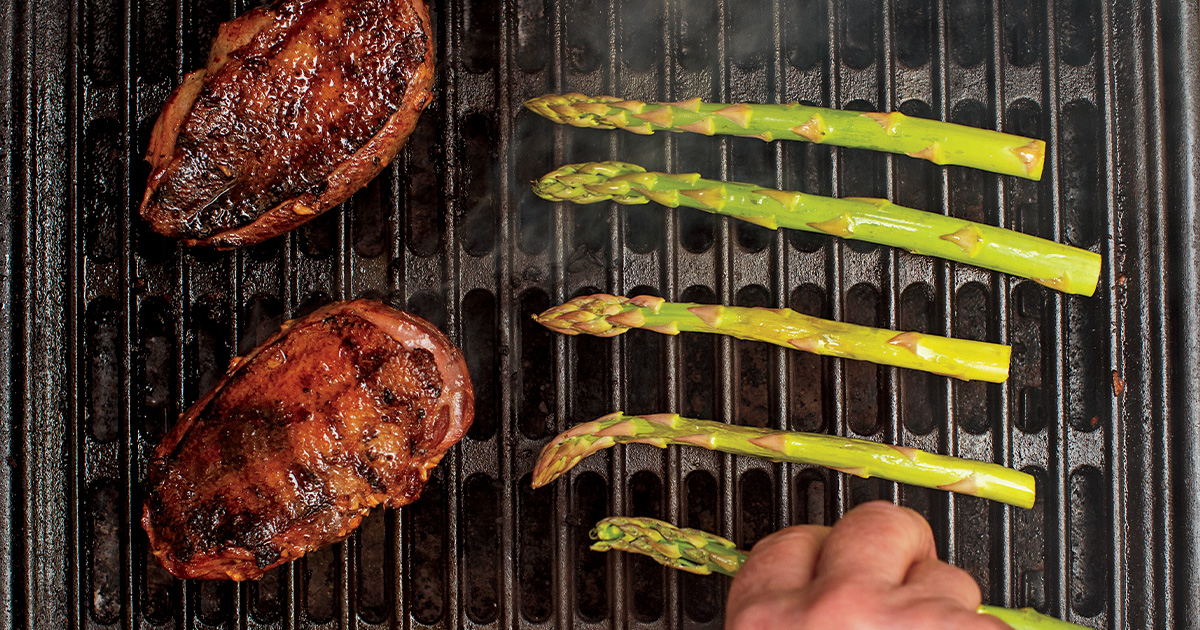 Balsamic Vinaigrette Dressing
INGREDIENTS
1/4 cup balsamic vinegar
1/4 cup extra virgin olive oil
2 to 3 tablespoons honey
2 teaspoons Dijon mustard
1 clove garlic, minced
Pinch or two salt
Pickled Red Onions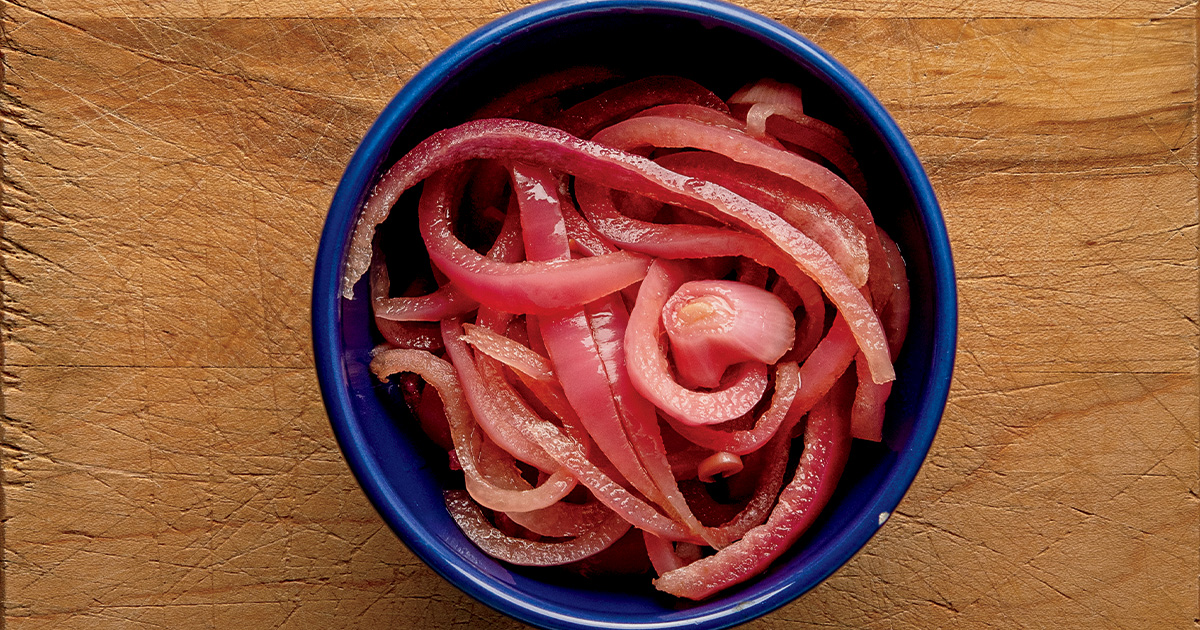 Combine 3/4 cup apple cider vinegar, 1/4 cup water, 1 teaspoon kosher salt, and 2 tablespoons sugar or honey in a saucepan and heat over medium heat, stirring the mixture until it's hot but not boiling. Place 1 large red onion, peeled and thinly sliced, in a heat-safe jar or container. Pour hot vinegar mixture over the onion and stir to toss. Allow to sit at room temperature, stirring often, for 30 to 60 minutes. Pickled onions can be stored in the refrigerator for several weeks.