Recipes from the Road
The Sporting Chef shares his favorite regional duck dishes from across the continent

By Scott Leysath
"So, what do you want to do with your life?" It's a question we've all heard, usually long before most of us figure out what we really want to do. When I was a young man, it never occurred to me that I would be earning a living cooking wild game. Yet over the past few decades, I've had the opportunity to hunt and fish in places I used to only dream about. Mine has been a mostly unplanned career path that just happened-but I'm sure glad it did.
Of course, any job has its challenges, and you can imagine the kinds of obstacles that must be overcome to prepare meals for groups of 10 to 1,000 people, in places far from home. Along the way, I've picked up some great ideas and cooking techniques from different parts of North America and beyond. Who knew that Missouri Beavertail Soup could be so delicious?
I've borrowed the following recipes from home cooks and professional chefs across the continent. As with other recipes, I've modified these a bit to make them my own.
---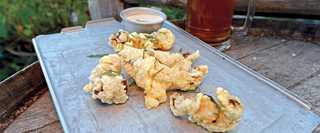 DEEP SOUTH
Deep-Fried Duck Appetizer with Alabama White Sauce
Alabama White Barbecue Sauce is basically mayonnaise with just a few other ingredients added to the mix. The first time I made it I whisked in fresh basil, garlic, and minced jalapeño pepper and was immediately chastised by Huntsville locals, who accused me of taking something good and fancying it up.
Tempura batter always works best when both the batter and whatever is getting fried are cold. If the batter is at room temperature or warmer, the fried duck will be more greasy than crisp. Make the batter when the sliced duck is cool and ready to fry, then heat the oil. Please note that allowing the sliced duck to air-dry uncovered in the refrigerator for 2 or 3 hours prior to cooking will enable the batter to adhere better. Sliced duck breast fillets can be prepared with the skin on or off. Cut the breasts into 1/4-inch-thick slices. Makes about 12 appetizers.
Ingredients
2 cups sliced duck breast fillets
Oil for frying
Alabama White Barbecue Sauce
1 cup mayonnaise
1/2 cup apple cider vinegar
2 tablespoons granulated sugar
1/2 teaspoon cayenne pepper
1 tablespoon prepared horseradish
1 tablespoon lemon juice
Salt and freshly ground black pepper to taste
Tempura Batter
1/2 cup all-purpose flour
1/2 cup cornstarch
Pinch of salt
1 large egg
1 cup ice-cold soda water
Directions
[STEP 1] Prepare the barbecue sauce by combining all the ingredients and mixing well.
[STEP 2] To prepare the tempura batter, combine the flour, cornstarch, and salt in a medium bowl. Whisk in the egg and soda water, but do not overmix-the batter should be a bit lumpy.
[STEP 3] Heat at least 3 inches of oil in a fryer or heavy pot until the oil is 340-360deg;F. Using tongs or a fork, dip the cooled duck into the batter and carefully place the battered duck into the hot oil, a few pieces at a time. Once the duck fillets are golden brown, remove them from the oil and drain on paper towels. Serve with the barbecue sauce.
---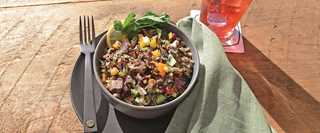 GREAT LAKES REGION
Duck and Wild Rice Salad
Wild rice, cherries, and marinated duck make this dish my tribute to Great Lakes cuisine. Oh sure, it may not be as iconic as the traditional deep-dish casseroles that warm you up after a cold day afield, but you can spend a little less time on the treadmill after enjoying this tasty salad. Makes 4 main-course servings or up to 8 side servings.
Ingredients
2 cups wild rice, cooked and cooled
2 cups diced cooked duck 1 cup diced celery stalks
1/3 cup chopped fresh Italian parsley
1/2 cup dried cherries or cranberries
1/3 cup finely diced red onion
2/3 cup finely diced bell pepper, any color
1/3 cup roasted pistachio kernels
Dressing
1/4 cup freshly squeezed lemon juice
2 garlic cloves, minced
2 teaspoons honey
1/4 teaspoon freshly ground pepper
1/2 cup extra virgin olive oil
Kosher salt
Directions
[STEP 1] To prepare the dressing, combine the first 4 ingredients in a medium bowl. Add olive oil in a thin stream while whisking. Season to taste with salt.
[STEP 2] Prepare the salad by combining all the ingredients and mixing well. For additional flavor, make a double batch of the dressing and divide it in half; marinate the cooked duck in half the dressing for several hours in the refrigerator before preparing the salad.
---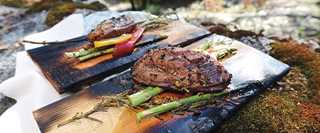 PACIFIC NORTHWEST
Planked Duck Breast
In the tradition of Native American fish and game cookery, a common grilling method in the Pacific Northwest is to place various meats and vegetables on an untreated wooden plank, usually cedar, alder, maple, or oak. The planks are first soaked in water or wine for an hour or so before being topped with meat, fish, and vegetables and placed on a medium-hot grill. As the plank heats up and inevitably burns around the edges, it imparts the flavors of wood smoke to the food. Serves 4.
Ingredients
2 untreated wooden planks soaked in water for 1 hour
4 duck breast fillets, skin on or off
1/3 cup olive oil
1/4 cup soy sauce
2 tablespoons red wine vinegar
4 garlic cloves, minced
1 teaspoon cracked black pepper
4 sprigs fresh rosemary
Fresh sliced vegetables such as asparagus, onion, bell pepper, broccoli, or squash
4 lemon slices
Directions
[STEP 1] In a nonreactive medium-size bowl, combine the olive oil, soy sauce, vinegar, garlic, and pepper and whisk together. Add the duck breast fillets and toss to coat evenly. Refrigerate for at least 2 or 3 hours-or up to 24 hours.
[STEP 2] Place 2 rosemary sprigs on each plank. Top each sprig with one duck breast fillet. Arrange the vegetables on the plank, top them with lemon, then place the planks on a medium-hot grill. As the planks heat up, they will start to smoke and burn on the edges. Flip the duck after 10 minutes and continue to cook for another 8 to 10 minutes for medium-rare.
---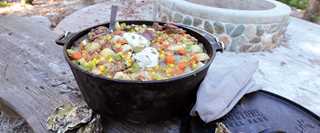 MID-ATLANTIC REGION
Chesapeake Duck Stew
It's a personal victory whenever I get a chance to combine two of my favorite ingredients, wild duck and oysters, as I do in this recipe. I would highly recommend pairing a bowl of this stew with a glass of peppery zinfandel. Serves 8 to 10.
Ingredients
1/4 cup vegetable oil
4 whole ducks, quartered (skin on or off)
1/2 cup flour
2 cups coarsely chopped onions
1 teaspoon dried thyme
1/4 teaspoon ground allspice
1 bay leaf
1 1/2 quarts beef, chicken, or game broth
8 small red potatoes, quartered
2 carrots, coarsely chopped
1 cup okra, sliced into 1/4-inch rings
1 cup corn kernels
2 cups oysters
Salt and pepper to taste
Sour cream for garnish
Directions
[STEP 1] Heat the oil in a heavy pot over medium-high heat. Dredge the duck pieces lightly in flour and add them to the hot oil a few at a time. Cook until all the pieces are well browned.
[STEP 2] Add the onions, thyme, allspice, bay leaf, and broth. Bring to a boil, reduce heat to medium-low, cover, and simmer for 1 1/2 to 2 hours. Keep checking the liquid to make sure the broth covers the contents of the pot. If necessary, add more broth. When the duck pieces are tender, remove them from the pot and allow them to cool before pulling the meat from the bones. Discard the bones and return the meat to the pot.
[STEP 3] Add the potatoes, carrots, and okra and cook for an additional 30 minutes. Add corn and cook for 15 minutes or more, or until meat is tender. Stir in the oysters and cook for 5 to 7 minutes. Season to taste with salt and pepper.
[STEP 4] Ladle stew into bowls and top with a dollop of sour cream.
---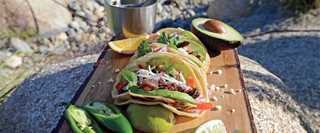 MEXICO
Tacos de Carnitas de Pato
This recipe was handed down to my friend Susie Jimenez by her mother. Susie was the runner-up on the seventh season of Food Network Star. She is also a regular contributor to my TV show, The Sporting Chef. I've learned so much about Mexican flavors and cooking styles from Susie, including this recipe, which turns wild ducks into something like slow-cooked pork. Makes 8 tacos.
Ingredients
Vegetable or peanut oil
2 medium-sized ducks, quartered
1 lemon, lime, and orange, each quartered
1 onion, quartered
1 can beer
Salt, pepper, and hot sauce to taste
Corn tortillas brushed with oil and lightly grilled or broiled on each side
Shredded lettuce, sliced avocado, salsa, cheese, cilantro, and other toppings to taste
4 lime halves for garnish
Directions
[STEP 1] Heat about 4 or 5 inches of oil in a deep heavy-duty pot or Dutch oven over medium-high heat. Add the duck and quartered lemon, lime, orange, and onion. Make sure that the oil completely covers the duck. Bring to a boil, then lower the heat to medium-low, cover, and simmer for 45 minutes. Check for doneness. The meat should be dark brown and crispy on the outside.
[STEP 2] Carefully add the beer to the pot, a little at a time, so that it doesn't boil over in the hot oil. Continue to simmer until the meat is very tender and can be easily removed from the bone.
[STEP 3] Transfer the duck pieces to paper towels to drain. Once cooled, pull the meat from the bones and shred. Season to taste with salt, pepper, and hot sauce. Place the meat in a hot skillet and heat to serving temperature.
[STEP 4] Stuff the tortillas with duck and desired toppings. Arrange on the plates with lime halves.