Pulled Goose Barbecue
For meat that's tender and tasty, cook it low and slow

A few years ago, a friend called to tell me about something crazy that had happened to him during a turkey hunting trip in Tennessee. "You'll never believe what they put on my pulled pork sandwich," he said. I knew right away what he was talking about. "Coleslaw," I replied. He was surprised that I had heard about this regional custom. I was raised in the South, so even though my friends from the rest of the country might not understand it, I think a pulled pork sandwich without coleslaw is like a grilled cheese sandwich without cheese.
When it comes to turning tougher meats into something tender and delicious, slow-roasted barbecue is near the top of my list of favorite cooking methods. While traditional pulled meat sandwiches are made with pork, similar results can be achieved with game meats. Since the cooking process uses low, moist heat to turn lean, sinewy meat into falling-apart deliciousness, it's great for goose breasts, antlered game, and feral swine. Getting the meat to shred is simple but a tad time-consuming.
Making pulled meats requires no special equipment, although I do prefer to use a smoker for an added dimension of flavor. How long it takes to turn goose breasts into shredded barbecue depends on the cooking method and temperature. In a smoker or oven, it will take 2 1/2 to 3 hours (see recipe). For those who have bought into the latest food preparation craze, the multi-cooker, add skinless goose breasts, some chopped onions, garlic, and a cup or so of your favorite barbecue sauce and cook under pressure for 45 minutes to an hour. Allow 10 minutes for the natural pressure release, then remove the lid. Slow cookers are also handy for pulled meats. Brown the meat, load into the slow cooker with onions and barbecue sauce, and let it simmer all day. Now, the only decision left is whether you want creamy or vinegary coleslaw. Make mine creamy.
Pulled Goose Barbecue Sandwich
This preparation is especially appropriate for snow geese and Canada geese. Save your specklebellies for the grill. If you don't have a scale, fill a one-gallon zip-top bag with skinless goose breast filletsthat will equal about 8 pounds of raw meat.
Makes: 12 to 14 one-cup servings
Ingredients
8 pounds skinless goose breast fillets
1/4 cup paprika
1/4 cup brown sugar
2 teaspoons each freshly ground black pepper, cayenne pepper, onion powder, and kosher salt
3 cups barbecue sauce
Burger buns
Coleslaw
Directions
[Step 1] Combine paprika, brown sugar, black pepper, cayenne pepper, onion powder, and kosher salt, then rub this mixture into goose breasts, evenly coating on all sides.
[Step 2] Arrange goose breasts on a tray for the oven or load onto racks for the smoker. Heat the oven to 300F. If using a smoker, set the temperature to 225 to 250F.
[Step 3] Place goose breasts in the oven or smoker. Cook for 1 1/2 hours or until internal temperature reaches 180 to 190F.
[Step 4] Place three large sheets of aluminum foil on a work surface. Arrange cooked goose breasts in the center of the foil and top with barbecue sauce. Roll up foil and return to oven or smoker and cook for another hour or until meat shreds easily.
[Step 5] Place about a cup of shredded meat on each burger bun and top with about 1/2 cup of coleslaw.
---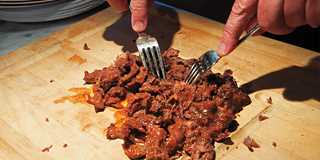 Use a smoker, oven, multi-cooker, or slow cooker to turn game meat into falling-apart barbecue.