Louisiana DU's Roadkill Cook Off Recipes
Recipes from this unique DU event are worth saving

Ducks Unlimited fundraising events vary from region-to-region, but Louisiana DU hosts an event in conjunction with the annual state convention that brings out the best of the state's culture and culinary prowess - the Roadkill Cook Off.
This cooking contest features more than just waterfowl, as the only rule in this contest being that whatever you cook, must have a hunting or fishing season. This mouth-watering collection of recipes will make you appreciate the authenticity and passion these DU volunteers have for sharing their finest wild-game recipes.
Recipes and videos compiled by Jared Serigne
Hog Wild Jambalaya
Ingredients:
Pack Cajun rice mix
2lb. wild hog meat
1 lb. ground green onion sausage
1 lb andouille or green onion smoke sausage
1 lb. hickory smoked bacon
2 large yellow onions
1 bell pepper
3 Stalks celery
1 bunch green onion
11.5 cups of chicken stock or water
2 tablespoons Gene's Special Blend seasoning
1 bottle blush wine

Cooking Instructions
Clean hog meat and brine in saltwater for 2-4 hours if time permits. I like to cut meat in small cubes and marinate overnight in Gene's Special blend. In a large black iron pot or sugar kettle fry bacon and set bacon aside. Cut smoke sausage frac14;-inch thick, brown hog meat and smoke sausage in bacon grease and set aside. Chop vegetables add to pot and cook until onions get translucent. Add ground sausage and brown. When pork sausage browns use a cup of blush wine to deglaze the pot. Add all ingredients to pot including rice mix and stock and bring to a boil. Turn fire down to a simmer for 15 minutes or until rice gets tender. Very important to keep top on pot to conserve moisture and cook rice. After rice gets tender turn fire off, keep lid on pot tightly and drink a glass of wine while allowing Jambalaya to steep. Uncover and fluff, I like to use frac12; off the chopped green onion and some crispy crumbled bacon as a topping on jambalaya.
Slow-Smoked Wild Boar Wraps and Covered Cheese Fries
Wild Boar ham is rubbed in a honey garlic seasoning and left to sit overnight.
Cooking: Smoked with a combination of pecan and oak at 235 degrees for 10 hours and rested for 3.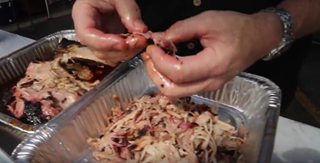 Pull the pork into small strips. The pork was combined with shredded pepper jack cheese and a touch of Sweet Baby Rays BBQ Sauce, placed on a tortilla, touch of Ranch dressing if desired.
The cheese fries were hand cut on site and fried to a golden brown.
Then topped with pork, sprinkled with red onions, and drizzled with BBQ Sauce
Cajun Crawfish Sauce Over Fried Eggplant Medallions or Fried Catfish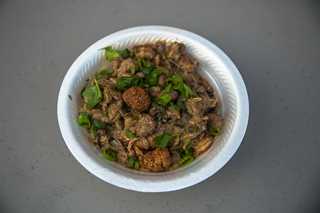 Ingredients:
1/2 Stick of Butter
1 Medium-size onion
1 Jalapeno pepper
2 Tablespoons of minced garlic
2 Celery Stalks
4 Tablespoons of creole seasoning
1 Tablespoon of ground oregano
1 Tablespoon of ground thyme
2 Tablespoon of parsley
1/4 cup of green onion
4 Tablespoons of Tabasco
4 Tablespoons of Worcestershire Sauce
2 Pints of heavy whipping cream
1 10oz Cream of shrimp
2 pounds of Crawfish tails

Preparing Sauce:
1) Add butter, onions, pepper, garlic, celery, oregano, thyme, parsley, tabasco, Worcestershire sauce, heavy whipping cream, cream of shrimp, and seasoning
2) Let this cook until sauce thickens up
3) Add crawfish
4) Let cook until crawfish are cooked thoroughly
5) Serve over fried eggplant or catfish
Preparing Eggplant Medallion:
1.) Peel eggplant skin
2.) Cut eggplant into 1/4 inch slices
Pre Batter:
1.) Put buttermilk into bowl
2.) Batter: Put flour and corn meal into bowl (use 2-to-1 ratio favoring flour)
3.) Place 6 eggplant in buttermilk
4.) From the buttermilk place medallions into the flour corn meal mixture
5.) Completely cover with batter
6.) Fry until golden brown
Preparing Catfish Filets
1.) Use 1- to 2-ounce filets
2.) Pre Batter: Water and flour (add flour to water until pasty)
3.) Batter: Flour and Corn meal (use 2-to-1 ratio favoring flour)
4.) Put approx. 6 filets into pre batter
5.) From pre-batter place filets into flour cornmeal mixture
6.) Fry until golden brown or your preference
Cajun Roadkill Fajitas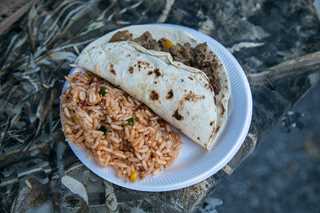 15 lbs of julienned venison
18 lbs of julienned wild pork
2 10-ounce bottles of fajitas marinade
4 ounces of Liquid Smoke
8 large green bell peppers julienned
3 large red bell peppers julienned
2 large orange bell peppers julienned
3 large yellow bell peppers julienned
Olive oil
6 tablespoons of Cajun seasoning
2 tablespoons of ground coriander
2 tablespoons of ground sage
12 large yellow onions (large chop)
1 bunch cilantro (leaves only)
Season the meat with Cajun seasoning, 1 bottle of marinade, liquid smoke, coriander, sage, in a non-reactive container overnight.
In a large pot, add meat, remaining marinade and olive oil. Cook the meat until it is tender, possibly two hours or more. Keep adding water to keep meat tender.
In another large pot, cook the vegetables in olive oil. Cook them to a soft crunch. Add cilantro for flavor, wrap in tortilla and serve.
Roadkill Seafood Jambalaya
Ingredients:
24 cups cooked rice
1 stick unsalted butter
6 large chopped onions
2 large bell peppers chopped
5 cans Rotel tomatoes with liquid
3 cans tomato paste
2 quarts of shrimp stock
3 cloves of chopped garlic
Cajun Seasonings
7 lbs catfish filets
6 lbs shrimp
1 packet of New Orleans BBQ Shrimp Mix
1 quart of V8 Juice
1 bunch Parsley

Preparation:
Cook onions and bell peppers until onions are clear, add shrimp stock, Rotel, tomato paste, garlic, salt and pepper to taste.
Cook on medium heat until sauce thickens - about two hours - use the V8 juice to the sauce if more volume is needed. Season catfish liberally with the Cajun seasonings and broil until well done. Remove from oven and cool in the refrigerator.
Cook shrimp in butter and New Orleans BBQ Shrimp packet and cool in refrigerator. Take the cooled fish and add to food processor and chop until course, then do the same with the shrimp. Add the shrimp and catfish to the sauce to heat up and mix it all with the rice. Add Chopped parsley to the mix. Serve when hot.
Shrimp Creole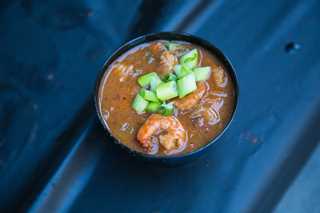 Ingredients:
1/2 cup finely diced onion
1/2 cup chopped green bell pepper
1/2 cup chopped celery
2 cloves garlic, minced
3 tablespoons butter
2 tablespoons of cornstarch
1 (14.5 ounce) can stewed tomatoes
1 (8 ounce) can tomato sauce
1 tablespoon Worcestershire sauce
1 teaspoon chili powder
1 dash hot pepper sauce
1 pound medium shrimp - peeled and deveined
Directions
In a 2-quart saucepan, melt butter or margarine over medium heat. Add onion, green pepper, celery, and garlic; cook until tender.
Mix in cornstarch. Stir in stewed tomatoes, tomato sauce, Worcestershire sauce, chili powder, and red pepper sauce. Bring to a boil, stirring frequently. Stir in shrimp, and cook for 5 minutes.
Red, White, and Blue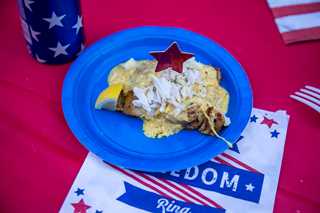 Fresh Louisiana Red Snapper or other premium gulf fish, pan seared in our unique blend of herbs and spices. The fish is then topped with a decadent White Cream Sauce consisting of charred Sweet Louisiana Corn and caramelized Vidalia Onions. All this beneath fresh succulent Louisiana Blue Crab meat. From our Louisiana table to you, please enjoy your Red, White and Blue

Sauce Preparation:
3 cups of whole milk
2 cups of cream cheese
1 stick of butter
2 cups roasted corn kernels
1 cup caramelized Vidalia onions
Salt and pepper to taste
Cayenne pepper to taste
House seasoning to taste
1 tablespoon Worcestershire
2 tablespoon hot Sauce
2 tablespoon house Seasoning blend (Old Bay or Tony's is Great as well!)
In a large stock pot caramelize the onions (can be done with the butter, but they brown more quickly without). Next, reduce heat to med-low and add butter and cream cheese. Allow to melt then add spices and milk. Allow to thicken and come up to serving temperature.

4 Red Snapper filets and 8 ounces of blue crab meat
Red Snapper Preparations:
Take each Red Snapper filet, pat dry with paper towel and then dust liberally with house blackening blend (or Old Bay Blackening blend)
Sear approximately 2 minutes per side on Flat Griddle or cast iron pan with a little oil

Dish Assembly:
Place seared snapper filet in center of dish. Top with 4 ounces of RWB sauce, than top RWB sauce with 2 ounces of blue crab meat. Finally, top with petite diced red bell pepper and chives

Louisiana Camp Duck, Andouille and Oyster Gumbo
Serves 200-250 people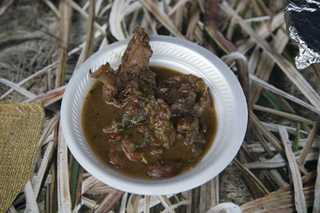 50 wild ducks
10 lbs smoked sausage
5 lbs Andouille sausage
1 gallon oysters
1 gallon oyster water
10-12 gallons chicken stock (*or water & 2 pints Chicken Bouillon Paste combined)
3 lbs All-purpose flower
5 Cups vegetable oil for Roux (*additional oil will be need to brown meats and vegetables)
12 lbs yellow onion, chopped
Whole bunch celery, chopped
8 large bell peppers, chopped
8 cloves of garlic, minced
6 Bunches green shallots, chopped
Bunches Parsley, chopped
Salt, pepper, celery salt, garlic powder, Tony's Seasoning
Gumbo File'

Begin by prepping all cut ingredients prior to cooking. Cut ducks into pieces discarding the backbone and neck. Cut legs and thighs from the backbone keeping them attached, cut the wings carving a large chunk of the breast, split breast into two pieces. Try to remove as much bone, skin, pellets and damaged tissue from the duck pieces. Set aside. Then cut Smoked Sausage and Andouille in to frac14; inch circles. Onions, Celery, Bell Peppers, Garlic, Green Onions and Parsley can be chopped and set aside.
For a large gumbo, the following processes are done in steps using a large 20-gallon cast iron pot. It is not necessary to clean the pot between each step of the process.
Begin by making a Roux. The roux should be medium to dark color for duck Gumbo. Combine the flour and 5 cups of oil, stirring continuously at medium heat until the desired color is attained. Remove roux to a separate bowl, preferably a cake pan, to allow roux to cool. Spread and stir the roux once remove until cooled. The roux is extremely hot and will darken further and has the potential to burn if not cooled. Extreme caution is to be used when cooking a roux. A burnt roux cannot be corrected and the roux can cause severe pain if splash on your skin. Both will ruin a good gumbo.
Once the roux is removed, the next step is to brown the sausage and andouille to render the oils from the meats. Brown until sausages begin to fry or brown in the oils rendered. Remove sausage and set aside leaving the oils in the pot.
Next brown duck parts and cook until browned. Additional vegetable oil may be needed to brown the duck parts. Add water or stock sparingly if the duck is sticking. Once duck is browned, you can add water to cook duck a little to begin the tenderization process. You don't want to overcook duck at this point because the final tenderization will take place once the stock is added in the final step of the process. Once browned and water has cooked out, remove browned duck and set aside.
Add onion, celery, bell pepper and garlic with additional oil to pot. Cook until clarified and all water has cooked out. The vegetables will finish cooking once the stock is added and will break up into a suspension in the gumbo.
There will be an accumulation of oils from the roux, ducks, sausages, and vegetables. From this point on, skim and remove oils that accumulate on the surface of the pot throughout the cooking process.

Assembly:

Combine the duck and sausages with the chopped greens. Add about 5 gallons of stock and bring to a low boil. Spoon in the roux and stir until the roux is all dissolved. The mixture may be pasty at this point. Continue stirring until mixture begins to boil. Add additional stock until mixture is no longer pasty and bring to hard boil then reduce heat to medium. Stir occasionally to avoid sticking adding remaining stock as necessary. Stirring should be slow and gentle turning the bottom of the pot to the top while preventing sticking. To avoid breaking up the meats, DO NOT PADDLE in the pot as you would your pirogue!
Cook for 1 hour then add green onions and parsley and oyster water. It may take up to another hour or more of cooking from this point for the duck to become tender. Once the duck is tender add oysters and adjusting final liquids as necessary to desired consistency. My preference is for a thick nearly stew-like consistency. Additional stock can be added for a thinner soup-like consistency if desired.
Season using salt, pepper, celery salt, garlic powder, & Tony's Seasoning to your crowds liking. Cook another few minutes for the seasonings to disperse.
Remember to skim oils throughout the cooking process. Once the fire is turned off, the remaining oils will accumulate on the surface for final skimming Gumbo File' can be added and stirred into the large pot to desired taste. Most people prefer to add additional file' to their plate when serving.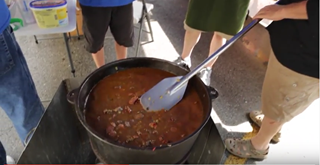 VERY IMPORTANT HANDLING ONCE COOKED:
Never, never, never place the lid tightly on the pot after the gumbo is cooked to prevent spoiling.
Due to the size of the gumbo, the cooked gumbo should be stirred occasionally to distribute heat and allowed to cool.
Do not leave the gumbo pot on a heat source, pilot light, hot burner, etc.
Enjoy, and remember…It's about more than ducks! It's about duck, andouille, and oyster gumbo!
Want more information about this year's Road Kill Cook Off?

Do you have a great recipe to share? Submit it today for a chance to win great prizes. Submit your recipes today