French Dip
A wild take on the classic sandwich

A traditional French dip sandwich consists of thinly sliced beef, a sturdy roll, and a dipping sauce made from stock or broth. When substituting duck for beef in this time-honored recipe, I much prefer the meat cooked rare to medium rare, since it will be dunked in the hot stock just before serving and dipped again between bites. The stock is simple to prepare and makes use of many of the leftover parts from your ducks.
The Sandwiches
Yields: 4 sandwiches
INGREDIENTS
6 to 8 duck breast fillets, skin on or off
Olive oil
Salt and pepper
1 quart duck stock (see recipe on pg. 28)
1/2 teaspoon dried thyme
2 tablespoons Worcestershire sauce
3 minced garlic cloves
4 sturdy rolls like sourdough, ciabatta, or French baguette, split
4 tablespoons melted butter
PREPARATION
1. Rub duck breast fillets with olive oil, salt, and pepper. Grill, pan-sear, or broil until medium rare. Allow to cool. Slice as thinly as possible across the grain.
2. Heat oven to 450 degrees.
3. Mix the stock, thyme, Worcestershire sauce, and garlic in a saucepan and bring to a boil on the stovetop. Reduce to a simmer and add salt
as needed.
4. Brush inside of rolls with melted butter. Place on a sheet pan and brown, buttered side up, in the preheated oven until golden brown. Remove from oven.
5. Dip the sliced duck meat in the hot stock mixture and then arrange on rolls. Ladle the remaining stock mixture into small bowls for dipping and serve on the side with the sandwiches.
The Duck Stock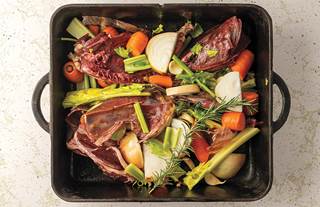 Place several duck carcasses, legs, and even feet into a roasting pan, along with rough-chopped carrots, celery, and onions. Give the feet a good whack or two with a knife to break the skin and release the collagen while simmering. Theres no need to peel or remove the ends of the vegetables. Roast in a 400-degree oven until evenly browned, turning everything over every 20 minutes or so.
Transfer the contents of the pan to a large stock pot and cover with cold water. Add a few bay leaves, fresh garlic, and several sprigs of rosemary. Heat until almost boiling, then simmer over low heat, uncovered, for 12 to 24 hours. Check on the stock pot every few hours to make sure that there is enough liquid to cover whats in the pot. After the simmer, use tongs to remove and discard the big chunks. Pour the remaining liquid through a strainer, then again through a strainer lined with cheesecloth or paper towels. I add salt to my stock, but not until I use it in a recipe.
Because collagen is extracted from the bones and joints while making stock, cooling the liquid in the refrigerator causes it to form a gel. Once cooled, stocks can be refrigerated for a week or two and frozen for a year or more.
BONES AND ALL
What is the difference between stock and broth? Stock is made mostly with bones. Broth is thinner and made with more meat and fewer bones. If you pay attention to culinary trends, a bone-based stock like the one in this recipe might seem like just another new food fad, but it isnt. It is the same kind of stock that has been made for centuries.
Beyond its virtues as an integral accompaniment to the famed French dip sandwich, this kind of stock has been credited with multiple health benefits. The collagen and nutrients extracted from animal bones and connective tissues promote healthy skin, joints, and bones. A good stock can also help relieve problems with inflammation and digestion.