Far-East Flavor
In this mouthwatering recipe, homemade hoisin sauce complements the unique taste of dry-aged ducks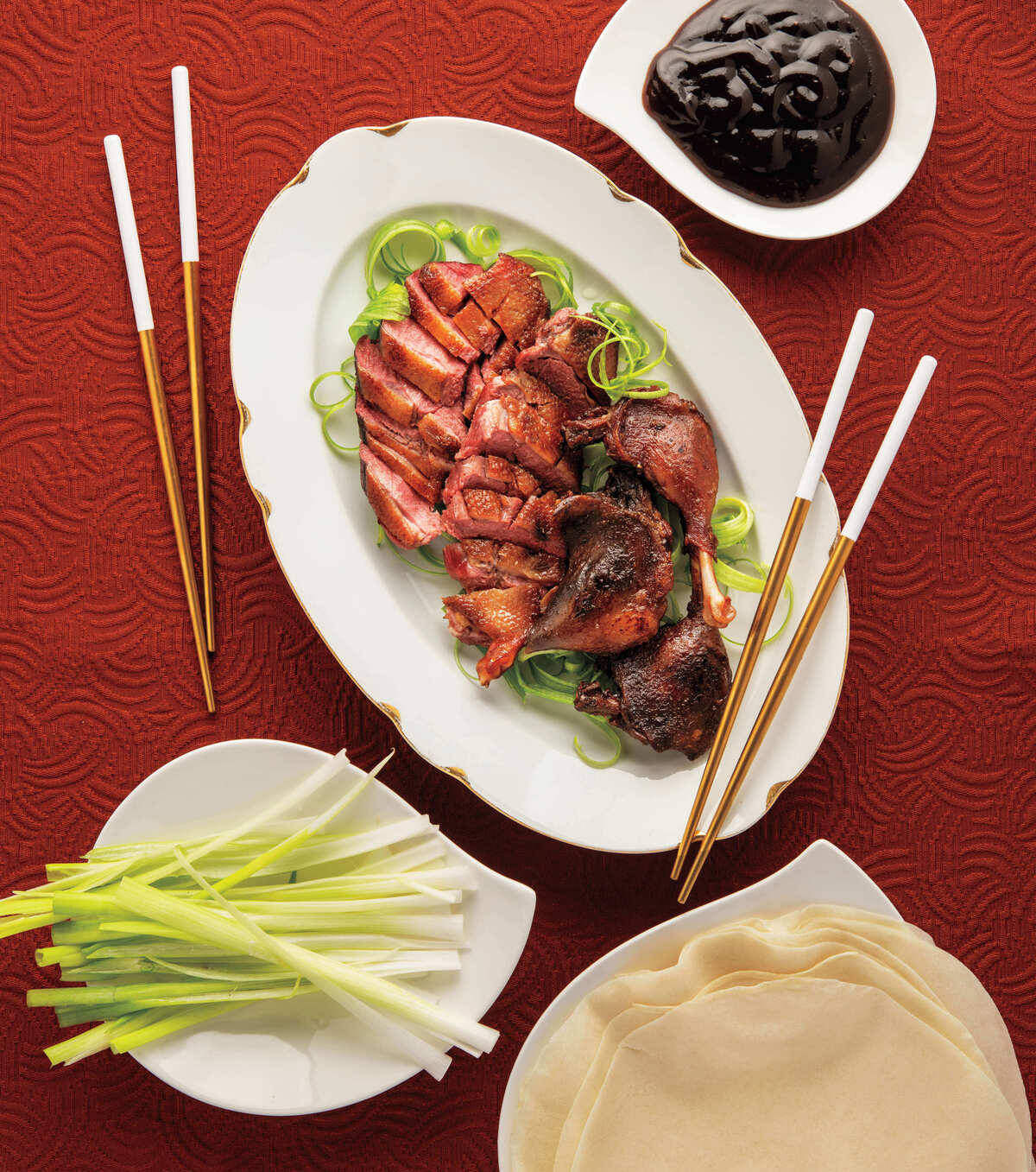 Asian flavors have always paired well with waterfowl. Many home cooks soak their ducks and geese in store-bought teriyaki sauce before making the ever-popular duck poppers. Commercial teriyaki sauces will do in a pinch, but they are usually too sweet for my palate. Bottled hoisin sauces can be extremely high in sodium, so much so that the flavor is overwhelming. Making your own sauce allows you to control the sodium, spicy heat, and other elements to satisfy your personal preferences.
Hoisin sauce is meant to be used sparingly, as a dipping sauce or a thin coating on a lettuce wrap, for example. In this recipe, the goal is to enjoy the intense flavor of a properly aged duck with just a drizzle of homemade hoisin sauce.
The process of dry-aging waterfowl greatly improves the flavor and texture of the meat. Dry-aging evaporates any trace capillary blood and makes your waterfowl firmer and leaner but not chewy.
Don't waste your time dry-aging skinless duck breast fillets. It will just dry them out, and not in a good way. Use plucked ducks that are whole, spatchcocked, or split (see below). Set the birds on a rack with a pan underneath to catch any drippings, and then place the ducks in the refrigerator or any cold environment that maintains a temperature between 34 and 39 degrees. It will take five to seven days to work the magic on a whole mallard. Split or spatchcocked birds should be dry-aged for four to six days.
Roasting a whole duck does not make culinary sense. The legs will be tough and sinewy when the breasts are a perfect medium rare. In this recipe, we remove the legs and give them a head start, cooking them for two to three hours before adding in the breasts for the last 20 or 25 minutes.
Dry-Aged Roast Duck with Hoisin Sauce
Yields: 4 servings
Ingredients
2 large dry-aged ducks, skin intact
Salt and pepper
6 to 8 green onions, julienned lengthwise
Asian pancakes or lettuce leaves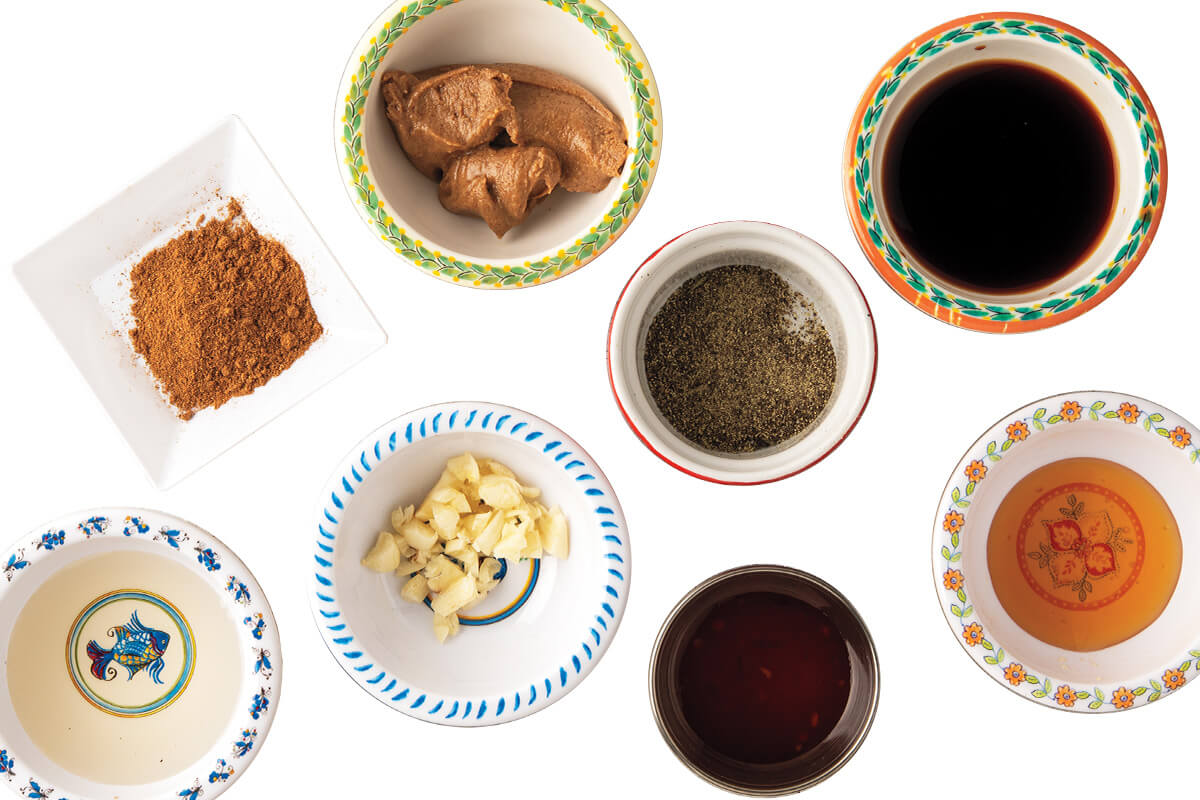 Hoisin Sauce
1/4 cup low-sodium soy sauce
2 tablespoons smooth peanut butter
1 tablespoon honey
2 teaspoons rice vinegar
2 teaspoons sesame oil
1 clove garlic, minced
1/8 teaspoon black pepper
1 teaspoon Thai chili sauce
1/4 teaspoon five-spice powder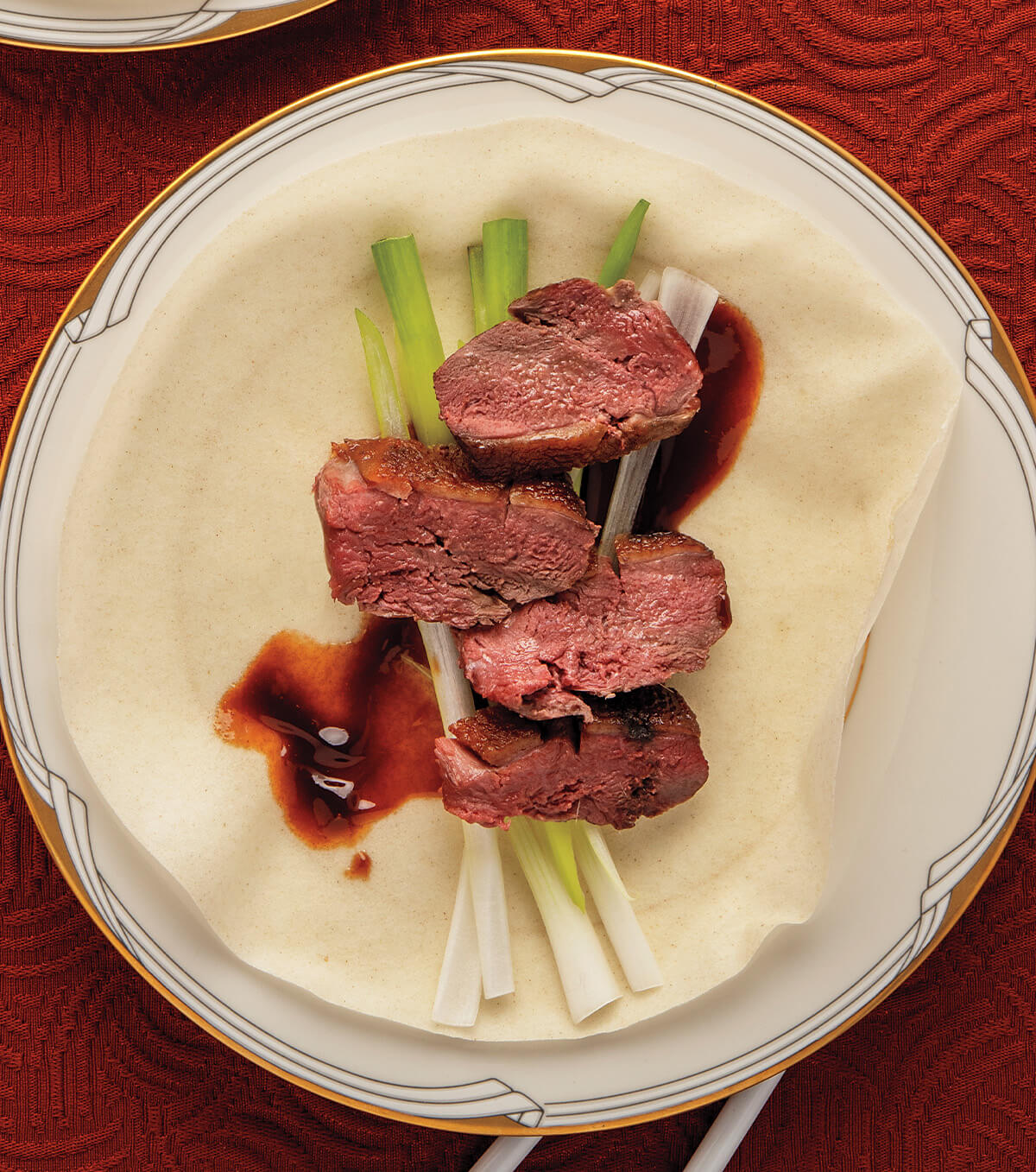 Preparation
1. Season dry-aged ducks liberally with salt and pepper. Remove the legs, place them in a lightly oiled roasting pan, and braise them in a 300-degree oven for two to three hours.
2. Remove the roasting pan from the oven and increase the heat to 400 degrees. Add the duck breasts to the roasting pan with the legs. Transfer the pan to the 400-degree oven and roast for 10 minutes. Then reduce the heat to 350 degrees and roast for another 10 to 15 minutes or until the internal temperature of the breasts is 130 to 135 degrees for medium rare.
3. While the ducks are roasting, combine hoisin sauce ingredients in a saucepan. Bring to a boil, then reduce heat to low and simmer for five minutes.
4. Once duck breasts are cooked to medium rare, remove them and the legs from the pan. Slice the breasts and arrange them on plates alongside the legs. Serve with green onions, hoisin sauce, and Asian pancakes or lettuce leaves.
---
Three Ways to Prepare a Duck for Dry-aging and Roasting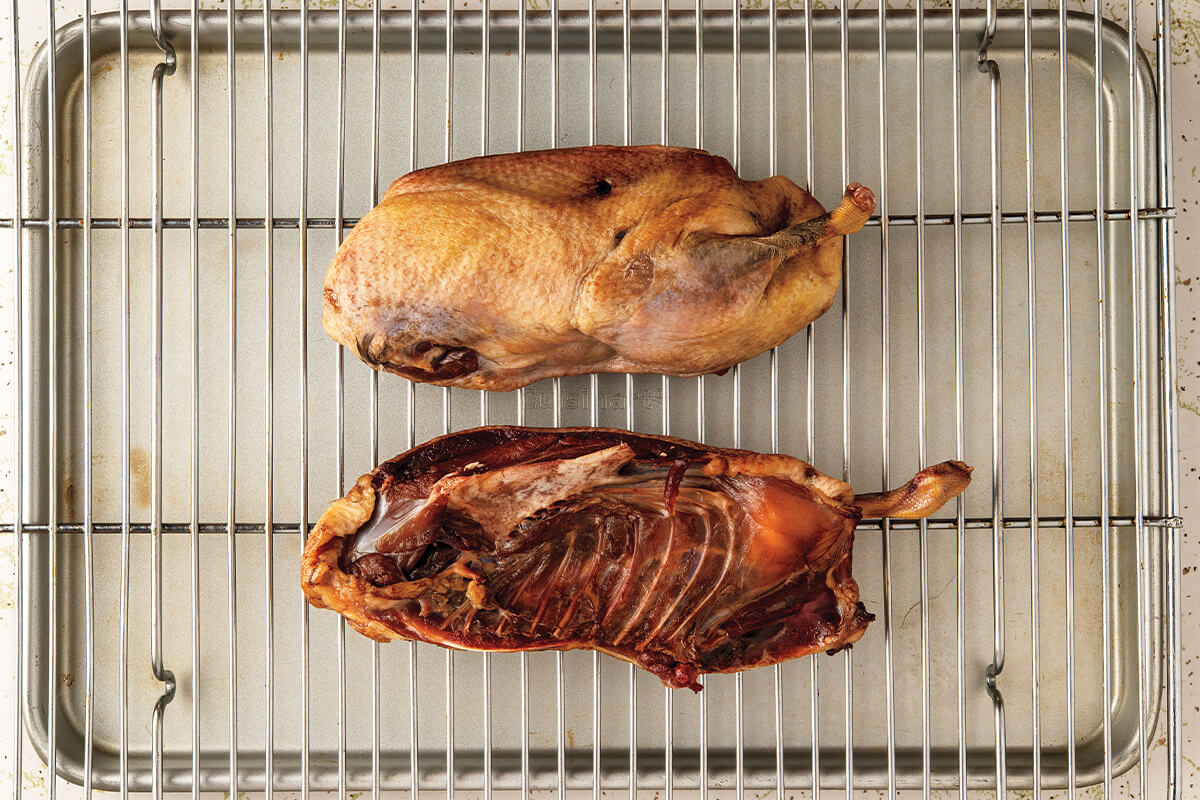 Whole: The duck is left intact.
Spatchcocked: The duck is split along the backbone, opened up, and then flattened.
Split: The duck is split along the backbone and breastbone, creating two equal halves.