Everything Is Better with Butter
This tasty topping will take your next duck dinner to another level

Regardless of how you cook your ducks and geese, topping them with a slice or two of compound butter makes them so much better at the dinner table. Compound butters are softened butters with other ingredients added to make them more flavorful. Once the ingredients have been blended, the butter is formed into a log, wrapped in plastic wrap or wax paper, and either refrigerated or frozen. Just before serving cooked waterfowl or other meat, add the compound butter, which will slowly melt onto the meat and create a delicious buttery sauce. High-end steak houses have been using this preparation for decades with delicious results.
What you put into your compound butter is a matter of personal preference. Consider which ingredients you might use to make a pan sauce for grilled duck breastscrushed black pepper, roasted garlic, fresh rosemary, a sprinkle of sea salt, and butter. Now picture that in solid form that you keep in the refrigerator. Shortly after removing game from flame, you top it off with the butter combination to create something special. The same compound butter can be used to top your steaks, burgers, and antlered game.
Garlic and Chive Compound Butter
This is one of my favorite compound butter recipes for waterfowl, but the possibilities are limited only by your personal taste and imagination. Start with butter that has been softened at room temperature for an hour or two. Avoid using a microwave to soften the butter. You want it to be soft, not melted. In a pinch, add chunks of butter to a warm bowl or a bowl over hot water and give it an occasional toss until softened.
Ingredients
1/2 pound softened salted butter
1/4 cup minced fresh chives (or substitute green onions)
3 minced garlic cloves
1 teaspoon freshly squeezed lemon juice
Wax paper or plastic wrap
Directions
[Step 1] Combine all the ingredients in a bowl and blend well with a spatula or fork.
[Step 2] Transfer butter mixture to the center of a sheet of wax paper or plastic wrap and form into a log, about 4 to 5 inches long and 2 inches wide. Roll wax paper over butter mixture to form a cylinder. Twist paper at both ends and refrigerate until firm.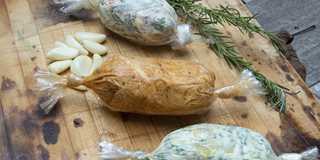 The Perfect Combination
Whether its a mountain trout sizzling in a cast-iron skillet over a smoky campfire or a fat mallard breast on an open grill, everything tastes better with butter. Following are some of my favorite ingredients to add to compound butter for a variety of meats.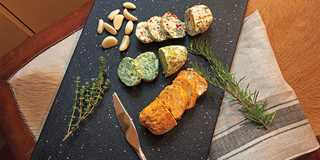 Fish, upland game, and chickenlemon and lime zest, minced garlic, minced fresh basil leaves, lemon or lime juice, and salt.
Upland game and waterfowlroasted bell pepper, fresh oregano leaves, minced garlic, and salt.
Waterfowl, antlered game, and domestic beef and porkcracked black pepper, fresh rosemary, roasted garlic, and salt.