Cooking with Whiskey
Whiskey-infused marinades and sauces can take your waterfowl dishes to the next level

-By Scott Leysath
I feel like I've been missing out on something. My friends can't say enough about the taste of dark liquor. I picture them sitting by the fire every night sipping a glass of fine whiskey or bourbon with a sleeping Lab beside their easy chair. I'm a vodka, red wine, and occasional beer kind of guy. I've tried to go to the dark side, but I always end up pouring out my drink after an hour or two of trying to like it. Even the finest, most expensive small-batch bourbons are lost on me. Perhaps I'll never appreciate a good glass of whiskey, but I'll keep trying.
On the other hand, I very much like adding whiskey to a barbecue sauce, stew, or pan sauce, where it imparts a subtle character much like you get from wine. It can be added to a salmon glaze, cream sauce, or marinade. If alcohol isn't your thing, simply reduce a cup or so of whiskey in an open saucepan and the alcohol will evaporate, leaving behind a malty liquid that can then be added to a recipe.
For safety reasons, cooking with any alcohol demands your complete attention. Always remove the sauce from the heat source before you add the alcohol. Even a hot skillet can ignite a splash of alcohol. Flames look cool in a pan when a chef makes it happen on TV, but it's all for show and completely unnecessary.
Here are a few of my favorite whiskey-based recipes that pair well with dark-fleshed wild game like ducks and geese. I've found that they all work especially well with smoky grilled meats.
ORANGE AND WHISKEY MARINADE
Ingredients
1 cup whiskey
2 cups orange juice
3 minced garlic cloves
1/2 teaspoon kosher salt
1/2 teaspoon freshly ground black pepper
3 tablespoons olive oil
Directions
Combine all ingredients and mix well. Place ducks or duck parts in a nonreactive container or zip-top bag. Add marinade and toss to coat evenly. Refrigerate for six to 24 hours. Discard marinade after use.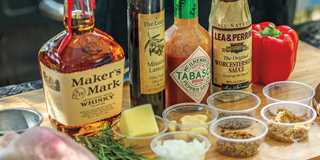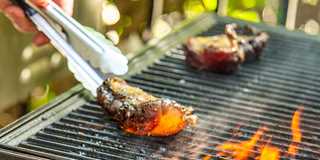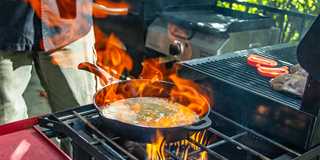 BOURBON BUTTER SAUCE
Ingredients
1/4 cup butter
1/4 cup minced onion
2 minced garlic cloves
2 teaspoons minced fresh rosemary leaves
3 tablespoons bourbon
2 teaspoons Dijon mustard
2 teaspoons Worcestershire sauce
Pinch brown sugar
Dash Tabasco
Directions
Melt butter in a medium skillet over medium heat. Add onion, garlic, and rosemary and cook, stirring often, until onions are translucent, about three to four minutes. Remove skillet from heat and away from any flames. Stir in remaining ingredients. Return to heat and simmer for four to five minutes or until sauce has thickened.
BOURBON CREAM SAUCE
Ingredients
2 tablespoons butter
3 minced garlic cloves
1/4 cup minced red onion
1 tablespoon brown sugar
1/2 cup beef or chicken broth
1/4 cup bourbon
1/3 cup heavy whipping cream
Kosher salt and freshly ground black pepper

Directions
Heat butter over medium heat in a saucepan. Add garlic, onion, and brown sugar. Cook, stirring often, until onions are translucent, about three to four minutes. In a bowl, combine broth with bourbon. Remove saucepan from heat and away from any flames before stirring in the broth and bourbon mixture. Return saucepan to the stove, bring to a boil, and reduce the liquid by half. Add cream and cook until the sauce is thickened and creamy. Season to taste with salt and pepper.