The Best Duck Hunting Meal...Ever
Photographic tribute to a fantastic hunting meal

By Chris Jennings
My attempts at cooking a duck blind breakfast have earned me a certain amount of notoriety among my waterfowling friends. Unfortunately, my gastronomic reputation has been built mainly on slightly charred boat-blind bacon sandwiches and breakfast burritos. Last season, however, my taste buds were treated to what I believe was the best duck hunting breakfast and lunch ever. These meals made a true convert out of me, and I vowed never again to make a slap-dash meal and call it a duck blind banquet.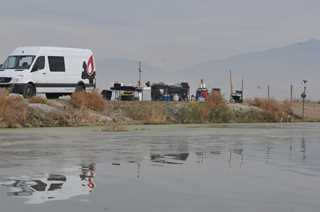 I was in a layout boat hunting a public impoundment on the Great Salt Lake when I first noticed a crowd of hunters huddled around the Camp Chef van back on the levee. The hunt, hosted by Camp Chef and Yamaha Outdoors, had gotten off to a slow start, but I managed to bag one gadwall before flagging down the tender boat and heading back to the levee.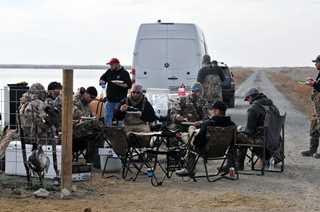 What greeted me on the levee almost made me feel sorry for the poor hunter replacing me in the layout boat. Camp Chef employee Matt Anderson and local Salt Lake City chef and pizzeria owner Jack Carlisle moved from one dish to the next pointing out the multiple breakfast options. Hot buttermilk biscuits, cracked-pepper sausage gravy, an assortment of European pastries-these were just for starters. Not wanting to hurt the chef's feelings, I helped myself to a few biscuits and three heaping ladles of gravy as well as one small danish.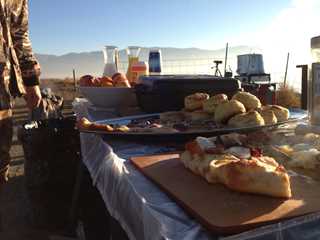 Just as I was using my last biscuit to sop up whatever gravy remained on my plate, Carlisle waived me over to a propane-powered brick-oven pizza maker. 'I call this a Sunnyside Pizza Pie,' he said as he took one of the pizzas out of the oven. The array of toppings on this culinary masterpiece, including cream sauce, thinly sliced potatoes, natural-aged bacon, prosciutto, smoked cheddar cheese, and two sunny-side-up eggs topped with cracked pepper and pure maple syrup, were unlike any I had ever seen on an ordinary pizza.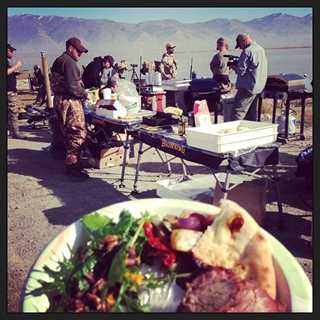 Chef Carlisle sliced the pie into six pieces, while I gathered the strength to face more food. Again, not wanting upset the chef, I took two slices. Later, I helped myself to another. This last one I savored slowly, as it was solely for review purposes, and I knew that later I would need to give readers as objective an appraisal as possible. The pizza rocked!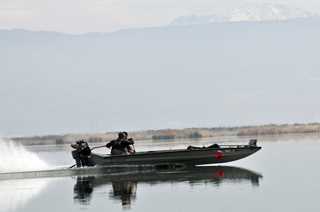 After some coffee and another turn in the layout boat it was time for lunch, which seemed a bit premature after such a hearty breakfast. Still, I didn't want to disappoint my hosts, so I soon joined the other wader-clad waterfowlers lining up for what would be a true feast.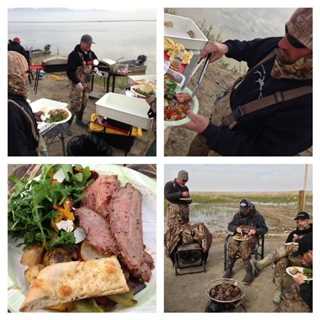 This amazing lunch featured slow-cooked tri-tips; a hash made of potatoes, assorted bell peppers, jalapeños, red onions, and roasted tomatoes; a salad prepared with kale, roasted butternut squash ribbons, roasted pecans, Asiago cheese, and a poppy-seed dressing with a spicy apple cider reduction; and flat bread with olive oil, sea salt, and smoked sharp cheddar.
One month later, while hunting an oxbow along the Mississippi River, I described this exact meal to my hunting partners, right down to the pure maple syrup drizzle on the Sunnyside Pizza Pie. Imagine their disappointment when, in between flocks of gadwall, I pulled out my two-burner propane stove and proceeded to burn thickly sliced bacon to a crisp and slap it between pieces of white bread. 'Next time out,' I promised, 'I'm going to make a meal you'll never forget.'