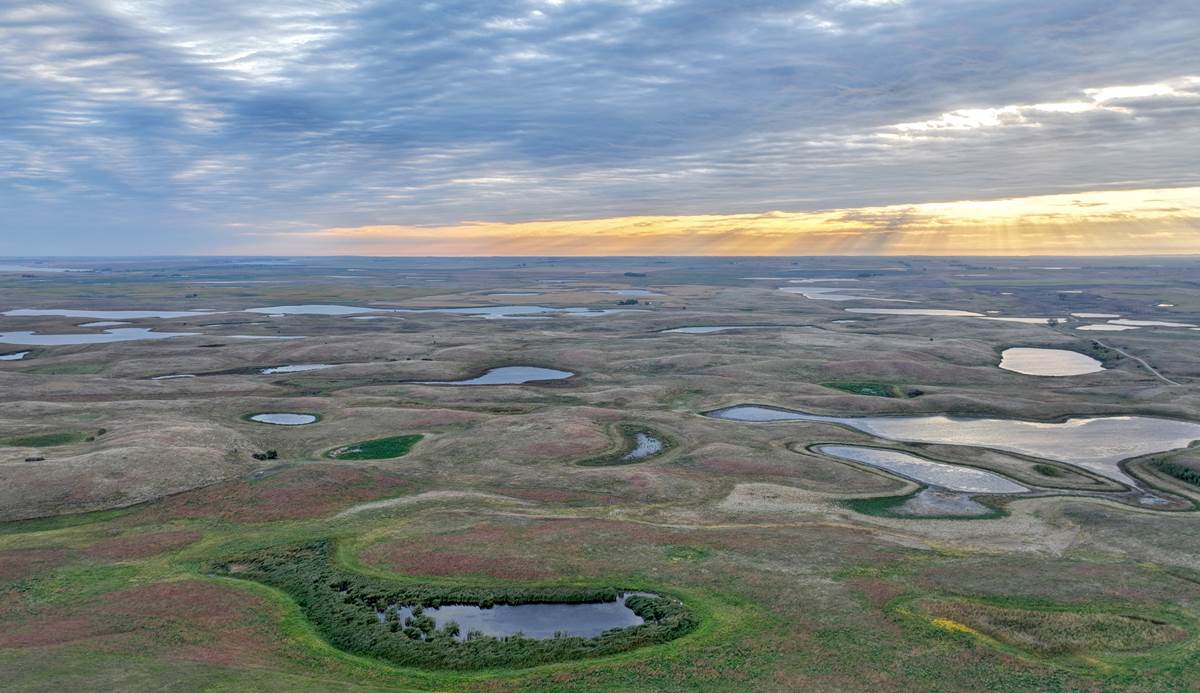 The Great Plains Region, headquartered in Bismarck, N.D., was established in 1984 to protect and restore wetlands and grasslands in the United States Great Plains. Today, the GPR carries out conservation programs in seven states that include some of the most important nesting and migration habitat on the continent. DU has conserved more than 3.2 million acres in the Great Plains states of North Dakota, South Dakota, Nebraska, Montana, Kansas, Colorado and Wyoming.
Upwards to 50 percent of the continent's waterfowl nest in the Prairie Pothole Region states of Montana, North Dakota and South Dakota, where DU protects grasslands and wetlands. DU also works with farmers and landowners to promote planting winter wheat, which makes good nesting habitat since it is planted in the fall and has less disruption in the spring.
Ducks and other wetland-dependent birds depend on migration habitat to feed, rest and build vital energy reserves. DU restores and protects habitat in the Rainwater Basin in Nebraska and along the Platte River in Nebraska, Colorado and Wyoming; the mountain wetlands of Colorado, Montana and Wyoming; and the Cheyenne Bottoms in Kansas. Research has shown that the quality of migration habitat affects the condition of birds returning north to the nesting grounds.
DU is developing new ways to help landowners conserve land through its Ecosystems Services, including the Environmental Water Markets, Carbon Sequestration and Wetland Mitigation programs.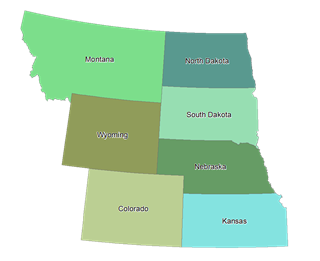 Great Plains Region Contacts
North Dakota
Montana
South Dakota
For questions or information on local DU conservation programs or projects, contact Bruce Toay at (605)380-0684 or btoay@ducks.org
For questions related to DU major sponsors or how to become a major sponsor, contact Terry Kostinec at (605) 624-0098 or tkostinec@ducks.org
For questions related to local DU fundraising events, contact Don Thorpe at (605) 630-8696 or dthorpe@ducks.org
Nebraska
For questions on information on local DU conservation programs or projects, contact John Denton at (308) 258-4682 or jdenton@ducks.org
For questions related to DU major sponsors or how to become a major sponsor, contact Terry Kostinec at (605) 624-0098 or tkostinec@ducks.org
For questions related to local DU fundraising events, contact Steve Wilson at (402) 499-5515 or swilson@ducks.org; or Pat Baughman at (308) 986-2374 or pbaughman@ducks.org
Kansas
For questions on information on local DU conservation programs or projects, contact Matt Hough at (308) 384-2668 or mhough@ducks.org
For questions related to DU major sponsors or how to become a major sponsor, contact Shawn Heggen at (816) 500-9805 or sheggen@ducks.org
For questions related to local DU fundraising events, contact Josh Williams at (785) 443-4486 or jwilliams@ducks.org; John Ritchey at (785) 844-1136 or jritchey@ducks.org; or Chris Young at (913) 333-2922 or cyoung@ducks.org
Colorado
For questions on information on local DU conservation programs or projects, contact John Denton at (308) 258-4682 or jdenton@ducks.org
For questions related to DU major sponsors or how to become a major sponsor, contact Scott McGraw at (303) 520-8334 or smcgraw@ducks.org, or Jordan Brown at (970) 658-6832 or jdbrown@ducks.org
For questions related to local DU fundraising events, contact Erik Wettersten at (970) 531-1965 or ewettersten@ducks.org; or Justin Huggins at (720) 610-2210 or jhuggins@ducks.org
Wyoming
For questions on information on local DU conservation programs on projects, contact Tom Peterson at (308) 218-8160 or tpeterson@ducks.org
For questions related to DU major sponsors or how to become a major sponsor, contact Chris Hildebrandt at (406) 203-2503 or childebrandt@ducks.org, or Jordan Brown at (785) 219-9445 or jdbrown@ducks.org
For questions related to local DU fundraising events, contact Robert Hathaway at (307) 221-2061 or rhathaway@ducks.org