Beating the Crowds
Waterfowling success on public land often requires separating yourself from the camo-clad masses

My buddies and I used to hunt some small strip pits that had been reclaimed from an old coal mine in west-central Indiana. It wasn't public land, but it wasn't difficult to get permission, and we enjoyed some unbelievable mixed-bag shoots on these small waters. Alas, word spread quickly through the local waterfowling community, and before long we began pulling up to these spots in the predawn darkness to find trucks lining the gravel roads and headlamps bobbing in the cattails.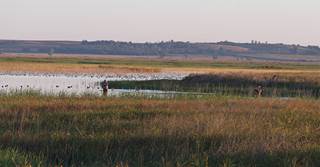 Rather than fight the crowds, from that time on we endeavored to find new marshes and small pockets of water that couldn't be seen from any roads. We modified our approach, used different tactics, and kept our mouths shut. We found success in some of these new spots, and we learned that the best of them were productive mainly because they lacked much hunting pressure.
One of the most effective ways to increase your odds on public land is to escape the throngs of other waterfowlers and find out where birds go when they're trying to get away from people shooting at them. Read on to find out how you can locate and access these out-of-the-way places where ducks are numerous and hunters are scarce.
EARN YOUR SPOT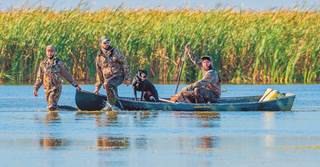 You might not think of south Florida as a duck hunting paradise, but the southern reaches of the Sunshine State surrounding Lake Okeechobee can produce some fantastic hunts. Captain Travis Rolan has been successfully navigating shallow-water public hunting areas, including the region's Stormwater Treatment Areas (STAs), for more than a decade.
Rolan explains that studying property maps and watching the headlamps of other hunters are the best ways to steer clear of the crowds. He also relies on his equipment to find remote hunting areas. "I've found that one of the best tools to get into the backwaters that others just can't access is my Beavertail Stealth 2000," he says. "On some areas I can add a trolling motor, but on the STAs, I am push-poling the craft through walls of sawgrass."
Hunting on many of Florida's public areas is available through a draw system. These areas vary in size and accessibility, but some can be large and difficult to get to. Most contain shallow habitat that is overgrown with submerged aquatics, and the alligators can be almost as abundant as the blue-winged teal.
"The idea here is to do more work than the other guy," Rolan explains. "We can put some space between us and other groups by doing things others are just not willing to do physically. That might mean push-poling or even getting out and pulling the boat through thick vegetation. At that point, it's sweat equity. You get out of it what you put in, and I've been on some very memorable hunts deep in those public areas. The alligators aren't an issue. It's south Floridawe are accustomed to them being around. It's the other hunters we are trying to avoid."
PRO TIP: Rolan stresses the importance of bringing plenty of water. The paddling, push-poling, and maneuvering of the boat under the Florida sun can dehydrate hunters fast. He recommends a 50-ounce hydration pack for hands-free drinking.
PROCEED WITH CAUTION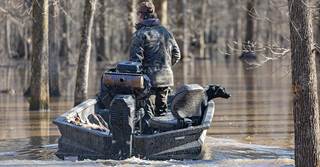 Warren Coco, owner of Go-Devil Manufacturing Company in Baton Rouge, Louisiana, built an entire company on the premise of trying to access areas that other hunters can't get to. Coco brought the first Go-Devil motor to market in 1977, and he knows a thing or two about hunting the sometimes-crowded marshes in his part of the state. Using a boat equipped with a mud motor to find ducks is nothing new, but being able to do it effectively is a learned craft."We used to push-pole a pirogue into the marsh. It is very quiet, but it's not nearly as efficient as using a mud motor," Coco says. "If you can't cover a large area in shallow water, you more than likely will not have access to ducks and some of the best hunting."
One problem here is disturbing the birds. Coco knows that running a boat into a pond full of ducks is bad for everyone, and a cloud of ducks jumping up from a hidden pond will only draw other hunters who may be looking. He suggests trying a couple of techniques to get away from hunters and find ducks. "I recommend having a good pair of binoculars when scouting, and looking before you run in and flush birds up," he says. "If you see a good bunch of birds, leave them undisturbed. If these birds are flushed several times they probably will not come back to the spot where you located them. Another tip is to plan for your next hunt by setting aside some time to scout on your way out from the hunt. The less you disturb the birds, the better your hunts will be. I cannot stress this enough."
PRO TIP: Once you've located a pond that is holding ducks, there's no need to run into it. Let the birds rest, and then sneak back in there in the morning.
BREAK YOUR ROUTINE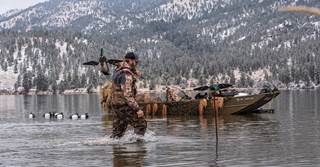 Finding huntable ducks and geese as the migration progresses isn't always a difficult task. Consistently finding ducks on big public areas away from hunting pressure, though, is a true veteran move.
Abel Cortina, Drake Waterfowl field expert coordinator for Washington, Oregon, and Idaho, has been perfecting his ability to find more ducks and encounter fewer hunters for decades. As the hunting heats up along the Columbia River near his home in Prosser, Washington, Cortina deploys a few tactics that have proven successful during his 47 years of waterfowl hunting.
"There are a lot of hunters who stick to the roads when scouting or find a blind or a fence line to set up on and just continue to return to the same location, but that's the easy way," Cortina says. "We aren't afraid to put in the extra miles while scouting to get into an undisturbed pocket of ducks. You've got to remember that these ducks are seeing a lot of hunters during the Pacific Flyway's 107-day season."
Cortina, who has guided for more than 30 years, uses his dedication to scouting and patience to get away from other hunters. He knows the normal routine of most hunters is to head straight to a popular blind location, so Cortina waits them out. "The ducks are being pressured at the popular locations, so we wait until around 7:30 to head out from the boat ramp," he explains. "Since we've already put the scouting work in, we know where the birds will be once the shooting starts. The key to this method on these large public areas is having a plan and multiple backup plans, because you never know when someone else may slip into one of your spots. Putting in the extra work pays off."
PRO TIP: It's not always the early bird that gets the worm. Cortina explains that his midmorning approach can be very successful as birds get pushed off loafing areas when other hunters call it a day and head for the ramps.
HIDE IN PLAIN SIGHT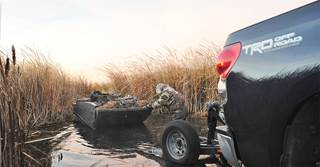 Zach Scheidegger, product manager for ALPS OutdoorZ, primarily hunts on the Missouri River in central Missouri. The river is a well-known migration corridor with several high-traffic conservation areas nearby, so getting away from other hunters is a top priority on most mornings. Scheidegger touts the user-friendly Zero-Gravity Layout Blind from ALPS OutdoorZ as a must-have for river huntersan approach that helps him and his hunting partners set up in areas where other hunters don't feel comfortable.
"There are a lot of sandbars with very little vegetation, and even riverbanks with gentle slopes that offer little to no cover," Scheidegger says. "Even guys with big boat blinds have a hard time staying hidden well enough to be successful. This is where we use the layouts to our advantage. We use them in creek mouths and gently sloping banks, and we even pile driftwood around them. Other hunters don't even slow down as they pass right by these spots, assuming they are unhuntable due to lack of vegetation."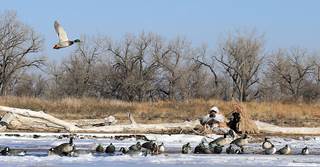 Piling three or four layout blinds into a duck boat at the ramp probably turns some heads, but Scheidegger explains that the compact size of the blinds and the ability to disappear in wide-open spaces make these the most useful weapons in his river-hunting arsenal.
PRO TIP: Bring a shovel or two. Scheidegger and his crew don't hesitate to dig in their layout blinds to help them completely disappear on sandbars, riverbanks, and other wide-open landscapes.
PACK A PIROGUE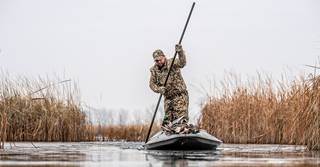 Pass-a-Loutre Wildlife Management Area is a coastal duck-hunting mecca sitting 10 miles south of Venice, Louisiana, at the mouth of the Mississippi River. Captain Corey Gradwohl, owner of Hook and Reel Charters, grew up traversing the river to get to Pass-a-Loutre. He explains that a stealthy approach is the key to consistent success when hunting this area.
"We load three or four pirogues into our bay boats or a big 20-plus-foot johnboat and head down the river to Pass-a-Loutre," he says. "We spend a lot of time studying maps and relying on past scouting trips to look for deep bayous where we can motor in and anchor the big boat and then launch the pirogues to slip into small feeder creeks and the backs of shallow ponds."
Not only does this get you away from other hunters not willing to push-pole and paddle, it leaves birds undisturbed. While others are scaring birds out of ponds on the way in, Gradwohl is slipping in quietly and welcoming ducks that have been bounced off other ponds.
"There's a lot that goes into this method and a lot of emphasis on safety," he says. "You want to remember to give yourself enough time to paddle so you don't exhaust yourself, and you need to make sure that you don't overload your pirogue with unnecessary items. Once you get the big boat anchored, take your time and move into the pond as quietly as possible. All the guys with mud motors are just ripping around out there and you can just slip right into the ponds where the ducks will want to be."
This double-boat approach doesn't have to be a regional specialty. It can be replicated all across the country by hunters willing to take additional steps to get away from the crowds.
PRO TIP: When scouting Pass-a-Loutre or any other area in a pirogue, high vegetation can make it difficult to put eyes on some of the ponds. Gradwohl explains that old-timers used to hit the side of their pirogue once with a paddle. This one-time boom is enough to scare up a few wary ducks and give away their location, but not enough to scare them away from the area, and they tend to settle right back down.