Product Guide for 2018
The latest shotguns, ammo and gear for waterfowlers

By Ron Spomer and Chris Jennings
WATERFOWLING GUNS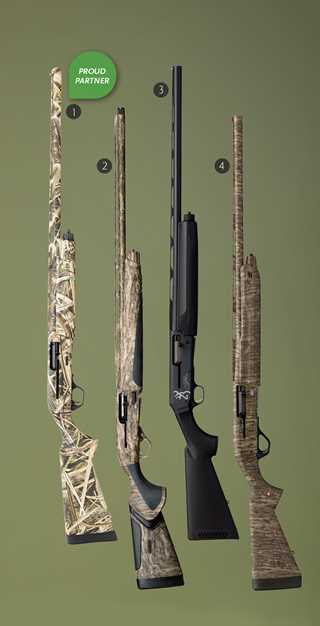 [1] Remington V3 Field Sport Mossy Oak Shadow Grass Blades is popping up on guns everywhere this year, including Remington's award-winning V3 autoloader. This gun debuted to critical acclaim in 2015, thanks in no small part to its use of the simple, foolproof Versaport gas-control system. The V3 handles everything from light 2 3/4-inch target loads to the heaviest 3-inch waterfowl shells without balking. The 12-gauge features a 28-inch vent-rib barrel with twin sight beads and of course a coating of Shadow Grass Blades camo. Pump aficionados needn't miss out on this camo trend either. Remington is also offering its classic Model 870 in the popular Shadow Grass Blades pattern. As a proud partner of Ducks Unlimited, Remington supports DU's conservation efforts. remington.com
[2] Beretta A400 Xtreme Plus Beretta has incorporated its competition target gun technology into the new A400 Xtreme Plus gas-operated autoloader. This 3 1/2-inch 12-gauge offers several special features, including 14-inch forcing cones in 26- and 28-inch barrels, a wider-stepped vent rib, a steel mid-barrel bead, and five extended chokes. The gun's receiver includes an expanded and beveled loading port, plus an oversized rubber-coated bolt handle and bolt-release lever. The unique Kick-Off recoil absorption system in the butt of the synthetic stock helps keep kick to a minimum. The A400 Xtreme Plus is available in black, Realtree MAX-5, DRT, and Mossy Oak Bottomland finishes. beretta.com

[3] Browning Silver Field Composite Browning's Silver Field Composite gas-operated autoloader is well suited for the duck blind and the sporting clays range. The shotgun's Active Valve gas piston automatically adjusts to reliably handle everything from 2 3/4-inch target loads to 3-inch magnum field loads while mitigating felt recoil. The Silver Field Composite is also available in a version chambered for 3 1/2-inch shells. The gun weighs just an ounce over 7 1/2 pounds and comes with a 28-inch vent-rib barrel, three Invector-Plus choke tubes, and a matte black finish. browning.com
[4] Winchester Waterfowl Hunter SX4Mossy Oak Bottomland Winchester's flagship Super X4 autoloader is now available in a Mossy Oak Bottomland camo finish for waterfowlers. As the latest shotgun in the Super X line, the SX4 features improved ergonomics and better recoil reduction than its predecessor, the SX3. It also comes with a larger trigger-guard opening and bolt handle. The SX4 deploys the same dependable Active Valve gas-management system, which flawlessly cycles everything from light target loads to heavy goose rounds. The new Bottomland edition includes the usual fiber-optic front sight on the barrel and Invector-Plus choke tubes in improved-cylinder, modified, and full. winchesterguns.com

[5] Benelli Super Black Eagle 3 Left-Hand After Benelli's successful rollout of the Super Black Eagle 3 last year, the company's logical next step was to build one for southpaws. The new SBE 3 Left-Hand has all the same features as the righty model: a 3 1/2-inch chamber, inertia-driven action, five choke tubes, oversized bolt handle and safety, improved bolt lock-up, beveled loading port, redesigned carrier and two-piece latch, Combtech and ComforTech 3 synthetic stock, shim kit, and hard-plastic case. The lefty SBE 3 is available with 28-inch barrels and two finishesblack or Realtree MAX-5 camo. benelliusa.com
[6] Academy Sports + Outdoors Special Edition Venza Academy Sports + Outdoors is offering an exclusive special edition of the Venza, a short-recoil, gas-operated autoloader built by Turkish gunmaker ATA Arms. The gun features a 3-inch chamber and vent-ribbed barrel. With heavy loads, the barrel slides back into the receiver just far enough to initiate bolt movement and expose holes for venting excess gas pressure. Lighter loads don't move the barrel but cycle the action, pushing the bolt carrier back against spring pressure. This Venza comes with a 28-inch barrel and five extended choke tubes. The synthetic stock has soft-touch inserts at the forearm, grip, comb, and butt. The gun, which is available in Realtree MAX-5 camo, weighs just over 7 pounds. academy.com

[7] Mossberg 930 Autoloader and 835 Ulti-Mag Pump Over the past two years, Mossberg has won over serious duck and goose hunters with its rugged, dependable, and affordable Pro Series Waterfowl gas-operated autoloaders. Both the 3-inch 930 and 3 1/2-inch 935 models offer the usual complement of features, including a 28-inch overbored barrel, vent rib, synthetic camo stock, quality recoil pad, three choke tubes, and a shim kit. Interior parts are stainless steel or boron-nitride coated to prevent corrosion. Both of these guns are available in Mossy Oak Shadow Grass Blades camo. For an even more affordable option, there's the 835 Ulti-Mag pump. This was the first pump ever built to handle 3 1/2-inch 12-gauge shells. New this year is an All-Purpose Field model with a 26-inch vent-rib barrel. The barrel is overbored to 10-gauge dimensions, which not only improves patterns but also reduces felt recoil. The gun weighs 7 1/2 pounds and is available in Mossy Oak Bottomland camo. There's a black synthetic stock option too. mossberg.com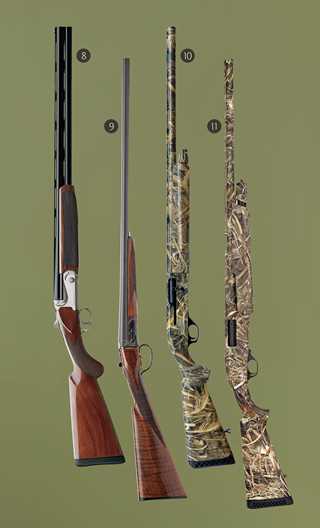 [8] Franchi Instinct SL Over/Under 16 If you're the type of hunter who marches to a different wing beat, you might be a candidate for Franchi's Instinct SL Over/Under field gun in 16-gauge. Featuring the light handling of a 20-gauge and nearly the punch of a 12, this new Sweet Sixteen should perform nicely on decoying teal, woodies, mallards, and more. At just under six pounds, the Instinct SL carries easily and swings fast, making it a good upland gun for hunting snipe, woodcock, ruffed grouse, pheasants, and quail as well. Its 28-inch chrome-lined barrels ship with three extended choke tubes. franchiusa.com
[9] Savage Fox A Grade Side-By-Side Those who prefer to hunt waterfowl with a side-by-side are sure to agree that this Fox A Grade from Savage Arms is pretty much everything a fine double gun should be. It features a nicely figured American black walnut stock, case-colored Anson and Deeleystyle boxlock receiver, splinter forearm, automatic ejectors, blued barrels, and double triggers. The new Fox is available in 12- and 20-gauge with either 26- or 28-inch barrels. Five flush-mount screw-in choke tubes and a hard-plastic takedown case come with each gun. savagearms.com
[10] TR Imports Silver Eagle Kinetic 12 Here's another inertia-action autoloader from Turkey. TR Imports of Fort Worth, Texas, is importing this 12-gauge in several versions, including a synthetic-stocked model in Realtree MAX-5 camo for waterfowlers. The Kinetic 12 uses a proven inertia action to cycle a wide range of target and field loads through a 28-inch barrel. trimports.com
[11] TriStar Cobra II Camo Pump This Kansas City, Missouri, importer scours the world for hardworking guns that give lots of bang for the buck. Few are more rugged and dependable than TriStar's Cobra II Camo pump-action 12-gauge. The gun comes in both 3- and 3 1/2-inch configurations and features a 28-inch chrome-lined barrel, vent rib, swivel studs, fiber-optic sight, and three choke tubes. There's also a 20-gauge version with a 26-inch barrel. tristararms.com
---
WATERFOWLING LOADS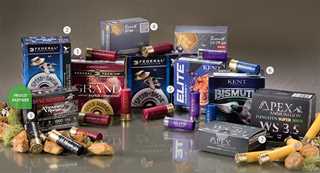 PHOTOGRAPHY BY WOODY WOODLIFF
[1] Winchester Xtended Range Bismuth Over the decades, Winchester has manufactured some devastatingly effective nontoxic waterfowl loads using high-density metals in its pellets. This year the company is introducing a line of Xtended Range Bismuth shells. To maximize pattern density at long ranges, Winchester combines bismuth pellets with its unique Shot-Lok Technology. The initial load features 1 5/8 ounces of size 5 pellets in a 3-inch 12-gauge shell. Additional options for waterfowlers are on the way. As a proud partner of Ducks Unlimited, Winchester supports DU's conservation efforts. winchester.com
[2] Federal Premium Speed-Shok Steel Federal Premium Ammunition has improved the performance of its reasonably priced Speed-Shok steel ammo. The new Speed-Shok shells feature a cleaner-burning Catalyst primer, faster-burning powders, and optimized velocities. The steel loads run the gamut from 3 1/2-inch cartridges in 10-gauge to 3-inch shells in .410. Payload weights and pellet sizes vary accordingly, and muzzle velocities range from 1,350 to 1,550 fps. federalpremium.com
[3] Federal Gold Medal Grand Paper Target Loads Veteran waterfowlers who hunted before the industry's 1960s conversion to plastic shotshell hulls will recall the unique, heady aroma of a recently fired paper shell. Federal's Gold Medal Grand Paper target loads capture some of that nostalgia in cartridges specifically designed for competitive trap, skeet, and sporting clays shooting. These 2 3/4-inch 12-gauge cartridges come in sizes 7 1/2 and 8 shot. Velocities run from 1,145 to 1,235 fps. federalpremium.com
[4] Rio Bismuth Rio Ammunition keeps smaller-gauge shooters in the game with bismuth shells in 16- and 28-gauge, as well as .410. The 2 3/4-inch 16-gauge cartridges feature 1-ounce loads of 4s and 6s, which leave the muzzle at a brisk 1,200 fps. The 28-gauge and .410 loads come in size 5 and 7 shot. Rio also offers a variety of bismuth shells for the more popular 12- and 20-gauge, in payloads as heavy as 1 5/8 ounces and shot sizes ranging from 3 to 6. rioammunition.com
[5] Kent Elite Target While you're tuning up your swing for the upcoming season, you can test Kent's new Elite Target loads. The cartridges contain Kent's Diamond Shot lead pellets, which are known for their uniformity and consistency. Available in several 12- and 20-gauge loads, these shells pattern reliably every time. kentgamebore.com
[6] Kent Bismuth Waterfowl HD Kent Cartridge is offering a new line of high-performance nontoxic waterfowl shotshells featuring bismuth pellets. Bismuth, of course, is almost 25 percent denser than steel and much softer. You get ballistic performance close to that of lead with no chance for barrel damage. The new shells are available in everything from 2 3/4- to 3 1/2-inch 12-gauge loads in sizes 4, 3, 2, and BB shot. Kent is also offering 3-inch 20-gauge bismuth shells packed with an ounce of sizes 2, 3, or 4 shot. kentgamebore.com
[7] Apex Waterfowl Series Tungsten Super Shot Apex Ammunition has introduced a new line of waterfowl ammo that mixes 1/4 to 1/2 ounce of size 9 Tungsten Super Shot (TSS) with zinc-coated steel pellets. The tungsten-iron pellets are dense, weighing 18 grams per cubic centimeter, providing enough penetrating power and energy to bring down waterfowl at 40 yards. Waterfowl Series TSS shells are available in 12- and 20-gauge loads in sizes 2, 4, and BB steel shot. apex-ammunition.myshopify.com
---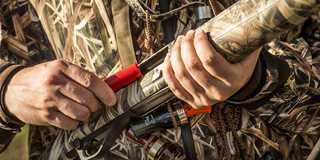 ---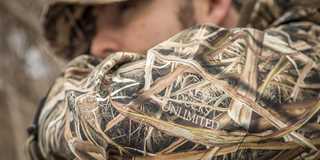 Waterfowling jackets, parkas, pullovers, and shirts have been a staple for duck and goose hunting gear guides for years. Check out this year's new products in this category. View all jackets
---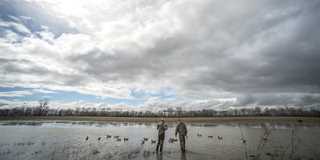 The 2018 lineup of new waders is as exciting as it's ever been with new breathable and breathable lined options for waterfowlers. View all waders and bibs.
---
Blind bag and coolers are not a one-size-fits-all type of product. This year, we've chosen a handful of unique designs to help you find the perfect fit for you. View blind bags and coolers.
---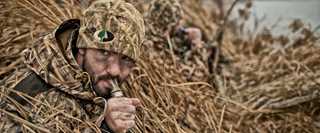 Duck and goose call innovation continues to push the envelope with new materials, models, and color schemes. Here's a collection of top-notch calls from makers all over the country. View duck and goose calls.
---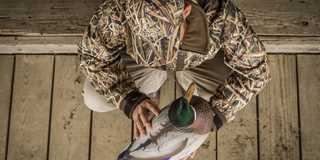 There's always room for new decoys! The 2018 new releases from various manufacturers have upgraded materials, postures, flocking, and motion. View new decoys.
---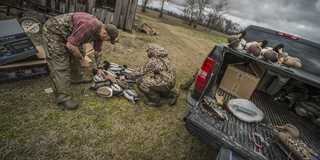 Waterfowlers don't hesitate to hit the open road looking for the next great hunt. This collection of travel gear may help you on your next hunting trip. View travel accessories.