Drones for ducks
Ducks Unlimited and partners explore surveying duck populations on the East Coast using drone technology
Using drones may represent the future of observing and counting waterfowl, and could supplement traditional aerial surveys conducted since the 1950s.
In March, Ducks Unlimited and several partners began flying toward that future by testing over decoys positioned in Great Harbor Wildlife Management Area in Guilford, Connecticut.
For the test flights, researchers placed a known number of decoys of various species in random places. The drone flew scheduled routes and photographed the decoys. Separate researchers counted the decoys in the photographs and will compare them with the known number to determine the accuracy of the method and photographs.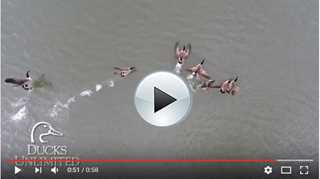 The missions included flying quad-rotor helicopter and fixed-wing airplane style drones over decoys at elevations ranging up to about 400 feet. Early results have shown promise, and the realization that replacing human eyes with a camera lens will require a more powerful camera than originally planned.
The group will to return to Connecticut this fall to conduct more tests, including observing how wild ducks respond to different types of drones overhead. Scientists use airplanes to count ducks, but the study will determine if drones can get accurate numbers without disturbing the birds.
Ducks Unlimited is teaming with the Black Duck Joint Venture, Connecticut Department of Energy and Environmental Protection and Conservation Management Institute at Virginia Tech for the research.
In 2015, Ducks Unlimited received a grant from Waterfowl Research Foundation to support regional research projects in DUs Completing the Cycle Initiative area and the Atlantic Flyway. Of the grant, $15,000 with matching funds from the joint venture and state of Connecticut will fuel the research. Avian-X provided 11 dozen decoys in support of the project.
"Planes are expensive and are often not feasible for counting waterfowl in some populated areas. And there are safety concerns for pilots and observers," said John Coluccy, director of conservation planning for Ducks Unlimited's Great Lakes/Atlantic Region. "With drones, area managers can do weekly surveys in the fall or year-round."