University Spotlight - Clemson University Chapter
The Clemson University chapter of Ducks Unlimited is led by a diverse group of committee membersmale and female, freshmen through seniorswho come from all different academic backgrounds. Since becoming affiliated with the university, the chapter has expanded its role in bringing new volunteers to the DU family.
One thing we have been able to do since becoming affiliated with the university is participate in Tiger Prowl, says former area chairman Austin Hall. Tiger Prowl is an event where student clubs on campus fill the football stadium and share information with incoming freshmen about opportunities to get involved on campus.
Hall joined the Clemson DU chapter his freshman year. After being a DU member for years, he finally had the opportunity to lead from a volunteer position. He took over as area chairman in his sophomore year and helped the chapter continue to grow. The 2018 Clemson dinner brought in $5,000 more in event income than the previous year.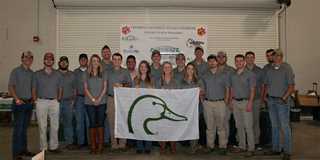 From a leadership standpoint it helped me establish various skills that I can use in my professional career, or when I have the opportunity to start or join an adult chapter upon graduation, Hall says. My motto is: leave it better than you found it. It is rewarding for me to see the chapter continuing to grow after my leadership.
Hall recently turned over the reins of the Clemson chapter to Chancelor Cotten, providing time for Cotten to get up to speed before Hall graduates.
The Clemson University chapter will hold its fall dinner event on November 8, 2019.
To learn more about how to get involved with a university chapter near you, visit ducks.org/volunteer. To view the great work being done by other university chapters, visit the University Chapter Spotlight page.