University Spotlight - Camel Chapter
Austin Blackman became a member of the Camel Ducks Unlimited (DU) Chapter his freshman year at Campbell University. Entering his senior year, he now serves as the area chairman. He attributes his involvement with Ducks Unlimited to his father, who not only introduced him to hunting but also taught him a valuable lesson.
My dad helped me to understand at a young age that its not always about the shot, said Blackman. It is about a realization and appreciation of giving back to the resource we love, in this case, wetlands.
As a Christian-based university, it is no surprise that when asked what makes this chapter successful, Blackman attributed the committees faith to their overall growth and purpose.
A lot of our success is built on faith, Blackman said. We have faith that essentially brings all of us together, and we are able to express that through the outdoors and us working together for a common goal.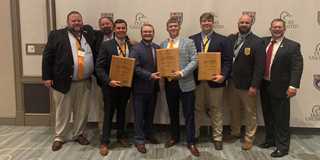 He also talked about how they have been successful due to their collaboration with the local adult chapter who helps provide positive feedback.
We never thought we would have the year we had, Blackman said. Attendance drives revenue, and we leaned heavily on the support of family members and friends to get people in the door.
The chapter holds their dinner banquet in the spring with possible plans for an oyster roast in the fall. The chapters 2018 success is evident by the growth in attendance. In 2018, their spring event hosted 70 attendees compared to 120 in 2019. Because of their increased attendance, the chapters event income grew by more than $18,000.
To learn more about how to get involved with a university chapter near you, visit ducks.org/volunteer. To view the great work being done by other university chapters, visit the University Chapter Spotlight page.