Historic hunting & conservation bill in Maryland signed into law
Bipartisan bill invests in hunter recruitment and waterfowl habitat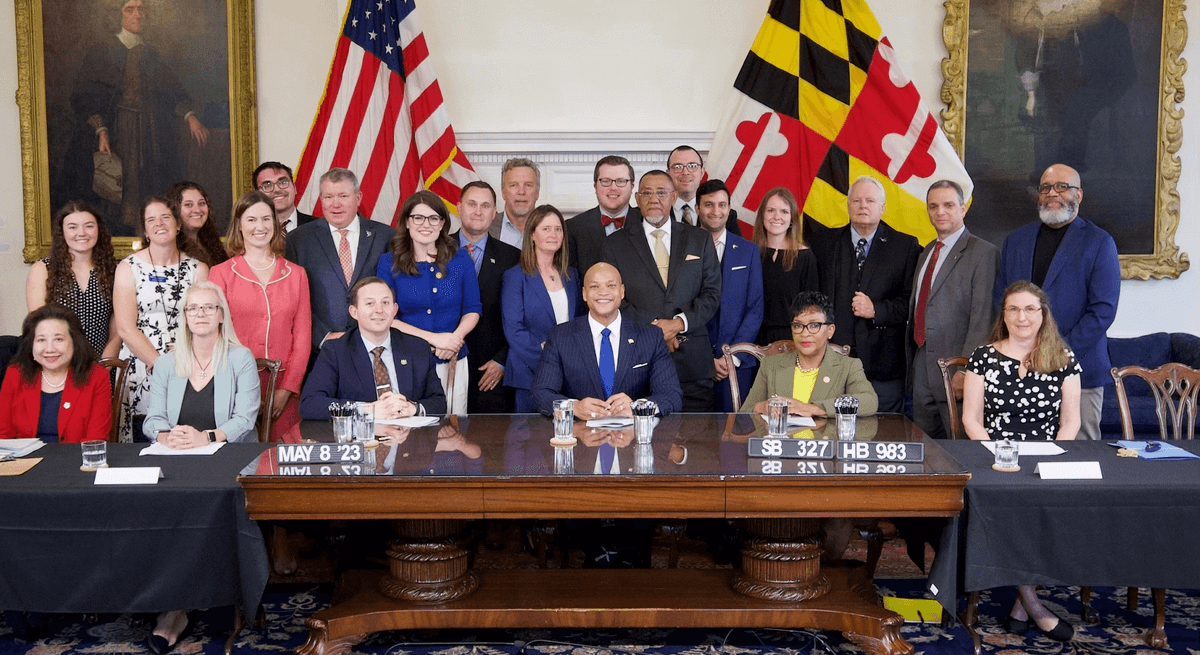 On May 8, 2023, Maryland Governor Wes Moore signed legislation into law that will transform conservation funding and hunter recruitment in Maryland. The legislation, which passed the Maryland State Senate and House of Delegates with broad bipartisan support on March 22, 2023, is called the "Hunting, Wildlife Conservation and Outdoor Recreation – Funding, Promotion, Management, Licenses, Permits, and Stamps Act."
In addition to advancing conservation throughout the state, this legislation will specifically increase funding and resources for waterfowl conservation in Maryland, which has not been seen in 40 years.
This legislation will raise hunting license fees in line with inflation, generating more than $8 million to ensure the Maryland Department of Natural Resources (MDNR) has the necessary resources to manage both wildlife and public lands throughout the state. Additionally, the bill will increase the state duck stamp fee from $9 to $15, generating an additional $250,000 annually for waterfowl conservation. The legislation also ensures breeding ground habitat will also be protected.
Importantly, this legislation creates a new Wildlife Conservation, Education and Outreach program that will revolutionize how we recruit new hunters into the sport. The program will create new positions at MDNR to specifically focus efforts on recruiting people from communities with historically limited access to hunting in the past. Additionally, it will enable full-time Maryland college students from out of state to access in-state hunting license fees, breaking down a common financial barrier for young hunters.
"This legislation will be transformational for conservation funding in our state," said Ed Farley, DU regional biologist for Maryland. "For the first time since 1989, MDNR will have the resources it needs to effectively conserve fish and wildlife and manage public lands in Maryland. From breeding grounds to wintering habitats, this investment will be a significant boon for waterfowl conservation, ensuring successful habitat management at all stages of the year."
The passage of this legislation would not have been possible without the bill sponsors: Sen. Sarah Elfreth (D-30th), Sen. Jack Bailey (R-29th) and Del. Nick Allen (D-8th).
"This legislation provides a once-in-a-generation opportunity to expand wildlife conservation and recreational hunting opportunities across Maryland," said Sen. Elfreth. "In passing this legislation, Maryland will continue to be a nationwide leader in the R3 and conservation movement - and I am so appreciative to our partners at Ducks Unlimited, Delta Waterfowl, the Maryland Department of Natural Resources, and so many others for helping to pass this bill."
This legislation was not only historic for what it accomplished, but also for the broad support it received from around the state. Hunting and conservation groups helped lead the effort, but the legislation also garnered support from minority outdoor organizations, the environmental community and Maryland's farmers and ranchers, among others. The success of this effort demonstrates the strength of conservation as a truly bipartisan issue.
"I just want to thank everyone on our incredible team for all their hard work—especially Senators Elfreth and Bailey, Delta Waterfowl, Ducks Unlimited, and the Maryland Department of Natural Resources," said Del. Allen. "I'm extremely proud to have played a small role in expanding these wildlife conservation, outreach, and hunting opportunities for Marylanders, especially those in underserved communities. I look forward to continuing to work with this awesome coalition in the future."
For more information, visit www.ducks.org, and be sure to Follow DU's Twitter feed – @DucksUnlimited and @DUConserve – to get the most up-to-date news from Ducks Unlimited.
Ducks Unlimited Inc. is the world's largest nonprofit organization dedicated to conserving North America's continually disappearing waterfowl habitats. Established in 1937, Ducks Unlimited has conserved more than 15 million acres thanks to contributions from more than a million supporters across the continent. Guided by science and dedicated to program efficiency, DU works toward the vision of wetlands sufficient to fill the skies with waterfowl today, tomorrow and forever. For more information on our work, visit www.ducks.org. 
Media Contact:
Parker Williams
(202) 621-1646