Florida Chapter Brings Young Volunteers and the Community Together
High school can be a busy time in young people's lives. Studies, sports, band, shooting team, and other extracurriculars mean there's rarely time for volunteering or giving back to the community. However, there are many students from across the country who give up their limited free time to help raise money for wetland habitat through Ducks Unlimited's Varsity chapters.
Mason Tarmey, area chair for the Leon Varsity chapter, worked diligently for a year to form a DU chapter at his school. When he didn't get the interest he'd hoped for, he decided to open it up to surrounding schools. The response was overwhelmingfour high schools came together to form a single chapter and host a successful fundraising banquet.
"I knew that we could hold a successful event, but I had to find the right people who had a passion for Ducks Unlimited and conservation," Mason says. "Once I opened it up to surrounding schools, things just started falling into place, and we had a group of dedicated volunteers that went above and beyond to make it the success that it was."
The Leon chapter hosted the first DU Varsity banquet in Florida. The community rallied around the dedicated group of high school volunteers, and because of the young conservationists' hard work they succeeded in having the entire event underwritten.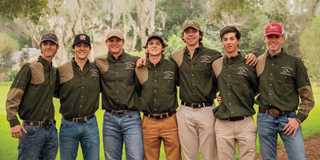 "The support of their first event is a true testament to this group of students," says DU Regional Director Jarrett Lafferty. "Getting some underwriting and donations from local businesses is huge for any chapter, but to have your whole event underwritten is amazing, especially your first one. They had support from the Tallahassee chapter, the Florida State University chapter, and the community. People wanted to see them do well and understood the importance of what they were doing. I'm proud of their hard work and accomplishments."
The event was held this past January at the Old Willis Dairy in Tallahassee, Florida. More than 100 people attended, 60 of whom were high school students. The committee of just seven raised more than $10,000 and signed up 23 first-time Varsity members.
"It was very eye-opening to see all our hard work finally pay off," says Parker Hannon, treasurer for the Leon Varsity chapter. "It meant a lot to see the smiles on everyone's faces. We all knew we had just done something great for conservation, and that was rewarding for all of us."
The Ducks Unlimited Varsity program continues to play an increasingly important role in DU's conservation mission. Currently, there are 56 high school chapters. In 2019, those chapters raised more than $500,000 for waterfowl and habitat. DU recognizes that vibrant and strong high school chapters are an important key to a healthy future for wetlands conservation, and the organization will continue to place a strong emphasis on the development of this very successful program.
For more information on how to get involved in the DU Varsity program, visit ducks.org/varsity.