Dynamic Ducks Unlimited Duo
Major Sponsors Spotlight: Mike Ptaschinski and Karl Duex
Wisconsin Ducks Unlimited has two very special volunteers in Karl Duex, of Potosi, and Mike Ptaschinski, of Beaver Dam. They came to the organization by different paths and have forged a great friendship that drives their commitment to conservation.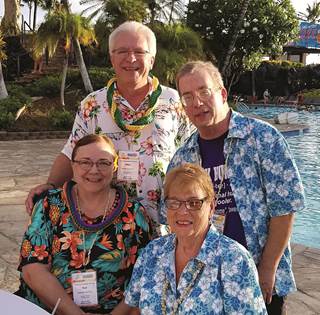 Karl has a lifetime connection to the outdoors. It started with his grand-fathers and father. Setting and picking up decoys with my dad was part of my growing up to be a duck hunter, Karl recalls. I cant tell you how much I looked forward to him picking me up after school to go hunting.
A member of the Presidents Council, Karl has always supported DU committees in local communities. His DU volunteer career has spanned 32 years and includes a host of leadership positions. Karls impressive body of work culminated with his recognition as a Hero of Conservation by Field &Stream magazine in 2015. He lives the motto help any way, help anywhere. No fewer than 26 committees across Wisconsin and Iowa have recognized Karl for supporting their efforts in meaningful ways. I simply love the interaction. Its what I do, Karl says.
Mike came to the organization in a different way. He was asked by a friend to attend the Beaver Dam recruitment event in 1996. Like Karl, his connection to hunting came through his grandfather and father. Years ago, the family bought an island on Beaver Dam Lake. More recently, Mike and his wife, Kay, purchased a house overlooking the lake. The couple first met while Mike was running one of DUs sealed bid auction fundraisers. Kay has a Ducks Unlimited family history of her own. Her father attended events for many years. He enjoyed hunting on the fabled Horicon Marsh. During his volunteer career with DU, Mike has served as area chairman and Wisconsin state sponsor chair. He and Kay are also members of the Presidents Council.
Mike and Karl first crossed paths at the 2013 tribute dinner for Jack Nugent. Jack was among many larger-than-life figures in Wisconsin DU and part of the cadre of great volunteers and staff whose leadership in the state is carried on today by people like Karl and Mike. From that time on, the two men, both of whom are DU Gold Benefactor Sponsors, have talked nearly every day. As Mike tells it, We finish each others sentences. The impact these two men have had on waterfowl conservation is impressive. Organizing, recruiting, leading, and supporting DU across Wisconsin and Iowa is their lifes work, and they admit that they are just getting started. Im looking forward to retirement so that Kay and I can have the time to do for the ducks what we really would like to, Mike says.
The present pandemic has challenged the pair. Im not happy with this situation at all, Karl says. He and Mike are working any way they can to raise money and recruit members. It will have to do for now, Karl explains. By organizing and participating in various events, the pair is going above and beyond to help the ducks. Doing what you can, if you can, Karl says as he works with Mike to secure that next gift, major donation, or member for waterfowl conservation.