DUMAC Celebrates Life of Diamond Heritage Sponsor
Jim Brannans passion for waterfowl began more than three decades ago while hunting the Colorado River Delta near the Sea of Cortez. Hunting trips to Mexico gave him keen insight into the challenges of wetlands restoration and conservation south of the border. In the late 1980s, a flood destroyed a silt dam that held water in the area where Jim hunted regularly. He went looking for a partner to help restore the wetland. He found that partner in Ducks Unlimited de Mxico. DUMAC works with landowners and municipalities to restore and conserve infrastructures that provide wetland habitat for waterfowl and other wildlife as well as clean water for people.
It was after my hunting area was damaged that I found DU, Jim said several years ago. I was looking for a friend and DU was there. At the same time, Ducks Unlimited also discovered a great friend and resource in Jim.
Jim became a DUMAC Diamond Heritage Sponsor, John E. Walker Society member, and member of DUs Presidents Council. He served on the DUMAC board of directors for many years and was an emeritus board member at the time of his passing.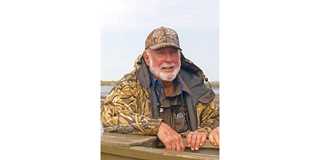 Former DUMAC and DU President John Tomke praised Jim and his contributions to wetlands conservation. Jim was an outstanding board member, John said. He was respectful of the opinions of others and quickly became a friend to board members and staff alike. Even when travel became difficult for him, his passion for conservation in Mexico did not wane. He truly made an impact on waterfowl and wetlands and for that we are forever grateful.
Above all, Jim understood the importance of Mexico as vital wintering habitat under DUs continental conservation plan. Although Jim passed away on November 12, 2019, his support will continue to forge a bright future for waterfowl in Mexico and across North America.