Ducks Unlimited recognizes Metroparks Toledo
Organization given Wetland Conservation Achievement Award
DENVER, Colorado March 8, 2019 Ducks Unlimited announced the winners of the 2019 Wetland Conservation Achievement Awards during the 84th North American Wildlife and Natural Resources Conference.
This years recipient in the Local/Private Conservation category is Metroparks Toledo for its efforts with Ducks Unlimited and others to establish Howard Marsh, a 1,000-acre restored wetland metropark on the shores of Lake Erie.
Every year dedicated conservation professionals are nominated for these awards. Nominees and those select for recognition represent how people with a shared passion can achieve great things for wetlands and waterfowl conservation, said Nick Wiley, Ducks Unlimited chief conservation officer. Ducks Unlimited is pleased to recognize these efforts that serve as an inspiration for others to follow. Conservation requires teamwork and only by working together can we achieve effective and lasting success.
After several years of planning and construction, Metroparks Toledo and several partners in 2018 opened Howard Marsh in 2018, transforming a former agricultural field back to wetlands for people and ducks.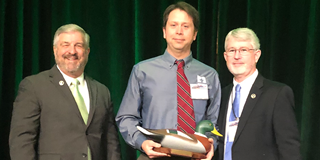 Phase 1 restored 571 acres of wetlands and 116 acres of upland habitat. The impact for birds and wildlife was immediate. In the first year alone, 191 species of songbirds, shorebirds and waterfowl were documented using the restored habitat. Since its opening, tens of thousands of visitors have enjoyed six miles of walking trails and a quarter-mile of boardwalk through the marsh. Howard Marsh is the first Metroparks Toledo location to allow public waterfowl hunting.
Metroparks Toledo partnered with Ducks Unlimited, National Oceanic and Atmospheric Administration, the Ohio Division of Wildlife and others on the project, which included Great Lakes Restoration Initiative funding.
Metroparks Toledo is a shining example of how municipalities can blend urban development with wildlife conservation.
Ohio Division of Wildlife Chief Kendra Wecker nominated Metroparks Toledo for the award and said the Ohio Division of Wildlife was instrumental in providing a vision and funding for this premier wetland complex.
Metroparks Toledo did a superb job of bringing together major stakeholders. The restoration of Howard Marsh represents the power of partnerships, Wecker said. This achievement has restored important coastal wetland habitat and provided amazing outdoor recreational opportunities for bird watchers, waterfowl hunters, kayakers and nature enthusiasts. Everyone wins!
Ducks Unlimiteds Wetland Conservation Achievement Awards are presented annually in six categories to recognize individuals who have made outstanding contributions to the conservation and restoration of North Americas wetlands and waterfowl.
Learn more about Howard Marsh.
To view a complete list of the 2019 Wetland Conservation Achievement Award winners, visit www.ducks.org/wetlandawards.
Ducks Unlimited Inc. is the world's largest nonprofit organization dedicated to conserving North America's continually disappearing waterfowl habitats. Established in 1937, Ducks Unlimited has conserved more than 14 million acres thanks to contributions from more than a million supporters across the continent. Guided by science and dedicated to program efficiency, DU works toward the vision of wetlands sufficient to fill the skies with waterfowl today, tomorrow and forever. For more information on our work, visit www.ducks.org.
Media Contact:
Chris Sebastian
(734) 649-4680
csebastian@ducks.org
@GLARducks