Ducks Unlimited leadership visits Capitol Hill
Ducks Unlimited volunteers and staff visited more than 100 offices on Capitol Hill
WASHINGTON, D.C. - Dec. 12, 2017 - For three days last week, more than 45 Ducks Unlimited state chairmen, senior volunteers and members of the Ducks Unlimited board of directors gathered to help advocate for federal conservation programs and funding. During the three-day event, Ducks Unlimited volunteers visited more than 100 offices on Capitol Hill, including meetings with members from House and Senate leadership. The meetings focused on funding and reauthorization of the North American Wetlands Conservation Act and conservation provisions in the upcoming Farm Bill.
"I have been involved in this organization for more than 30 years and public policy and advocacy has always been a principal issue for me," said Rogers Hoyt, Jr., president of Ducks Unlimited. "Helping to ensure our congressional leaders understand the role our volunteers play is vital to me and a pillar of my presidency. No other conservation organization has the heart and passion we have at Ducks Unlimited. When our volunteers come to Capitol Hill, our elected officials listen."
Volunteers started the week on Dec. 4, with public policy training before taking meetings the next day on Capitol Hill. On Dec. 5, Ducks Unlimited hosted a reception for Capitol Hill staff, members of Congress, Ducks Unlimited volunteers and staff and corporate partners from a variety of industries, celebrating 80 years of conservation partnerships for Ducks Unlimited. More than 400 people joined Ducks Unlimited at the reception where guests helped celebrate the organization's 80th anniversary. See a select few photos from the week below,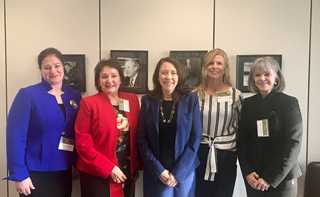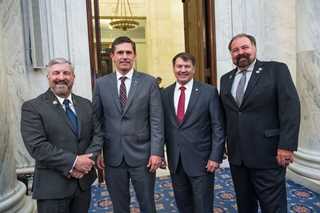 Ducks Unlimited Inc. is the world's largest nonprofit organization dedicated to conserving North America's continually disappearing waterfowl habitats. Established in 1937, Ducks Unlimited has conserved more than 14 million acres thanks to contributions from more than a million supporters across the continent. Guided by science and dedicated to program efficiency, DU works toward the vision of wetlands sufficient to fill the skies with waterfowl today, tomorrow and forever. For more information on our work, visit www.ducks.org.