Duck Numbers Down in 2018
USFWS survey says most populations are still above long-term averages
MEMPHIS, Tennessee Aug. 20, 2018 The U.S. Fish and Wildlife Service (FWS) today released its report on 2018 Trends in Duck Breeding Populations, based on surveys conducted in May and early June by FWS and the Canadian Wildlife Service.
Overall duck numbers in the survey area remain high. Total populations were estimated at 41.2 million breeding ducks in the traditional survey area, 13 percent lower than last years estimate of 47.3 million and 17 percent above the long-term average. The projected mallard fall flight index is 11.4 million birds, down from the 2017 estimate of 12.9 million.
The main determining factor for duck breeding success is wetland and upland habitat conditions in the key breeding landscapes of the Prairies and the Boreal Forest. Conditions observed across the U.S. and Canadian survey areas during the 2018 breeding population survey were similar to or, in a few areas, declined compared to the 2017 survey.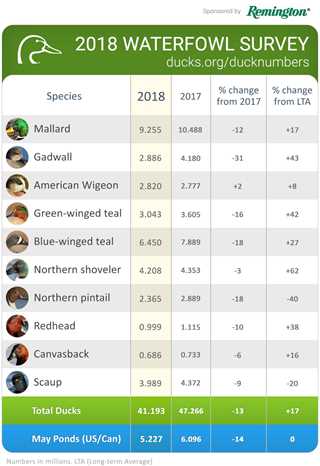 The total pond estimate for the United States and Canada combined was 5.2 million, which is 14 percent below the 2017 estimate of 6.1 million and identical to the long-term average of 5.2 million.
"The dip in the population for prairie-breeding puddle ducks is not unexpected and by no means unprecedented given that conditions on the prairies this spring were drier than last year, said DU Chief Scientist Tom Moorman. As a result, 2018 populations dropped accordingly. However, populations of all key species except northern pintails and scaup remain above long-term averages. This years breeding population decline is a reminder of the need to sustain the capacity of breeding habitats, particularly in the prairies as we go through natural variation in wetland conditions. Waterfowl populations are adapted well to short-term swings in habitat conditions, but we must continue to guard against the long-term loss of prairie breeding habitat.
When and where birds will be depends on many factors. Food availability, habitat and weather conditions, and other factors all influence local bird abundance, distribution, behavior and, ultimately, hunter success.
The spring surveys provide the scientific basis for many management programs across the continent, including hunting regulations. Individual states set their hunting seasons in a federal framework of season length, bag limits and dates. Check the hunting regulations in your state for final dates and bag limits.
View all the data and get a species-by-species breakdown at www.ducks.org/ducknumbers.
Ducks Unlimited Inc. is the world's largest nonprofit organization dedicated to conserving North America's continually disappearing waterfowl habitats. Established in 1937, Ducks Unlimited has conserved more than 14 million acres thanks to contributions from more than a million supporters across the continent. Guided by science and dedicated to program efficiency, DU works toward the vision of wetlands sufficient to fill the skies with waterfowl today, tomorrow and forever. For more information on our work, visit www.ducks.org.
Media Contact:
Gregg Powers
901-758-3774
gpowers@ducks.org