DU Collegiate Leadership Summit Continues to Grow
More than 200 volunteers from 54 different university chapters attended
In August, Ducks Unlimited hosted its sixth-annual Third Term collegiate leadership summit at the Hilton Memphis. For the second consecutive year, DU Proud Partner Axalta Coating Systems was the events presenting sponsor. More than 200 volunteers from 54 different university chapters attended.
During the first afternoon of the summit, students gathered to receive a powerful message from DU CEO Adam Putnam, which set the tone for the weekend. Attendees then had a chance to tour DUs national headquarters and meet staff and volunteers from across the country.
One of the most important aspects of Third Term is the opportunity that the student volunteers have to network with peers they may not otherwise have a chance to meet, said Dr. Ronal Roberson, DU advisory senior vice president for youth and education.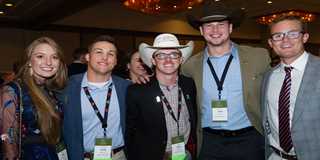 DU President Rogers Hoyt Jr. opened the general business session on Saturday with a simple message: Ducks Unlimited is in good hands because of the leaders in the university chapter program.
These young men and women represent the present and future of this organization, Hoyt said. Their energy and passion for our mission fires me up; I wish every Ducks Unlimited volunteer could see this.
Attendees heard from DU Chief Scientist Dr. Tom Moorman about what influences waterfowl migration, in addition to a presentation by National Director of Event Fundraising David Schuessler on how the volunteers could build their own hamburger. He explained that not all hamburgers are made the same, just like not all chapters can rely on the same strategies for success.
Beau Welling, founder and CEO of Beau Welling Design, delivered the keynote address, with a focus on leadership and working hard to achieve even the loftiest goals. Attendees then heard from DU First Vice President Doug Schoenrock on the importance of staying engaged with the organization after graduation. The graduating seniors in attendance were presented with Ducks Unlimited graduation cords.
Throughout the event, students had the opportunity to view merchandise and speak with representatives from several vendors, including YETI, Reeds, Drake Waterfowl, Mossy Oak, and Artisans. The summit was capped off with an awards presentation sponsored by YETI, which highlighted chapter successes and growth in a multitude of areas.
The next Third Term collegiate leadership summit will be held in August 2020 in Memphis, Tennessee.