DU celebrates 80 years on Capitol Hill
WASHINGTON, D.C. May 10, 2017 Last week, more than 650 people gathered for the annual Ducks Unlimited Capitol Hill dinner and auction. More than 70 members of congress were in attendance, along with congressional staff, agriculture and conservation partners, administration officials and senior Ducks Unlimited volunteers and board members from around the country. This year House Speaker Paul Ryan keynoted the event and former Vice President Dick Cheney attended as an honorary guest.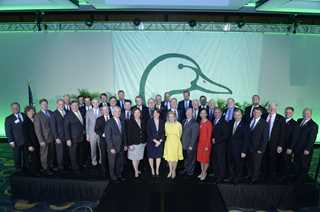 Pictured in row 1 from left to right: Rep. David Joyce (OH), Rep. Susan Brooks (IN), Rep. Ron Kind (WI), Sen. Tom Carper (DE), Rep. Ken Calvert (CA), Sen. Rob Portman (OH), Sen. James Risch (ID), Rep. Bob Latta (OH), Sen. Deb Fischer (NE), Sen. Amy Klobuchar (MN), Rep. Debbie Dingell (MI), Sen. Chris Coons (DE), Rep. Lisa Blunt Rochester (DE), Rep. Clay Higgins (LA), Rep. Tim Walberg (MI), Sen. Mike Rounds (SD), Rep. Glenn Grothman (WI), Rep. A. Drew Ferguson (GA), Rep. Larry Bucshon (IN). Row 2 left to right: Rep. Tom McClintock (CA), Rep. John Garamendi (CA), Rep. Luke Messer (IN), Sen. Todd Young (IN), Rep. Tim Walz (MN), Rep. John Moolenaar (MI), Rep. Mike Thompson (CA), Rep. Jack Bergman (MI), Rep. Don Young (AK), Rep. Jeff Denham (CA). Row 3 left to right: Rep. Mike Johnson (LA), Rep. John Faso (NY), Rep. Erik Paulsen (MN), Sen. John Kennedy (LA), Rep. Ralph Abraham (LA), Sen. Jerry Moran (KS), Sen. John Thune (SD), Rep. Eric Swalwell (CA)
"The Washington D.C. event on Capitol Hill is our opportunity to thank our bipartisan friends in Congress for their continued support of wetlands conservation, said Dale Hall, CEO of Ducks Unlimited. This event celebrates the efforts of these conservation champions with some of DUs most senior volunteers and partners, and its thanks to those efforts that we are able to continue conserving some of the nations most critical habitat."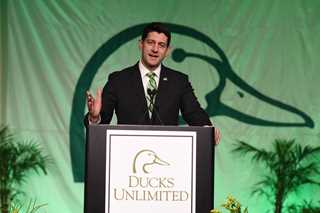 House Speaker Paul Ryan gave his welcome remarks to the more than 650 guests.
"I'm a big fan of the outdoors whether it is hiking, hunting, or mountain biking and I firmly believe we have an obligation to be good stewards of our nations natural resources. Thats why I appreciate the work being done by Ducks Unlimited because I share their commitment to conservation. It was an honor to attend the Ducks Unlimited gathering again this year and catch up with old friends who love the outdoors and all it has to offer," said Ryan.
Pictured left to right: Rep. Ralph Abraham (LA), Vice President Dick Cheney, Rep. Steve Scalise (LA) and Richard Zuschlag donning their new Ducks Unlimited and Purina hats at the event.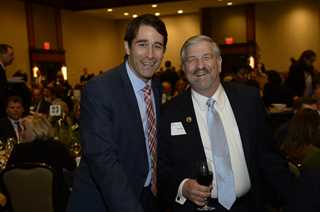 Rep. Garret Graves (LA) (left) and DU CEO Dale Hall (right) enjoying the event.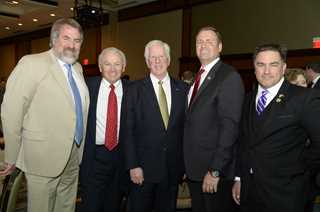 Pictured left to right: Rep. Doug LaMalfa (CA), Ducks Unlimited Policy Chair Al Montna, Rep. Mike Thompson (CA), Rep. Jeff Denham (CA) and DU Director of Policy for the Western Region Gary Link.
Ducks Unlimited's Capitol Hill dinner and auction has been held each spring for more than 30 years. Founded in 1937, this year commemorates 80 years of Ducks Unlimited and its conservation mission. To date, Ducks Unlimited has conserved more than 14 million acres thanks to the more than one million DU members and supporters nationwide.
Media Contact:
Tucker Nelson
(202) 347-1530
tnelson@ducks.org