Dale and Linda Doubler Live and Work for Conservation
For Dale and Linda Doubler, conserving natural habitats is a passion that begins at home. The couple of 46 years lives in Cambridge, Illinois, and together they restored a 300-acre farm in Woodhull. The beautiful property boasts 117 acres of restored native prairie grasses and pine trees as well as a lake with bass and catfish for local anglers. The farm is used to grow corn and soybeans, and the Doublers have taken steps to ensure that it will never be developed and can be enjoyed by outdoor enthusiasts for generations to come.
The Doublers' support for conservation led them to Ducks Unlimited. Dale has been area chairman of the Geneseo, Illinois, chapter for more than 24 years. He and Linda are Diamond Heritage Sponsors and have included DU in their estate plan as Platinum Feather Society members.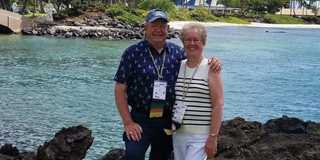 "Dale and Linda are simply amazing people," says DU Director of Development James Roberts. "If there is a way to support DU, they do it. They have created a legacy that will benefit generations of future waterfowlers."
Dale has always had a passion for connecting people with nature. His career as a homebuilder in Cambridge involved weaving together natural parks and new subdivisions, incorporating nature into developments. And his passion for philanthropy goes well beyond wetlands conservation. Dale started a flag program at a local cemetery to honor war veterans. He also served for 24 years as a village trustee.
"The Doublers embody the true spirit of generosity and volunteering," says DU Regional Director Brett Brown. "I have met few with more drive and dedication to our mission than Dale and Linda. They are true friends to the ducks. They live and breathe Ducks Unlimited and I just feel fortunate to have such a great friendship with them."