Alaska Clark Springer Award
The Clark Springer Platinum Waterfowl Award is the highest volunteer award given by Alaska Ducks Unlimited. The award is named in honor of the late Clark Springer (1932-2001), who's lifetime service and contributions to Ducks Unlimited set the standard for volunteerism.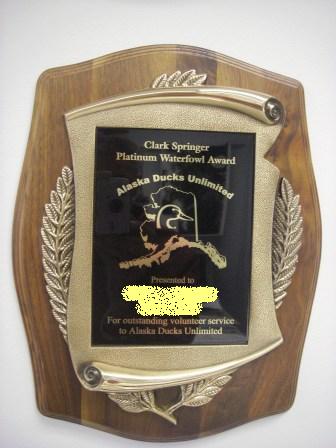 Clark Springer, of Homer, Alaska, devoted many years of outstanding and wise leadership, and dedication to Ducks Unlimited, and to the noble cause of conservation of North America's waterfowl, and the perpetuation of our timeless waterfowl heritage; and
His support of Ducks Unlimited, through his wealth of knowledge and experience and his years of devoted service, provided a significant factor in the achievement of the unique and distinguished stature which Ducks Unlimited enjoys in the conservation world today; and
Clark Springer tirelessly and unselfishly expended his time and talents while steadfastly upholding the highest ideals of Ducks Unlimited in many capacities as a volunteer leader. He served as the Alaska State Chairman and was a longtime member of the Board of Directors, most recently serving as Senior Vice President for the North Pacific Flyway. Clark was also a generous supporter of Ducks Unlimited's programs as a Legacy Sponsor and a Grand Slam Sponsor in Perpetuity.
Clark Springer's unswerving dedication, wise counsel, and courageous leadership, stand high as continuing sources of inspiration for all of those Ducks Unlimited leaders and members who have been privileged to know, serve and work with him.
Alaska DU volunteers who have been honored to receive the Clark Springer award include:
2002 Lyndon Ibele, Anchorage
2003 Ron Goecke, Kenai
2004 Roger Penrod, Fairbanks
2005 Ray Meier, Soldotna
2006 Lillian Sager, Cold Bay
2007 Reece Baldwin, Anchorage
2008 James H. Hagee, Anchorage 2009 Marc Lind, Eagle River 2010 Tom Susan Bailey, Anchorage 2011 Jon Morse, Anchoarage 2012 Boomer Hensley, Wasilla 2013 Annie Staudenmaier, Anchorarge 2014 Sara Curtis, Anchorage