2019 Capitol Hill Dinner draws nation's leaders
Celebrating the 30th anniversary of the North American Wetlands Conservation Act
WASHINGTON, D.C. May 6, 2019 Last week, more than 700 guests gathered for the annual Ducks Unlimited Capitol Hill dinner and auction. More than 70 bipartisan members of congress were in attendance, along with many congressional staff members, partners in agriculture and conservation, members of the Trump Administration, Wetlands America Trustees and Ducks Unlimited volunteers and board members from around the country.
This year marked the 30th anniversary of the North American Wetlands Conservation Act (NAWCA) that has conserved nearly 30 million acres of vital wetlands habitat. This year Agriculture Secretary Sonny Perdue, Interior Secretary David Bernhardt and House Minority Leader Kevin McCarthy attended the celebration, among others who serve our nation.
Wetlands and conservation are bipartisan issues, said Adam Putnam, CEO of Ducks Unlimited. The support from our nations leaders for programs like NAWCA is paramount in our effort to conserve some of the nations most critical habitat. The Washington, D.C. Capitol Hill event is a wonderful celebration. We bring together the voices in our nations capital that help make our conservation mission a reality with our volunteers, partners and friends across the country.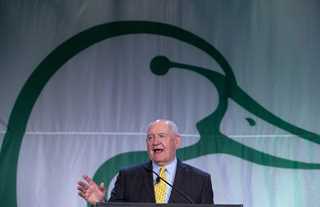 Ducks Unlimited has been heavily involved as a key partner with USDA over the years, and they set the Gold Standard for the hook and bullet crowd as a shining example of success across the board, said Secretary Perdue. I enjoyed my time at the 2019 DU Capitol Hill Dinner where we saw firsthand how outdoor sports, agriculture, environmental, public, and private sectors can work, play and live in harmony together that is pretty unheard of today.

The Ducks Unlimited Capitol Hill dinner and auction is an annual event taking place in our nations capital every spring.
Since its inception in 1989, NAWCA has helped fund more than 2,833 projects on almost 29.8 million acres in all 50 states, areas of Canada and areas of Mexico. More than 6,000 partners, including private landowners, industry and state governments have worked together to conserve wildlife habitat through NAWCA grants.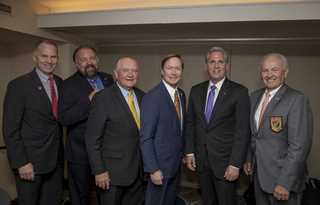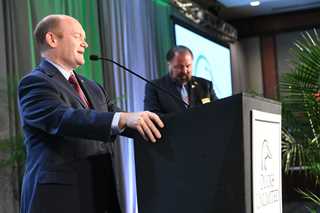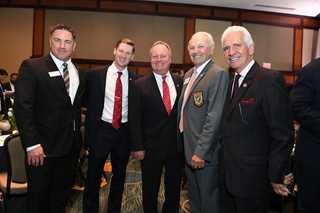 Ducks Unlimited Inc. is the world's largest nonprofit organization dedicated to conserving North America's continually disappearing waterfowl habitats. Established in 1937, Ducks Unlimited has conserved more than 14 million acres thanks to contributions from more than a million supporters across the continent. Guided by science and dedicated to program efficiency, DU works toward the vision of wetlands sufficient to fill the skies with waterfowl today, tomorrow and forever. For more information on our work, visit www.ducks.org.
Media Contact:
Tucker Nelson
(202) 347-1530
tnelson@ducks.org