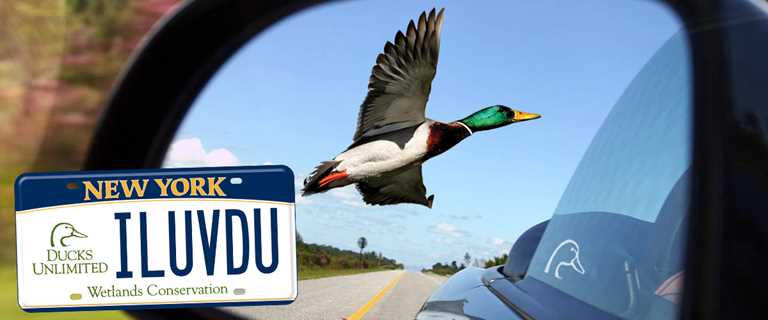 Here's your chance to show your support of Ducks Unlimited in New York! A Ducks Unlimited custom license plate from the New York State Department of Motor Vehicles is now available to motorists in both passenger and commercial class.
More than 16,000 Ducks Unlimited members in New York support conservation with waterfowling. To date, DU has protected, restored or enhanced 54,000 acres and has invested nearly $37 million in the state.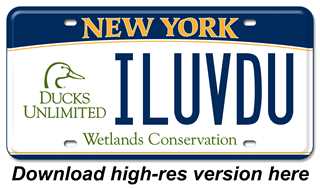 Help us promote Ducks Unlimited, anywhere you drive!
ORDER YOURS TODAY!
Cost: A standard Ducks Unlimited plate can be purchased for an initial fee of $85. The annual fee is $56.25, which is in addition to the standard registration renewal fee. The plate can be personalized with up to six characters, including spaces, for an initial fee of $116.25. The annual fee for a personalized plate is $87.50, which is in addition to the standard registration renewal fee.
International symbol of access: The Ducks Unlimited plate is also available with the International Symbol of Access (ISA) for any resident with a disability who qualifies for such a plate. Any person qualifying for an ISA must contact the Custom Plates Unit at (518) 402-4838 before submitting his/her application.
Questions? Contact the New York Department of Motor Vehicles.
Once you get your plate: Share it with us! Post a photo of your plate on your vehicle to our Facebook page!