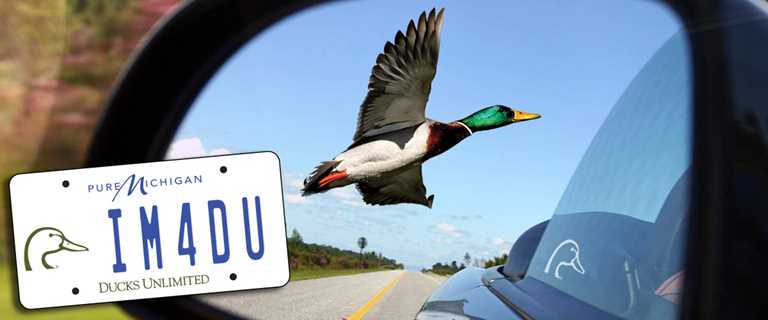 Here's your chance to support Ducks Unlimited conservation projects in Michigan! A Ducks Unlimited custom license plate from the Michigan Secretary of State is available for non-commercial passenger cars, pickup trucks, vans, and motor homes. Proceeds from each plate go directly to Ducks Unlimited for the enhancement, protection and restoration of wetland habitats.
Nearly 30,000 Ducks Unlimited members in Michigan support conservation of wetlands and waterfowl. To date, DU has protected, restored or enhanced more than 80,000 acres and has invested more than $40 million in the state.
Since 2015, the Ducks Unlimited license plate has generated more than $120,000 for conservation throughout the state. See an example of how we've used funding from DU plates in Michigan.
Help us promote Ducks Unlimited, anywhere you drive!