5 Small Bites for Summer
The Sporting Chef offers five of his favorite waterfowl appetizers
By Scott Leysath
Photography by John Hoffman; Prop Styling by Shannon Persell
As I travel the country, the one recipe that folks most often want to share with me features strips of marinated duck or goose breast encased in a blanket of cream cheese, jalapeo peppers, and bacon. It would be hard to make the argument that these fried or grilled "poppers" don't taste great. They do. Crunchy, spicy, cheesy, and baconywhat's not to like? Best of all, they're gone in one or two bites, so you can eat them while holding a cold beverage or horseshoe in your other hand.
The following handheld appetizers include a mix of fried, grilled, and roasted finger foods. There's enough variety here to please everyone. Whip up several of these recipesoutdoors, if you likeand you'll have an assortment of small bites that will bring big fun to your summertime get-togethers.
---
Fried Duck Poppers
Makes 12 Poppers. Let's get right to it. All the standard "popper" components are here, but with a twist.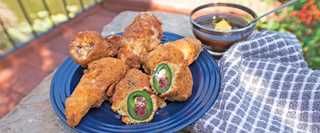 Ingredients
12 2-inch strips duck breast
2 tablespoons olive oil
1 tablespoon Worcestershire sauce
2 cloves garlic, minced
Pinch black pepper
12 medium to large jalapeo peppers, any color
8 strips bacon, cut into thirds and cooked until just done
1/4 pound cream cheese
Oil for frying
1 cup flour
2 eggs
1 cup buttermilk
2 tablespoons hot sauce
2 cups Italian-seasoned breadcrumbs
Directions
1. In a small bowl, toss together the sliced duck, olive oil, Worcestershire sauce, garlic, and black pepper. Cover and refrigerate for 2 to 3 hours.
2. Remove the stems from the jalapeos, then use a sharp paring knife to scoop out the seeds and ribs. Inside each pepper, place 1 strip of marinated duck breast and 2 pieces of bacon. Fill the remaining space with cream cheese.
3. Heat about 2 inches of oil in a heavy pot for frying. When ready, the oil should be 350360F. Place the flour in a bowl. Beat together the eggs, buttermilk, and hot sauce in another bowl. Then place the breadcrumbs in a separate, shallow bowl.
4. Dust the poppers with flour and shake off excess. Dunk them in the egg and buttermilk mixture. Roll them in breadcrumbs. Then place the poppers, 1 or 2 at a time, in the hot oil. Cook until golden brown, then set briefly on paper towels to drain. Serve immediately.
Duck Popper Dipping Sauce
Serve duck poppers with a dipping sauce that balances the spicy heat with a touch of something sweet. My favorite is a blend of 1/2 cup light soy sauce, 1 teaspoon hoisin sauce, 1 tablespoon lemon juice, 1 tablespoon sweet chili sauce, and 2 tablespoons brown sugar.
---
Goose Satay
Makes 6 to 10 skewers (depending on the size of the goose breast fillets). This recipe, which features ribbons of marinated goose breast with Asian-inspired flavor, cooks in just a minute or two. It's paired with a spicy peanut sauce for dipping.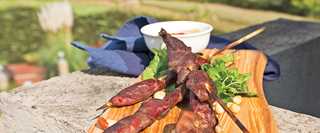 Ingredients
2 goose breast fillets, skin removed
Wooden or metal skewers
Marinade
2 green onions, minced
2 cloves garlic, minced
1 tablespoon grated ginger
1 teaspoon turmeric
1/4 teaspoon cayenne pepper
2 tablespoons lime juice
2 tablespoons soy sauce
1 tablespoon brown sugar
Peanut Sauce
1 tablespoon peeled and minced ginger
1 clove garlic, minced
1/2 cup peanut butter, either chunky or creamy
2 tablespoons soy sauce
1 tablespoon fresh lime juice
1 teaspoon light brown sugar
1/2 teaspoon crushed red pepper flakes
1/3 cup coconut milk
Directions
1. Prepare the marinade by combining the ingredients in a medium bowl and mixing well. Slice the goose breast fillets lengthwise into 1/4-inch-thick strips and toss with marinade. Cover and refrigerate for 2 to 4 hours, turning occasionally.
2. Prepare the peanut sauce by combining the ingredients in a food processor and pulsing to blend. If desired, this sauce can be thinned with additional coconut milk or a little cold water.
3. Thread the marinated sliced goose onto the skewers. Grill them evenly on both sides (medium-rare is recommended). Then serve immediately with the peanut sauce.
Tip from the Chef: For small appetizers like this satay, I recommend using wooden skewers. Just be sure to soak them first in water for 30 minutes to keep them from burning over an open flame.
---
Duck Pot Stickers with Soy-Sesame Dipping Sauce
Makes 24 pot stickers. Pot stickers are delicious any way you serve themdeep-fried or added to a brothy soup. This recipe is a great way to stretch a small amount of duck meat among several guests. What's more, uncooked pot stickers can be frozen for a month or two.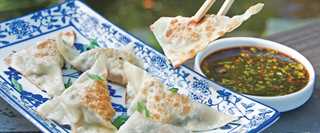 Ingredients
1 1/2 cups ground duck breast fillets
1/2 teaspoon kosher salt
1/4 cup vegetable or peanut oil
1/2 teaspoon toasted sesame oil
3 green onions, minced
1 teaspoon peeled and minced ginger
1 garlic clove, minced
24 wonton wrappers
3 tablespoons cornstarch mixed with
3 tablespoons cold water
3 tablespoons soy sauce mixed with
3 tablespoons water
Directions
1. Season the ground duck with kosher salt. Heat 1 tablespoon of the oil in a skillet over medium-high heat, then brown the ground duck breast. Add sesame oil, green onions, ginger, and garlic. Cook for 2 minutes. Allow the mixture to cool completely.
2. Arrange 6 of the wonton wrappers on a work surface. Place a half-dollar-size portion of the cooked and cooled duck mixture in the center of each wrapper. (Do not overstuff the won-tons or they will open when cooked.) Brush a thin layer of the cornstarch mixture around all four edges of the wonton, then fold it into a triangle, pressing down to seal the edges. Repeat the process with the remaining wontons and filling.
3. Combine the dipping sauce ingredients. Heat the remaining 3 tablespoons of oil in a large skillet over medium-high heat. Add the pot stickers, 8 at a time, and cook until they are lightly browned on one side. Add 2 tablespoons of the soy saucewater mixture and immediately cover the skillet with a lid or pan. Keep the skillet covered for 2 minutes, then remove the lid and transfer pot stickers to a plate. Serve with the dipping sauce.
Soy-Sesame Dipping Sauce
1/3 cup soy sauce
1 green onion, minced
1 jalapeo pepper, seeded and thinly sliced
2 tablespoons rice vinegar
2 teaspoons toasted sesame oil
1/4 teaspoon sugar
1 tablespoon toasted sesame seeds
---
Buffalo Style Duck Legs
Makes 12 duck legs. In this tangy appetizer, slow-cooked duck legs are fried and coated with traditional buffalo wing sauce. Serve them with blue cheese dressing and fresh vegetables for dipping.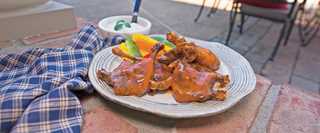 Ingredients
12 duck legs from larger ducks, preferably with skin intact
Olive or vegetable oil
Kosher salt and freshly ground black pepper
1/2 onion, roughly chopped
2 celery stalks, roughly chopped
Chicken broth
Oil for frying
Directions
1. Preheat the oven to 375F. Coat the duck legs with olive or vegetable oil and season them liberally with kosher salt and black pepper. Place in a lightly greased pan. Add onion and celery, then place in a preheated oven and roast until evenly browned. Flip the legs over and brown the other side. Once the legs are browned, add the chicken broth until they are just covered.
2. Reduce the oven temperature to 300F. Cover the pan with a tight-fitting lid or foil and cook for 2 hours. Check for donenessthe meat should pull away from the bone with minimal effort. Add additional broth, if necessary, to maintain at least 3/4 inch of liquid. Check for doneness every 20 minutes and remove cooked legs.
3. While the legs are cooking, combine the sauce ingredients. Do not refrigerate.
4. Heat 4 to 5 inches of oil to 350375F in a pot. Add the cooked legs, a few at a time, and fry until crispy. Place the fried legs in a bowl and toss them with the wing sauce.
Buffalo Sauce (makes about 1 cup)
Ingredients
1/2 cup melted butter
1/2 cup hot sauce
1 tablespoon red wine vinegar
2 teaspoons Worcestershire sauce
2 cloves garlic, minced
---
Spicy Goose Sliders
Makes 6 sliders. This is a slider with attitude and tons of flavor. It features ground goose breast fillets and spicy Mexican chorizo sausage patties nestled in a bun and topped with grilled bell peppers and Cotija cheese. If you do not have access to a meat grinder, simply pulse the cubed goose breast fillets and chorizo in a food processor.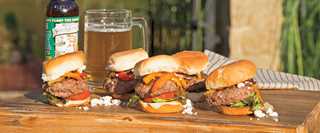 Ingredients
2 cups ground skinless goose breast fillets
1 cup ground chorizo
1 tablespoon all-purpose flour
3 tablespoons minced onion
1 tablespoon freshly squeezed lime juice
1/2 teaspoon kosher salt
1/2 teaspoon dried oregano
1/4 teaspoon ground cumin
Olive oil
2 bell peppers, any color, halved and seeded
1/2 cup crumbled Cotija cheese
6 slider buns
Mayonnaise (optional)
Lettuce leaves, tomato slices
Directions
1. Combine the ground goose with the chorizo and mix well. Sprinkle a little flour over the mixture, mix again, then sprinkle with the remaining flour. Mix again to distribute the flour, which will help keep the patties together when cooking. Add the onion, lime juice, kosher salt, oregano, and cumin. Mix well, then divide the mixture in half. Form 3 equal-size balls out of each half of the mixture. Press them down to form patties, and coat each patty with olive oil. Coat the bell pepper halves with olive oil.
2. Place the patties and bell pepper halves on a clean, well-oiled medium-hot grill or in a medium-hot skillet. Cook until the patties are browned on the bottom and no longer stick to the grill. Flip them over and cook to desired doneness. Lightly char the peppers on both sides. Top the patties with Cotija cheese a minute or two before removing them from the grill.
3. Slice the peppers into strips. For each slider, spread a light layer of mayonnaise on the top and bottom half of the bun. Place the lettuce and tomato on the bottom half. Add the cooked patty, then top with the bell pepper strips and the other half of the bun.
Tip from the Chef: Perfect-Size Patties. Resist the urge to supersize your burger patties. The bigger the burger, the better the chance that it'll be burned on the outside before it's medium-rare and juicy on the inside. If you must
build a bigger burger, turn down the heat so that it cooks a little slower.