Strategies for Public Land
Here's how to make the most of public hunting opportunities in your area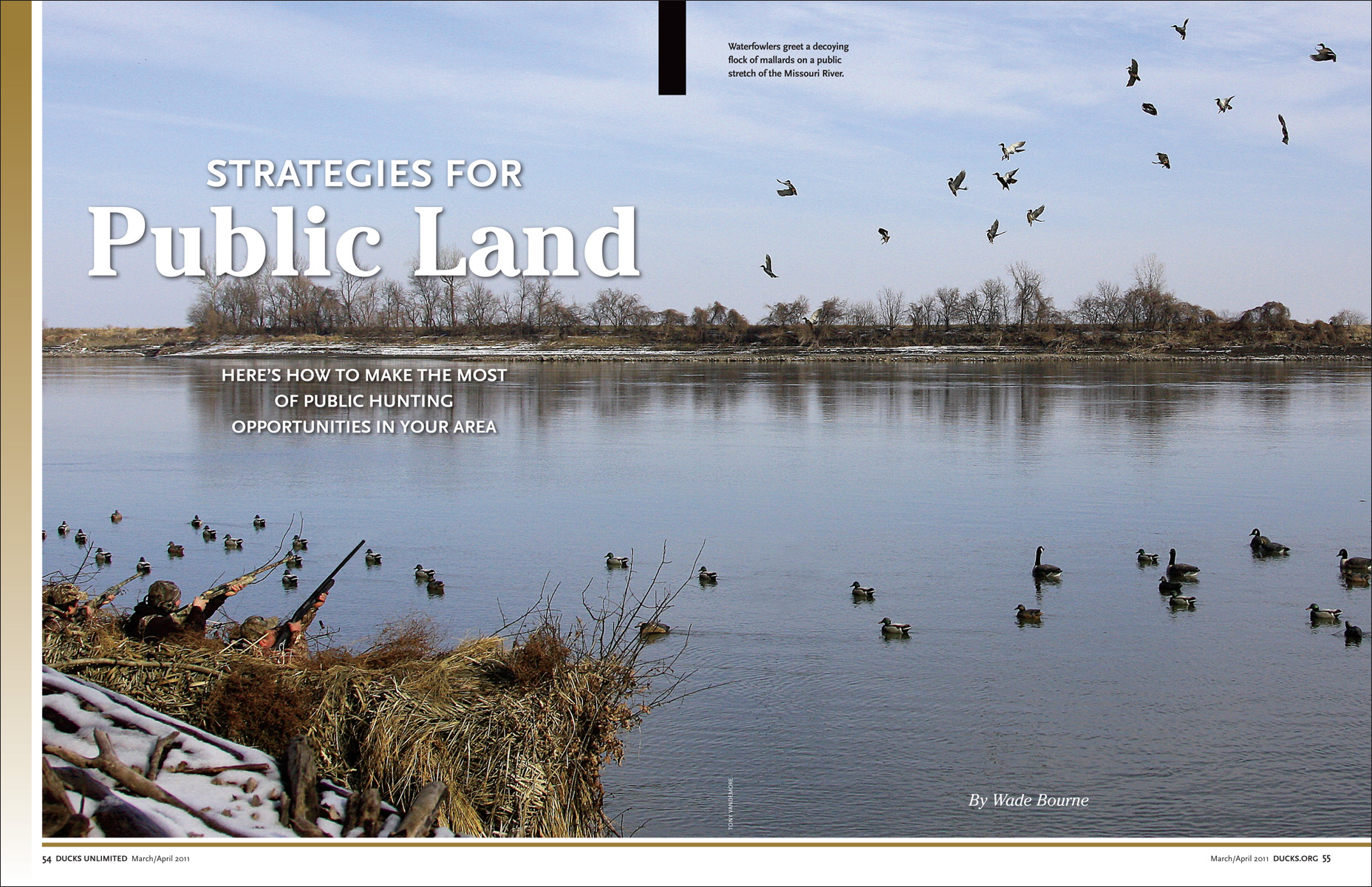 By Wade Bourne

Waterfowl hunting on public land can be either a dream or a nightmare, as two hunts that I experienced several years ago on a local wildlife management area (WMA) clearly illustrate. The first hunt took place on opening day and began with a traffic jam at the boat ramp. Word had gotten out that the area was loaded with birds, and vehicles towing duck boats were backed up several hundred yards from the water. By the time our turn came to launch, shooting was well under way and all the available hunting spots had been taken.

The second hunt took place later in the season, on a weekday. A heavy downpour the night before had caused a creek to spill over its banks into an adjacent field of uncut milo. We were the first hunters to arrive the next morning, and claimed the best spot. Mallards came from every direction, swirling over the field and dropping into our decoys without hesitation. My hunting partners and I took turns shooting only greenheads, enjoying a spectacle that would rival the finest morning on a high-dollar duck club.

These two hunts were poles apart in terms of success and enjoyment. How can public-land hunters avoid the frustrations we endured in our first hunt and enjoy the rewards we relished on the second? Following is practical advice on how you can maximize the public hunting opportunities in your area. Doing so will require more than a token effort, but those who work the hardest usually profit the most.
1. Watch the Weather
Weather changes, particularly cold fronts preceded by heavy rain, often bring fresh flights of waterfowl and better hunting. High winds, bitter cold temperatures, and other inclement weather can also make highly educated waterfowl more responsive to decoys and calling. Stay abreast of local weather forecasts and plan your hunts accordingly to coincide with the arrival of new birds and the most favorable hunting conditions.
This was our modus operandi when torrential rainfall and rising water drew those mallards to the milo field on our local WMA. My hunting partners and I had scouted the field before the season and knew that it was loaded with grain. We hoped that a heavy rain would cause floodwater from the adjacent creek to spill into the field, and kept an eye on weather forecasts. When a big rain finally came, we knew where to go, and subsequently enjoyed one of the most spectacular hunts of our lives.

On a larger scale, rising water levels on major rivers and lakes can inundate expanses of adjoining bottomland and fields, drawing clouds of ducks to freshly flooded feeding and loafing habitats. Get to know the river and lake stages that are most favorable for hunting on public land in your area, and then check daily updates for upcoming flood events.

DU development director Chad Manlove of Madison, Mississippi, keeps a close eye on the Yazoo River in his state's Delta region. He knows the levels at which the Yazoo starts to flood low-lying areas of Delta National Forest, a vast public hunting area. He also knows that when this happens, mallards will pour into certain remote timber holes accessible only by ATV and wading. When conditions are right, the duck hunting Manlove experiences in these locations is extraordinary.

Daily changes in weather can also influence when and where ducks fly on public hunting areas. When bitter cold temperatures lock up shallow wetlands, ducks shift to lakes, rivers, and streams. But as the sun climbs, air temperatures rise, and ice begins to melt, ducks will return to recently thawed loafing and feeding areas. At such times, midday and afternoon hunts can be more productive-and are usually much less crowded-than morning hunts.
2. Use New Technology
Technological advances have revolutionized waterfowling in many ways. Today's duck hunters can browse websites for updated weather forecasts, river and lake stage information, waterfowl survey data, migration reports, and information about specialized gear and tactics (see www.ducks.org). They can also download hunting regulations, licenses, and detailed topographical maps, as well as communicate with other hunters in real time. The potential is almost endless.
While planning a recent freelance hunting trip to North Dakota, I ordered an atlas of public hunting lands and bought my licenses online from the state wildlife agency. I also downloaded road maps, made motel reservations, and even located several good restaurants by browsing the Web. Thanks to my Internet detective work, my hunting partner and I were able to hit the ground running shortly after arriving in North Dakota, allowing us to maximize our limited hunting time.

New decoys, blinds, and other gear can also tip the scales in favor of public-land hunters. Several years ago, I hunted a large "moist-soil" impoundment on a public conservation area in Missouri. My hunting partners and I hid our boat-blind in a brushy ditch on the edge of the field, but the ducks were working the center of the impoundment where cover was sparse. We had little success attracting birds to our spread, but two other waterfowlers were having a field day. They were hunting from layout boats hidden among patches of weeds in the middle of the impoundment. They had covered their low-profile boats with natural vegetation, and we couldn't see them until ducks pitched into their decoys and they rose up to fire. By acquiring layout boats specifically designed for hunting in a shallow, open-water environment, they could hide and hunt exactly where the ducks wanted to be. Other public-land hunters I know have enjoyed similar success by embracing new duck-hunting technology in the form of mud motors, motion decoys, and GPS units.
3. Read the Regulations
It's every hunter's responsibility to know the letter of the law no matter where they hunt. This is especially true on public land, as state and federal agencies often have regulations that are specific to particular hunting areas. But reading the fine print in your regulations booklet can also help you discover and exploit overlooked public hunting opportunities.

For example, on certain hunting areas blinds are assigned to permit holders following preseason drawings. But if these lucky hunters don't show up by a certain time each day, others are granted access to vacant blinds via a drawing held that morning or on a first-come, first-serve basis. In other cases, freelancers are allowed to set up a certain distance from fixed blinds (often 200 yards). Using a laser rangefinder, freelance hunters can measure distances between blinds and pinpoint locations where they can set up. Maps accompanying hunting regulations can also reveal hidden pockets of prime habitat that may be overlooked by other hunters.

Hunting pressure on public land is usually heavy on weekends and light on weekdays. Many areas have rest days when no hunting is permitted. If your schedule allows, plan to hunt on weekdays, especially those that follow rest days. On many areas, more ducks are bagged per hunter on Wednesdays than on any other day of the week.

The point is to keep an eye out for underutilized hunting opportunities while studying regulations that apply to the areas you hunt. Such rules frequently reward hunters who are proactive in finding and exploiting less-than-obvious hunting spots.
4. Adapt and Overcome
Above all else, success on public land requires a flexible mindset, broad-based hunting skills, and versatile equipment. Hunters must be ready to change locations and strategies when conditions dictate. When new opportunities arise, hunters must also have the equipment and the know-how to take advantage of them.
Bass fishing pro George Cochran of Hot Springs, Arkansas, has a duck camp just outside famed Bayou Meto WMA near Stuttgart. He enjoys hunting mallards and other dabblers in this vast tract of flooded timber more than anywhere else, but he doesn't look at empty skies long before seeking hunting opportunities elsewhere. Cochran has the boats, decoys, and other accessories that allow him to hunt a variety of habitat types across Arkansas. To stay informed, he maintains a network of hunting buddies, agency biologists, and other sources who have the pulse of the waterfowl migration in different parts of the state. If a particular WMA is producing more ducks than others, there's a good chance Cochran will be there.

Avery pro-staffer Curt Wilson of Sacramento, California, pursues a different strategy. He escapes hunting pressure-and finds ducks-by "going light." He straps on a backpack loaded with a few decoys and minimal gear and hikes and wades into areas where other hunters are unwilling or unable to go. In doing so, he consistently finds pockets of undisturbed ducks and enjoys high-quality hunting.

If it's impossible to get away from the crowd, another effective strategy is to simply watch and wait. This is a routine practice on many public hunting areas, where pressure is heavy and competition for prime spots is intense. Hunters who don't want to jockey for position in the predawn rush can join the "second shift" and still have a good shoot.

There's no question that hunting on public land is challenging, even for the most experienced and well-equipped waterfowlers. Places that are easy to find and access are all too often overrun with other hunters. But hunters who see possibilities others don't, and devise and implement strategies for turning these possibilities into realities, can enjoy waterfowl hunting on public land that is surprisingly high in quality and consistency.