Unleashed in Chicago
A waterfowl-hunting attorney revisits his old Windy City stomping grounds with his retriever by his side

By Douglas Spale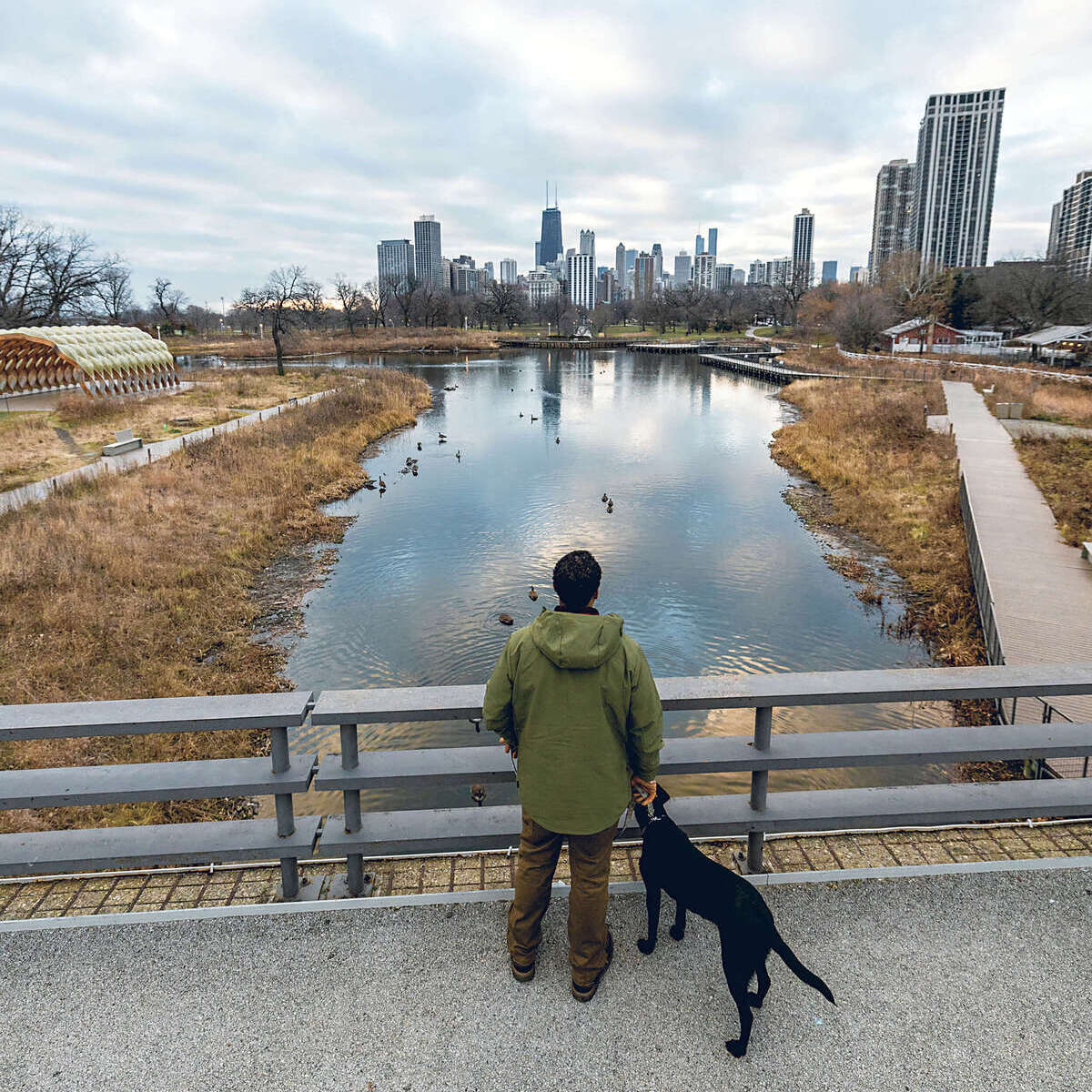 Chicago is a wonderful tapestry of eclectic neighborhoods overflowing with culture, but it might not be the first place that comes to mind when you think about waterfowling destinations. In fact, the Chicago area's expansive footprint, interspersed with county forest preserves and public waters, supports abundant waterfowl populations. In addition, throughout this metropolitan landscape, there exists a premier level of culinary expertise that lends itself to innovative duck and goose dishes. Chicago has always been a captivating tourist destination, and in my experience the Second City should be high on every wandering waterfowler's list—even those who enjoy traveling with a retriever.
My Chicago Experience
I grew up on the prairies of Nebraska but moved to the Windy City shortly after college to study law at the University of Illinois Chicago. While my original intention was to become a big city lawyer, throughout my years in law school I found myself longing for home. After I graduated, my father was diagnosed with cancer, and I decided to return to Nebraska. I studied for the bar exam while my father endured treatments. During this time, he made it clear that his cancer would not keep me from achieving my dreams, and he urged me to return to Chicago. I did, and this time I brought along a black Labrador pup as a kind of promise that I would continue our family traditions of hunting waterfowl and upland birds.
I lived in a high-rise in the city's Gold Coast neighborhood and dedicated my free time to training the Lab that I named Sunka O' War ("Sunka" means dog in the beautiful Lakota language, and "O' War" commemorates the Lakota warriors who once roamed the plains). We carried out our training in vacant lots flanked by skyscrapers, elevated trains, and continuous traffic commotion. Even in this unconventional environment, Sunka proved to be an exceptional training partner. My legal work sent me all over the Greater Chicago area, and my imagination began to run wild as I noticed large flocks of waterfowl in the city's outlying areas.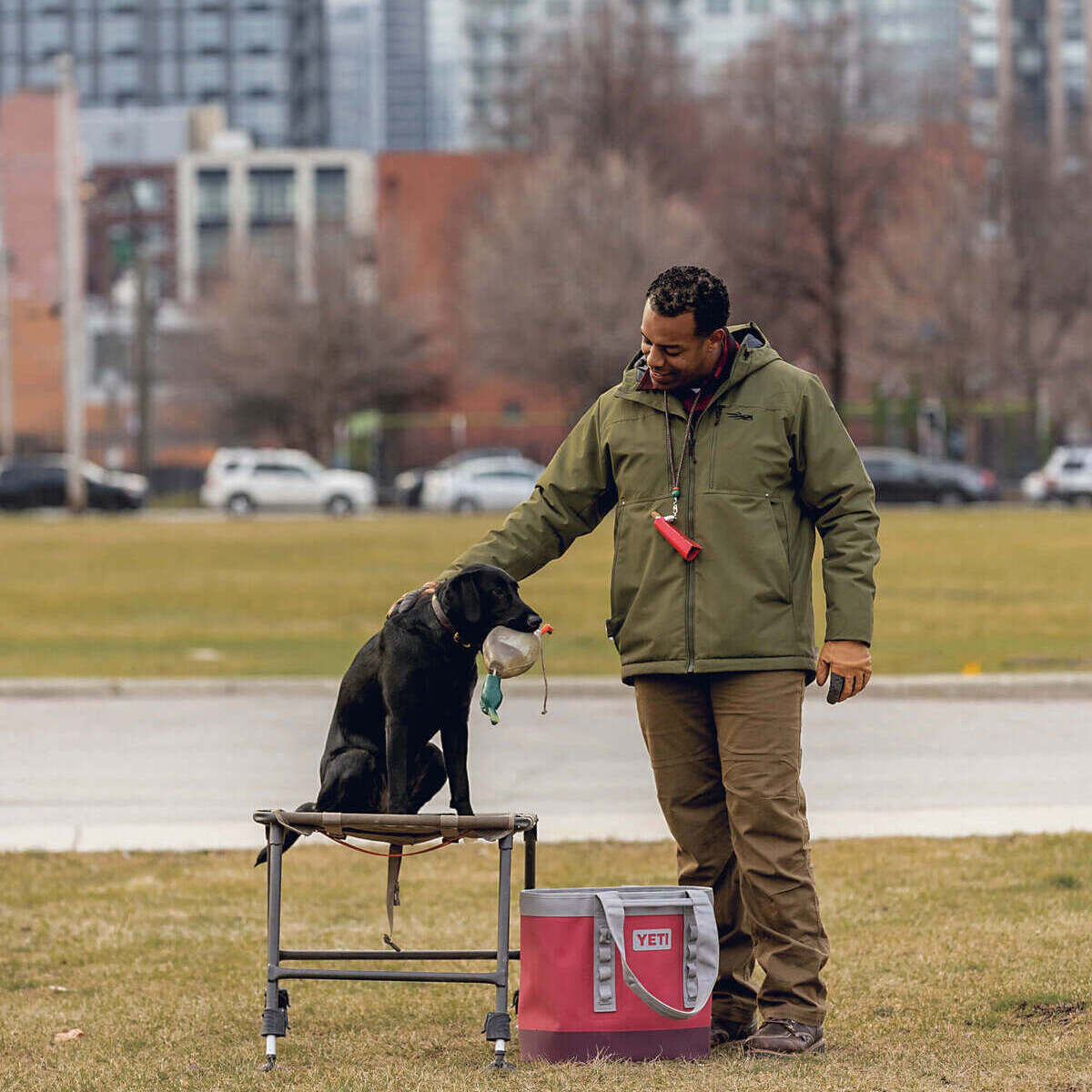 As Sunka's training progressed, I was determined to find places to hunt around our adopted home. I began to build relationships with various waterfowl clubs in the area and explored the many public land draw opportunities.
I befriended a few guides who would regularly invite me to hunt. On a few occasions, my co-workers or clients would treat me to hunts. They told me that my passion for waterfowl hunting and my devotion to my retriever were magnetic. Together, Sunka and I expanded our weekend searches for waterfowling opportunities across the Midwest, always making it back to Chicago by Sunday evening.
We made our happiest memories on trips home to hunt the Platte River with my father. It was a promise delivered. But our experiences chasing waterfowl in the Chicago area were remarkable.
Ultimately, work and life brought me to Kansas City. Tragedy took Sunka before she reached her prime, but my family's traditions live on in my new black Lab Nua Kohtopu (which means "my fire" in Comanche). Like her predecessor, "Kohtop" is growing accustomed to traveling the country to hunt waterfowl. We see our explorations as opportunities to discover new people and places, as well as a continuing fulfillment of that promise to my father. Although she is young, Kohtop seems to have many of the attributes of Sunka, including her enthusiasm for life. As such, it seemed fitting for us to take a nostalgic trip to Chicago together.
Home in the City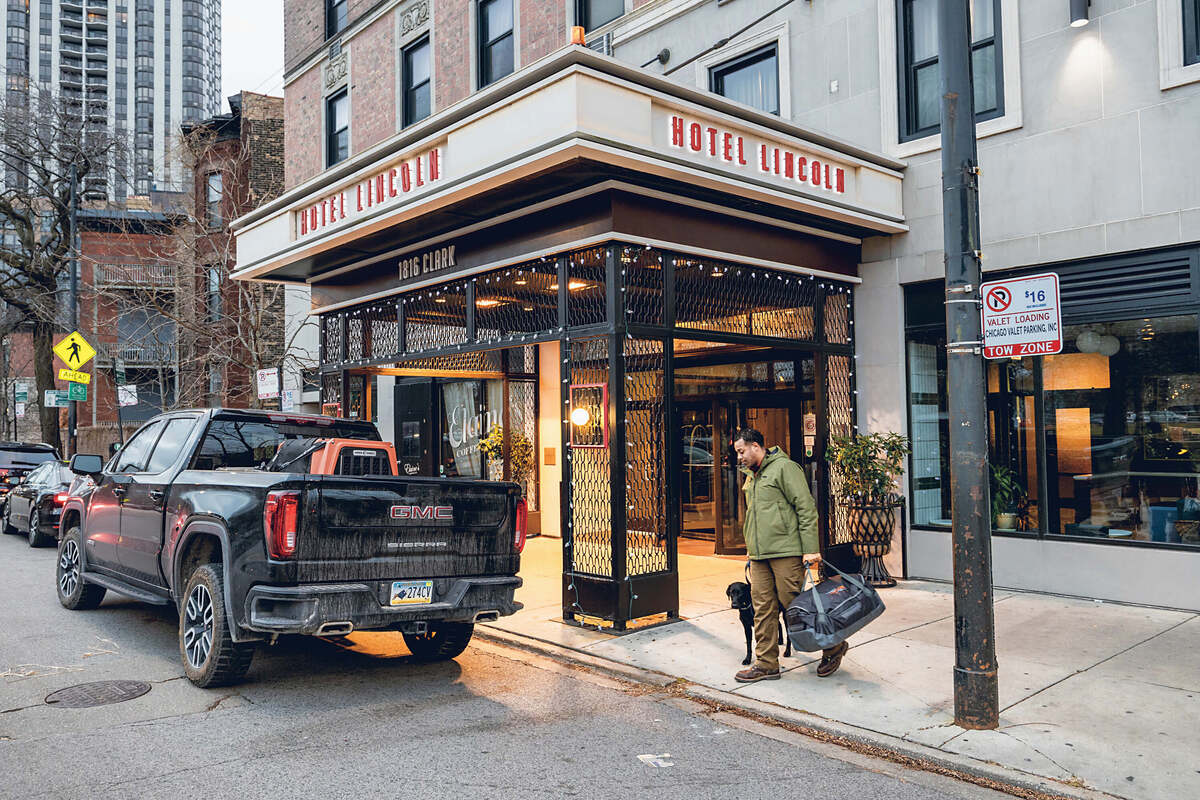 Chicago may seem like a daunting place to take a duck dog, but the city presents a surprising number of experiences for man and dog to explore. Our arrival at the dog-friendly Hotel Lincoln, in the charming Lincoln Park neighborhood, was met with frigid but promising winds gusting from the north. My young pup and I stretched out near the old training grounds, walked through the nature boardwalk, and visited the shores of Lake Michigan. My excitement to be back in Chicago was matched by Kohtop's curiosity about this unfamiliar place. I felt at peace with a black Lab positioned by my side in this magnificent city.
Winter in Chicago can be brutal, but the city endures. Dedicated runners jog along the lakefront, buses and trains are packed with layered passengers, and sidewalks, streets, and buildings are adorned with beautiful decorations in anticipation of the holidays. It's a magical scene, but we were most excited about a fresh push of migrating birds.
Braidwood Lake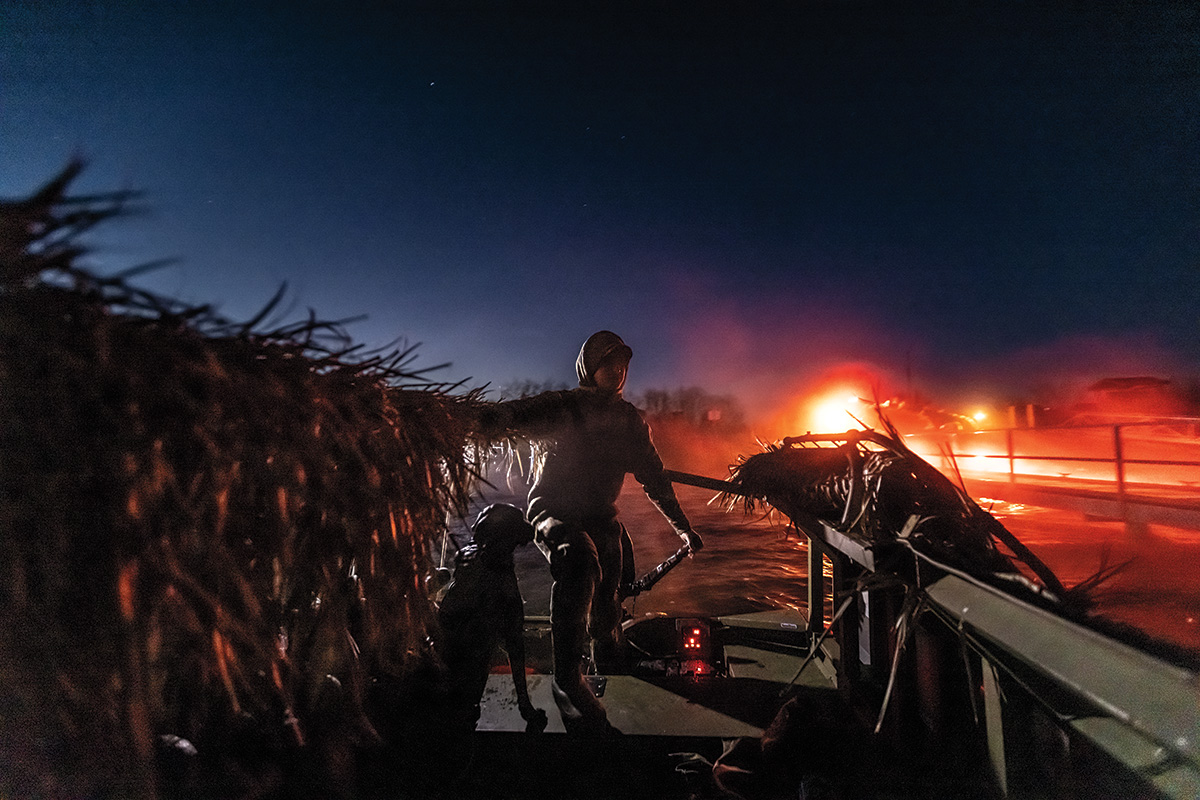 Our first hunt of the weekend was at the renowned Braidwood Lake, a popular public area that offers good hunting opportunities just an hour south of Chicago. A nearby nuclear facility uses the lake as a cooling pond, and its warm discharge water prevents the lake from freezing. The lake's legendary fog is a product of the warm water reacting with the cooler air. It creates an idyllic scene, but even modest winds can cause dangerous waves to move across the lake and force officials to shut down use for the day.
Braidwood is within easy driving distance of approximately 9.5 million residents of the Chicago area. The Illinois Department of Natural Resources (IDNR) operates a daily draw for 24 blinds, each of which is accessible only by boat. I was fortunate to join my good friend Jordan Wilkey and his rock-solid retriever, Ace, for this hunt. Jordan has more experience hunting Braidwood than anyone else I know. When we arrived at the lake, we put our names into the draw and tuned in to the local radio station to await our fate. Fortune gave us the seventh selection. We picked our blind, Jordan dropped his custom duck boat into the lake, and we sailed off into the cold darkness.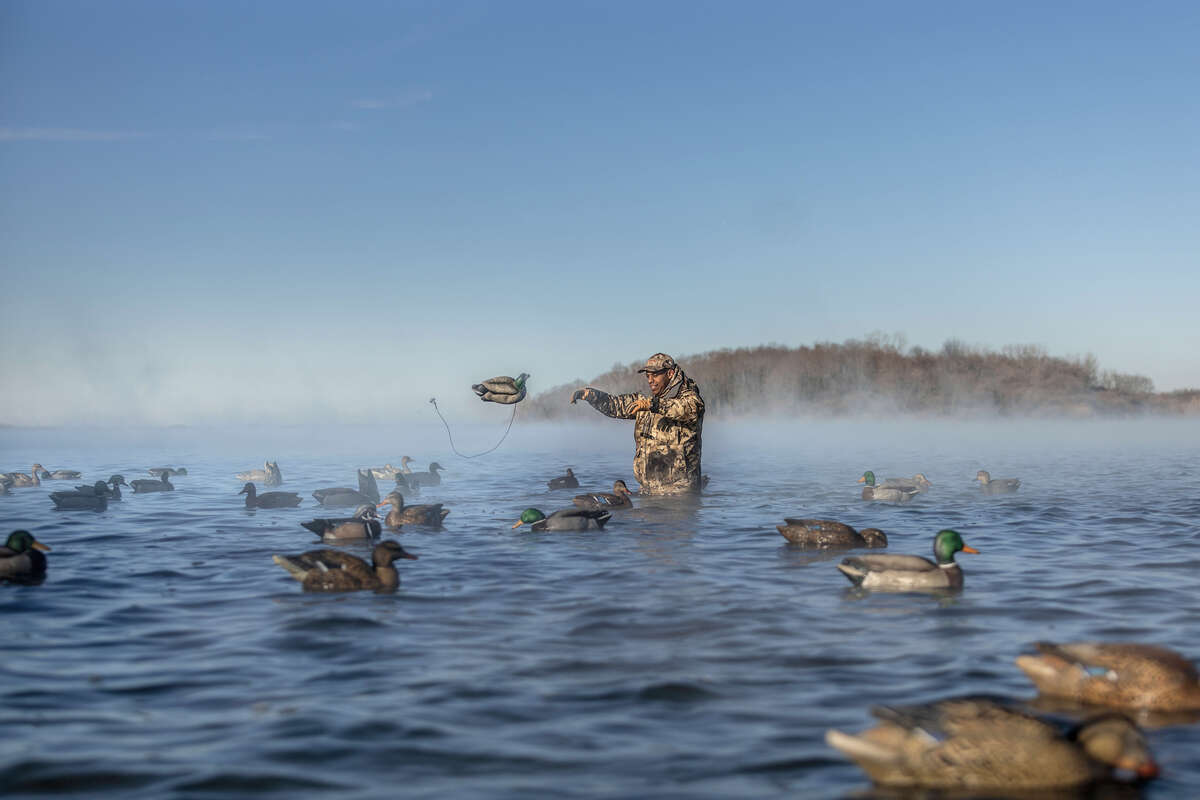 When we arrived at our blind, I jumped out of the boat to start setting the spread. As the sun rose, we heard shots from afar, and when ducks flew overhead Jordan's calls rang out. Our calling turned a few heads, but most of the ducks flew toward the local refuge. Unfortunately, the hunt was unproductive in regard to ducks harvested, but all morning I felt nostalgia setting in as I rediscovered the joy and beauty of hunting in this area.
As required, we finished up our hunt before one o'clock. It was an unusually slow day at Braidwood. Here and at other state-managed locations, officials from IDNR track hunting statistics and make the results available to the public. In addition, the agency regularly posts its findings from aerial surveys of waterfowl at its various lakes and waterways. It's a great way to track the migration throughout the season. Although our hunt did not produce the typical duck harvest (a side effect of the weather and fluctuating access to food in the area), it was a rewarding experience.
Mazonia Hunt Club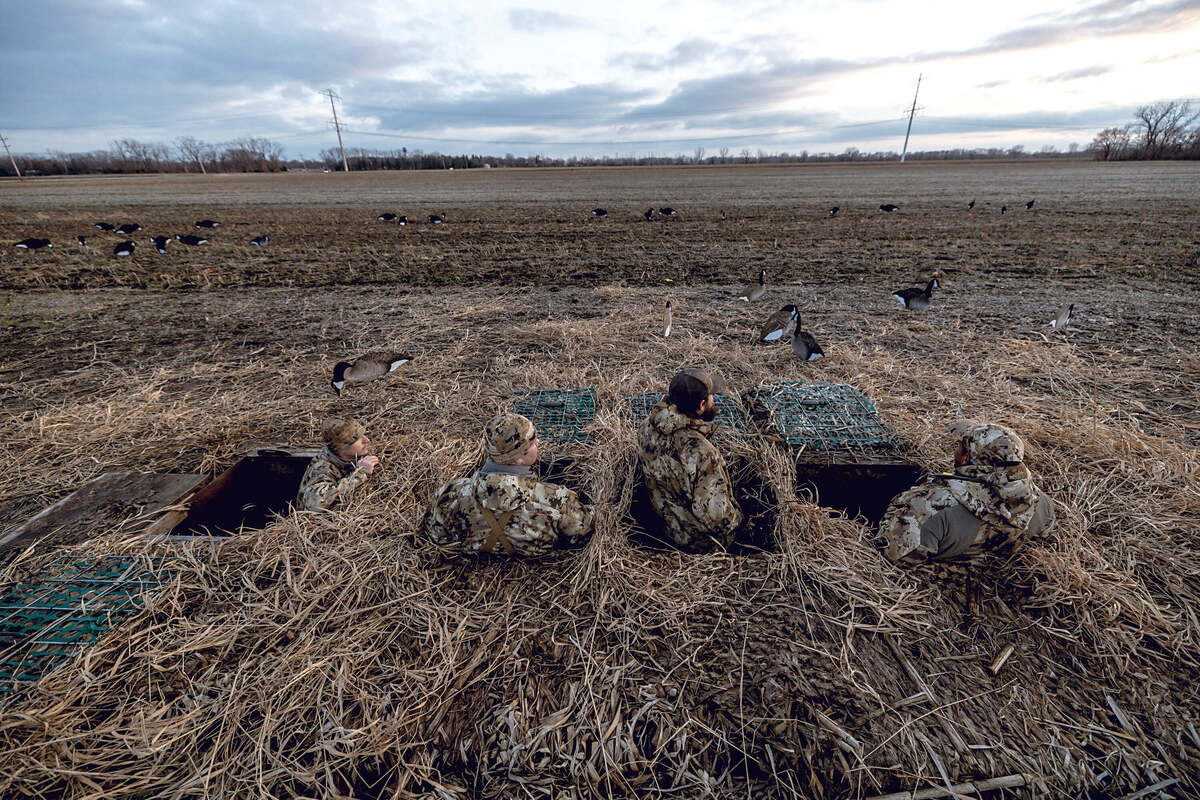 The next day, Kohtup and I participated in an afternoon goose hunt with the Mazonia Hunt Club, based out of Gardner, Illinois, and just over an hour southwest of Chicago. Mazonia is owned by Neal Brooks and operated by his son, Jason—a rugged, bearded, but welcoming man who might scare you half to death at first glance. I have spent a considerable amount of time over the years talking with Jason on the phone. He was one of the guides that I befriended during my early years in Chicago. Whenever I see him in person, I try my best to get him to smile.
Jason is the type of guide you hope for, full of experience and knowledge about the area, the birds, and hunting regulations. Many successful goose hunters and callers made their mark chasing geese in the southern counties of Illinois over the years, but today the sprawling Chicago area, with its cooling ponds, subdivisions, increasingly temperate winter conditions, and agricultural areas, attracts many migrating flocks. These shifting migration patterns can produce some exciting hunting opportunities throughout the season.
Our hunt took place in one of Mazonia's pit blinds set in a picked cornfield. Our guides for the day were Jason and his apprentice, Adam Dinelli. Adam is a young but seasoned goose hunter with an impressive skill for spotting and calling geese. There is never a dull moment in the Mazonia blinds, as Jason moves effortlessly from stories to jokes to history to anecdotes about IDNR management tactics. Like the iconic figures of Chicago, the Mazonia crew carries broad shoulders, and the club proudly offers some of the finest hunting in the area.
After setting a spread of goose silhouettes and duck spinners, we climbed into the blind, hoping the wind would move birds off the nearby loafing ponds. As time passed, we began to reminisce about hunts from the past with Sunka.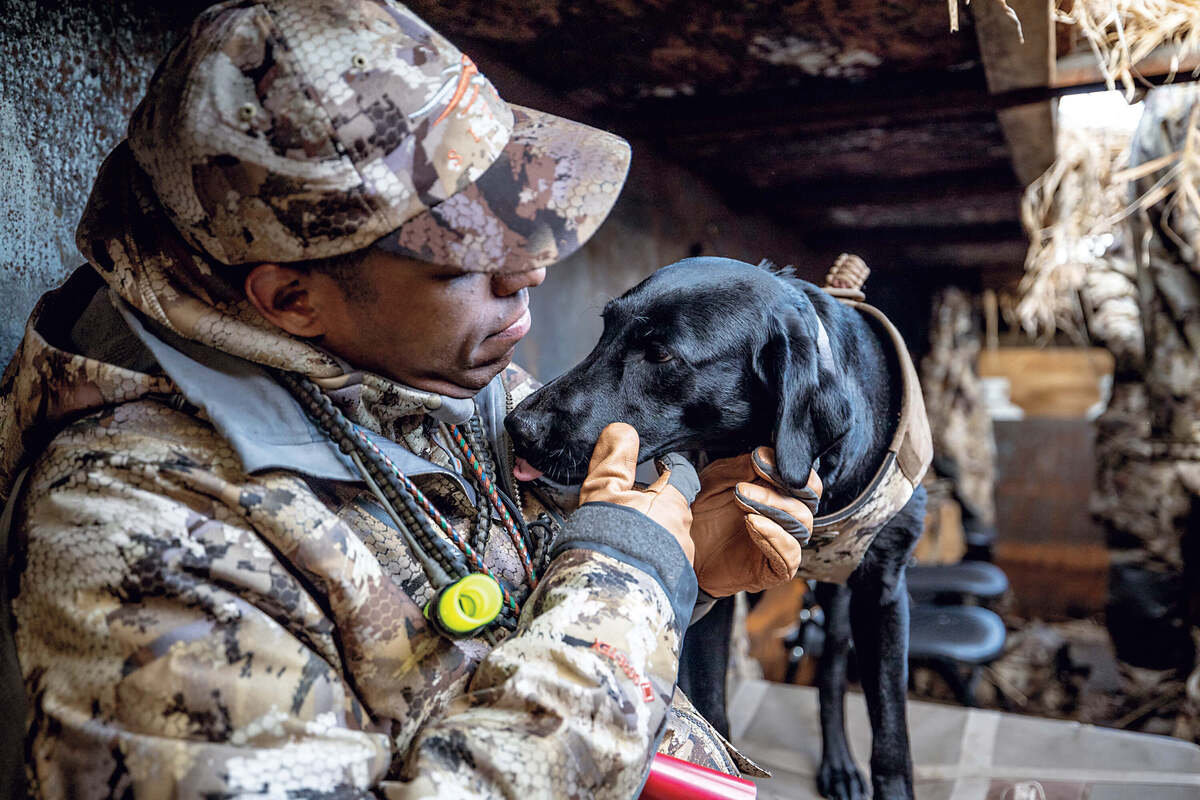 There is a delicate balance between weather and successful goose hunts in this area. While the goose numbers continue to rise, the suburban areas tend to hold the geese until the snow hits. The warm water serves as a refuge from harsh winter conditions. When heavy snow arrives, many hunters will clear the snow from fields around their pit blinds to mimic a frenzied feed. When the geese lift off the roost, they will focus on the open ground amid endless miles of white fields. And as the season continues, the flocks can grow into the thousands.
While we anxiously awaited the evening flight, we could hear humming traffic and industrial noise in the background. Unfortunately, a majority of the geese waited until after shooting light to fly overhead—a recently acquired nocturnal behavior. In spite of the slow action, I was happy to be back in familiar goose lands with memories of Sunka held close, and the most rewarding part of the day was spending the last few moments of sunlight in the blind with Kohtop by my side.
Girl and the Kitchen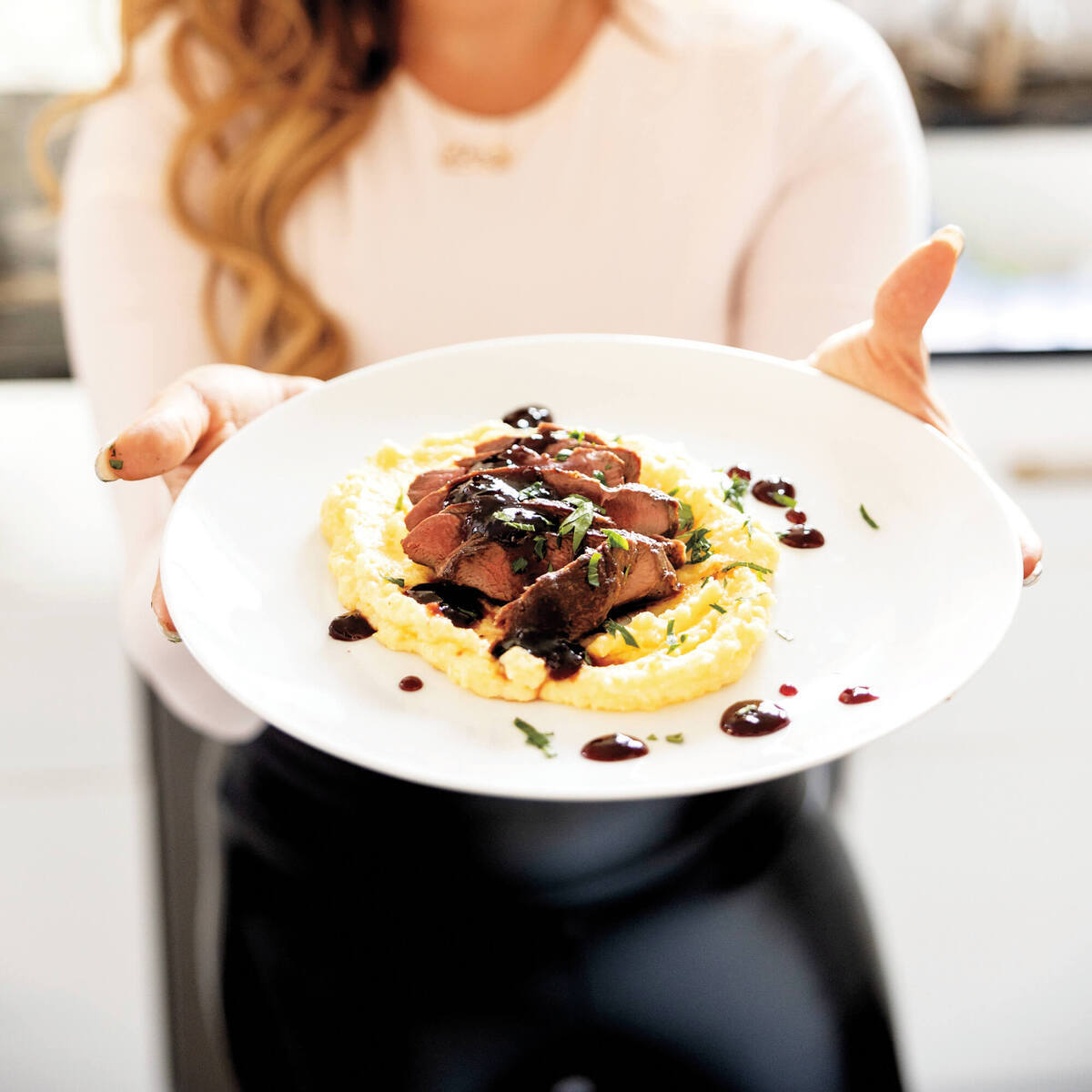 There is a strong hunting culture in the Chicago area, so it should not be surprising that the region's renowned culinary scene would lend a gourmet flair to the wild game recipes prepared by locals. A distinct beauty can be found at the confluence of waterfowl hunting in the far suburbs and the exquisite foodie scene in the heart of Chicago. As such, a unique advantage of this waterfowl destination is the opportunity for culinary professionals to fuse ducks and geese into their recipes.
A highlight of this trip was my visit with Mila Furman. Mila is a respected chef, culinary influencer, national food blogger, and CEO of the boutique catering company Girl and the Kitchen. Her recipes and culinary style are derived from her motivation to make a difference in the lives of others through food. Mila's origin story begins in Moldova, but today she and her family call Chicago home. Although she is not a waterfowl hunter, we share an appreciation for the unique flavors of wild game.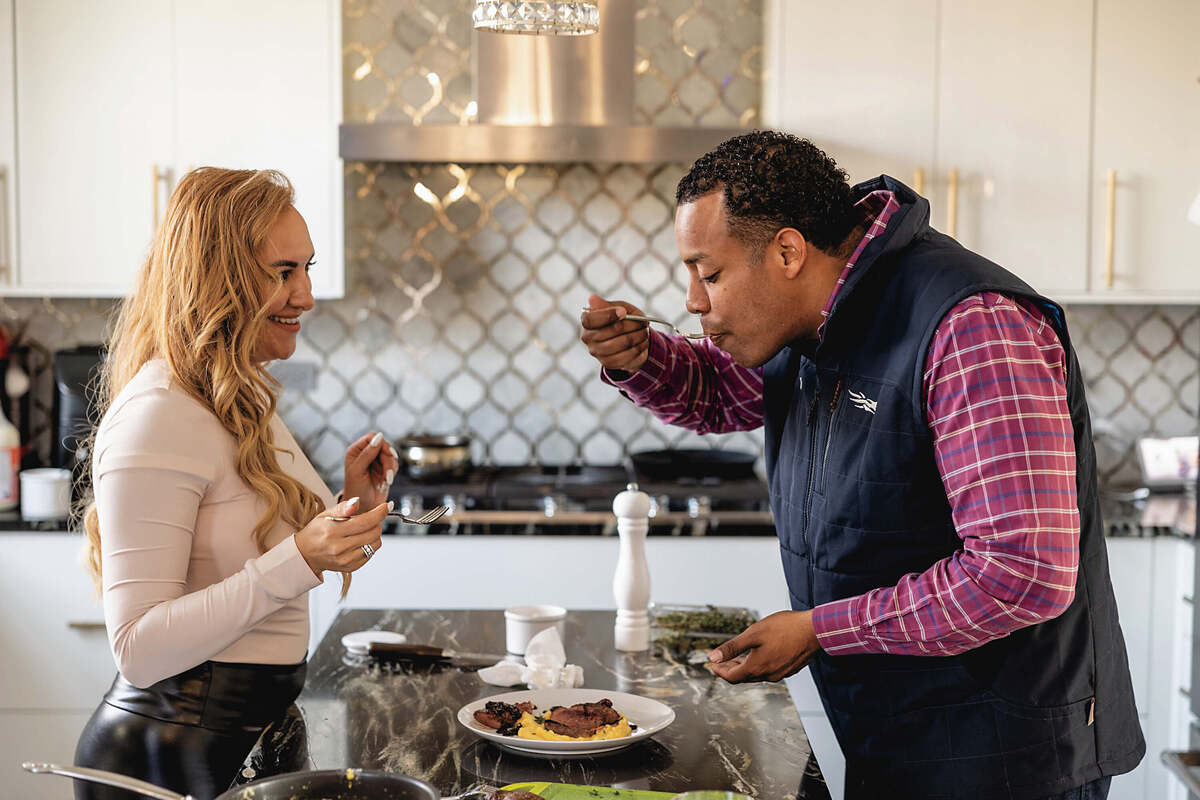 She welcomed us into her beautifully designed master kitchen to prepare an astounding butter-basted duck dish with a cherry port reduction sauce. Her precision in the basting process combined with a timed sear on each side of the duck breast gave the cuts a deep, rich color and incredible flavor. The cherry port sauce added sweetness to each bite.
There is a trend among culinary professionals and other foodies to develop new recipes that make use of wild game and other locally sourced foods. Mila and I hope that trend continues.
The Waterfowling Tourist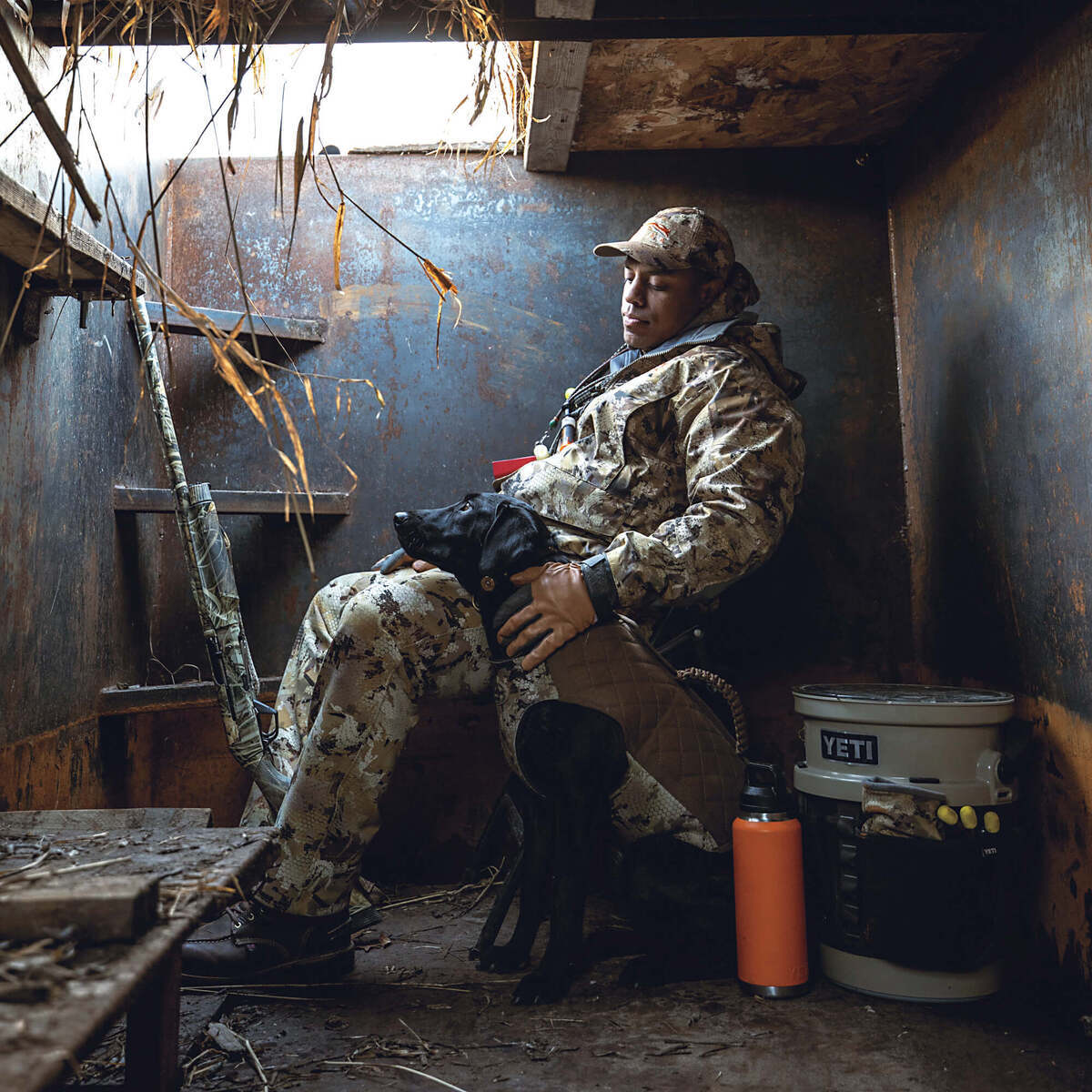 Chicago presents any visitor with a complete menu of opportunities and adventures. The landscape and natural resources in this area produce a compelling waterfowl scene. A combination of public hunting areas, private clubs, and outfitted hunts means waterfowl hunting here can be quite productive. Combine your harvest with the area's culinary talents, and you'll have a trip to remember.
Though I don't visit often, I'll always have a special reverence for Chicago. When I lived there, hunting was one of the few experiences that kept me close to my roots. Now the Windy City holds indelible memories of the outdoors, great food, and special relationships.