Northern Flights
We came to Kodiak Island with high hopes for adventure; we left with much more

By Chris Sebastian
Photography by John Hoffman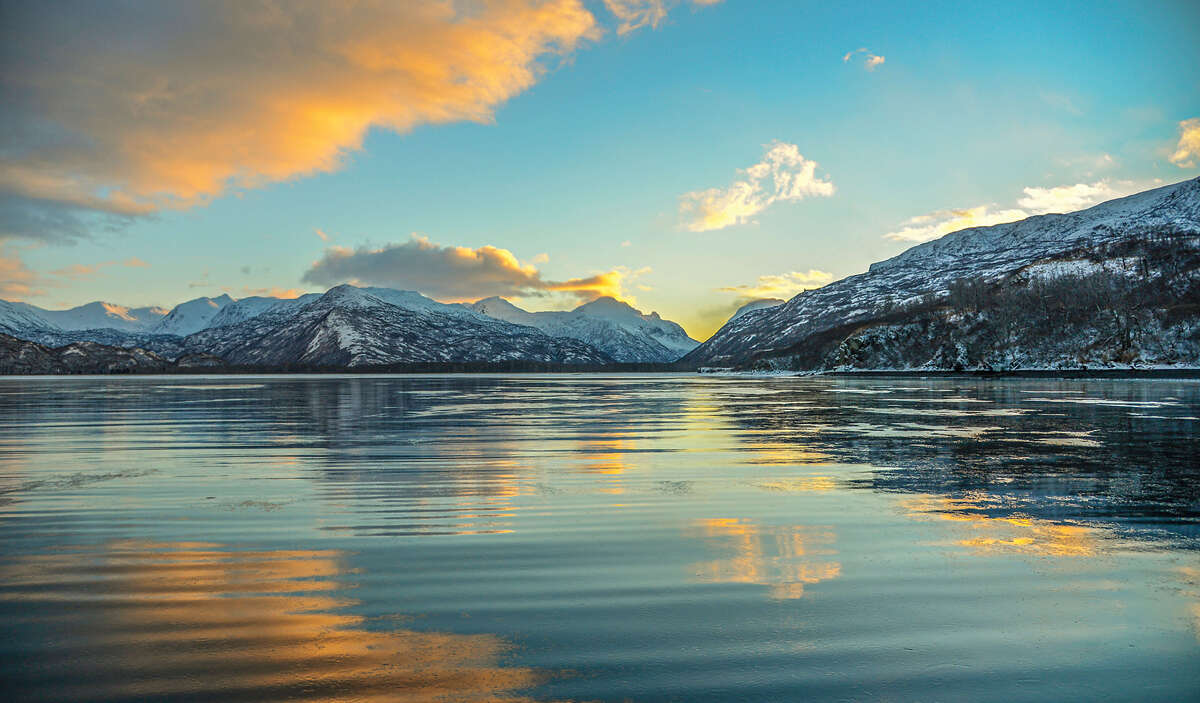 We had just tossed two lines of scaup and goldeneye decoys—each weighed down with multiple five-pound fishing weights—into the retreating tide of Kizhuyak Bay. Those decoys hardly had a chance to bob on the water before a group of Barrow's goldeneyes locked in on them. Tucked away on a frozen, black-rock beach adorned with purple mussel shells and translucent jellyfish, our group of "outsiders" (what Alaskans call visitors from the Lower 48) had our first rewards in hand within minutes.
Until that moment, Alaska's stunning scenery and abundant waterfowl seemed too distant to imagine. Simply getting to this remote spot on the northeast side of Kodiak Island took four separate plane trips. The island had been beset by hurricane-force winds and sub-zero temperatures for three days, stranding us in Anchorage.
We prepared for this, as anyone should prepare when flying to the Last Frontier in the middle of December. Wind, snow, and ice routinely ground aircraft, preventing residents and guests from getting in or out for days. But once the 1977 Piper single-engine prop plane touched down and skirted across the icy airstrip in the village of Port Lions, the stress of travel melted away as quickly as our cell phone service.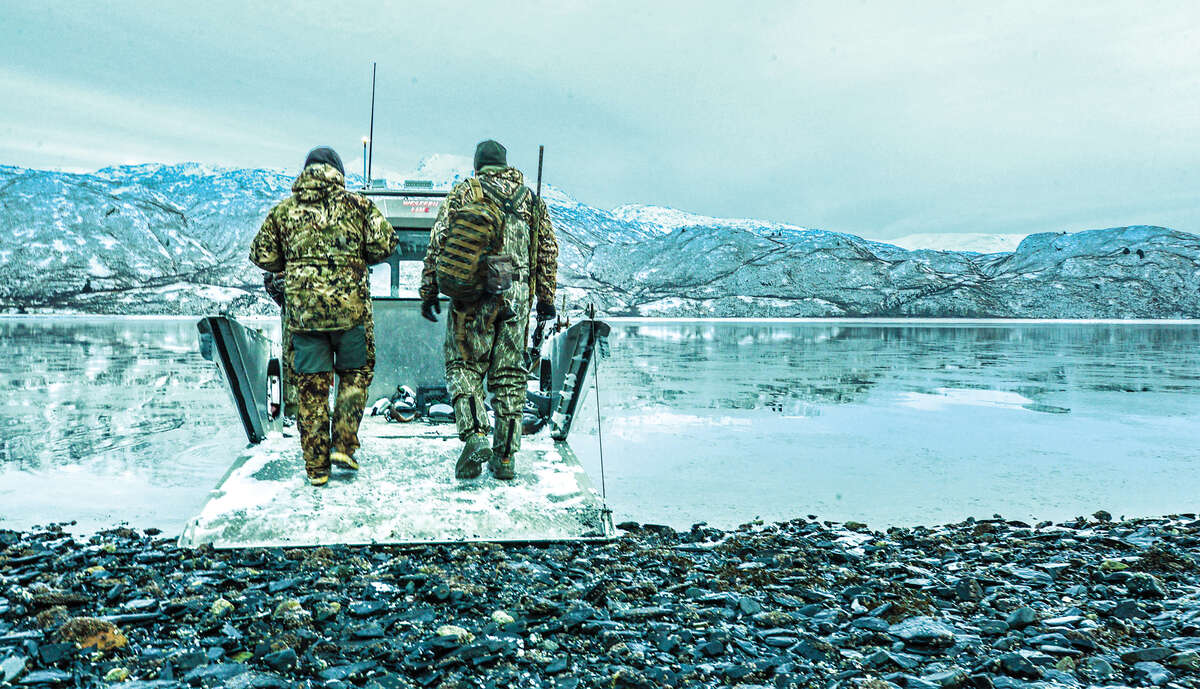 At 3,600 square miles, Kodiak is Alaska's biggest island and the second largest island in the United States, behind Hawaii's Big Island. It has six working-class villages with a combined population of only 13,000. Residents here operate determinedly in a rugged environment. No road or highway system exists across the island. Once you fly or ferry into Kodiak, the only way to the island's other villages is by air taxi, float plane, or boat.
People here have learned to rely on each other. Our hosts for this adventure were Indiana residents and longtime Ducks Unlimited supporters Mark and Lori Smith, along with Nick Nelson and his son, George, who are native villagers and the Smiths' neighbors.
Alaskan Camouflage
As the sun rose on our first day of hunting, the true isolation of this area became evident. Our group boarded the Western Line, George's 28-foot Atec custom-built aluminum landing craft, and slipped out of the Port Lions harbor just after first light. The advantage of hunting in Kodiak so close to the winter solstice is that first light happens at around nine o'clock, affording us the rare opportunity to sleep in and still successfully chase a dozen species of waterfowl. The sun sticks close to the horizon, producing early-morning light just above the mountains before quickly melting into late afternoon shadows and setting at about four-thirty.
Waterfowl here are always on the move. Numerous rafts of long-tailed ducks rose from the open water and passed us as we cruised at 25 knots. On each trip we saw countless seals, sea otters, and sea lions. As we returned to the harbor one evening, a gray whale just off our bow lifted its massive tail high in the air.
That first morning introduced us to the challenges of waterfowling in this expansive area. A shortage of ducks is never a problem. Neither is pressure from other hunters. For as far as we could see, we were the only waterfowlers. And probably the only humans.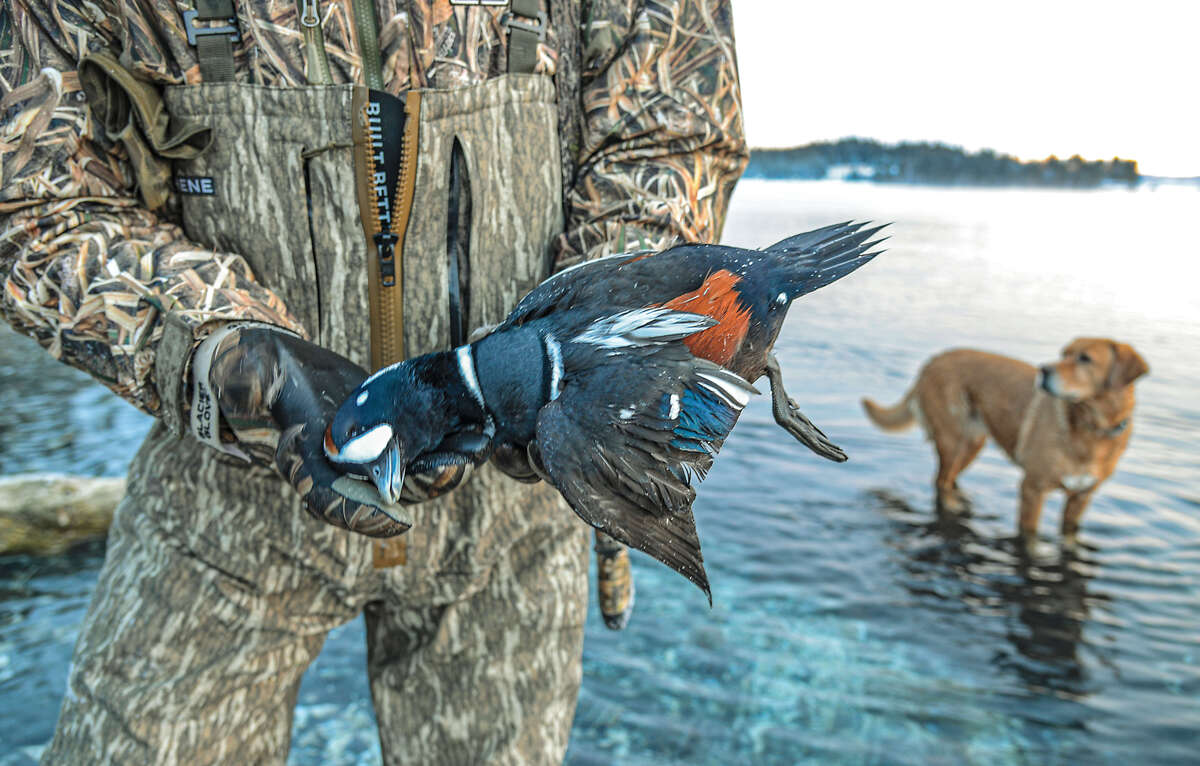 As we nestled behind snow-covered timber along the beach, we realized how the hundreds of miles of rocky, irregular shoreline provided limitless cover for these ducks. We leaned on the knowledge and experience of Nick and George. This is their backyard, and they have spent decades learning where and how ducks fly.
The next challenge was adjusting our eyes to Alaskan waterfowl camouflage. Against the drab background of a Midwestern marsh, the black-and-white markings of diving ducks are easy to spot. Not so in Kodiak. The snow-capped mountains offer a breathtaking backdrop but also made it hard to spot goldeneyes, scaup, and buffleheads, which often surprised us in the decoys.
Close Calls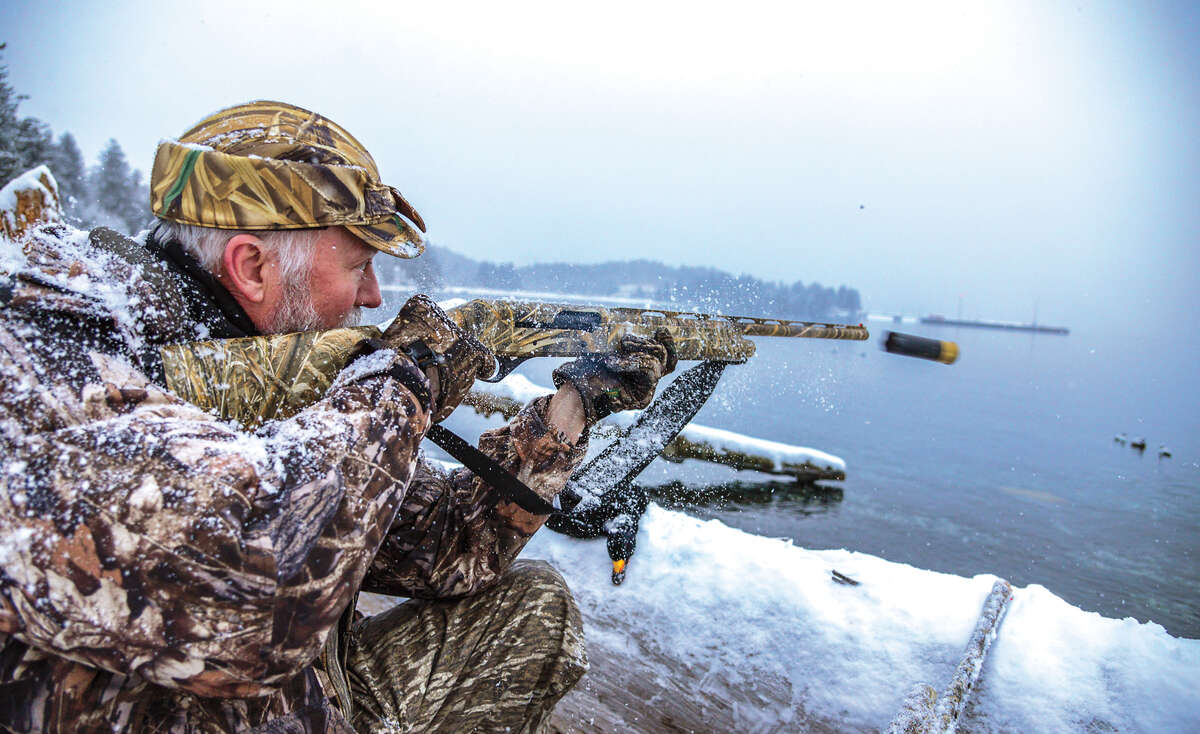 On our second day, Alaska's stunning harlequin ducks were high on everyone's wish list. "You mean rock ducks? They're everywhere around here," Nick said with a laugh. True enough. On the waters not far from our host's lodging, we watched countless groups of harlequins diving for mollusks amid the large rock formations.
Tucked under a rocky overhang, with the 31-degree Pacific water lapping at our waders, we didn't have to wait long for five harlequins to make an appearance. They headed straight toward our handful of decoys, and we were able to take two drakes and a hen.
It was a uniquely Alaskan experience, and so was the incident that followed. It turns out that the mountains surrounding these bays act as echo chambers, and shotgun blasts create loud reverberations. The area's numerous bald eagles know what those reports mean. No sooner had we stopped shooting than a mature eagle swooped down from the towering black spruce trees directly behind us, circled once, and gently plucked one of our drakes from the water's surface. Then another five eagles flew in bomber-squadron
formation across the bay and zeroed in on our remaining ducks.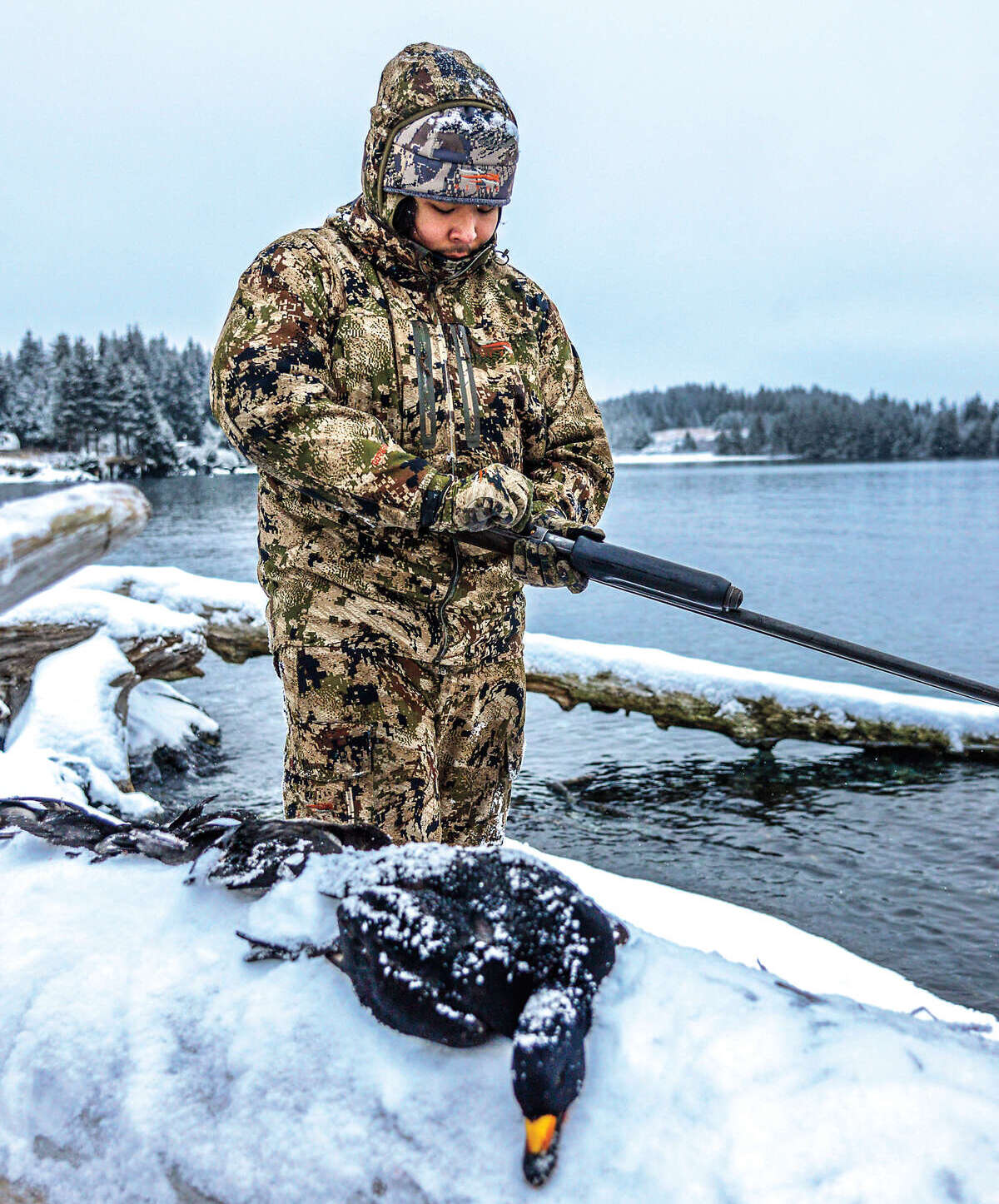 Every good story needs a hero. In this case, our hero was Kimber, a four-year-old Labrador retriever that belongs to Nick and George. George sent Kimber speeding down the beach and into the frigid water, scoring two perfect retrieves.
Later that day, our second beach landing from the Western Line was in a spot that produced wigeo n, buffleheads, and mallards. Our setup was simple—no more than 18 decoys tied onto a handful of long lines with heavy weights to hold against the tide. Because of that tide, we had to move the decoys every 20 minutes or so, and the waterline moved a good 25 feet away from us as the afternoon progressed. The ducks, both divers and dabblers, were quick to decoy all week. They were comfortable with our presentation, and we never once had to use a call.
The Land and the People
Kodiak is a paradise for outdoors enthusiasts. Summer fishing for halibut, salmon, and cod keeps the storybook harbors bustling with modern and historic vessels. The tiny Kodiak airport was full of hunters when we arrived in mid-December. Most hunters come here to stalk the island's numerous black-tailed deer or, in a more limited number, the world-famous Kodiak brown bears. Waterfowlers are a distinct minority.
Lions Club International built the village of Port Lions following the destruction of the village of Afognak in the wake of an earthquake-caused tsunami that hit on Good Friday in 1964. Today, Port Lions is home to around 120 residents, with only 90 or so remaining in the winter months.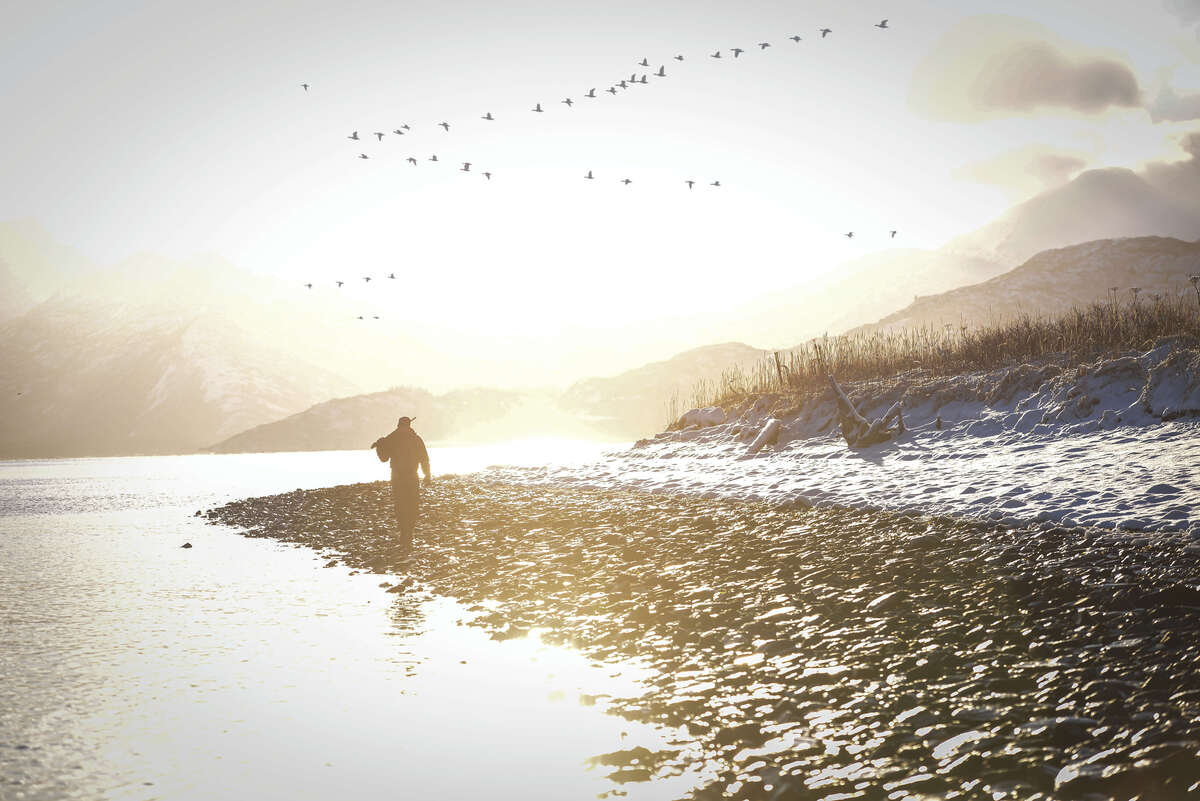 It was the isolation and pristine environment that lured Mark and Lori here a decade ago. But they didn't just buy a house to access this outdoor playground. They committed to a community and to a lifestyle and culture that has been ingrained in countless generations of Alaskans. "We've been here 10 years, and our neighbors are wonderful people," Mark said. "But we still approach it as if we're a guest in their home. We are highly respectful of this region's way of life."
Most villagers are Alaska Natives. This includes Nick and George, who trace their roots back to the Alutiiq and Aleut people. "I was born here in Port Lions and have hunted, fished, and trapped here my entire life—these days with my sons, Gunnar and George," Nick said. "My wife, Sarah, and her family are from a small village out in the Aleutian Chain."
For the Nelsons and numerous other villagers, hunting isn't a sport. It's a way to provide food. "Subsistence hunting is so important to village life," Mark said. Our meals reflected that—we ate salmon, halibut, deer, and ducks harvested by us and our hosts.
George navigated us through the bays of Kodiak for the week, but his wisdom went well beyond guiding. He talked about these waters like a proud parent showing off his child. George had endless stories of halibut and salmon fishing, black-tailed deer hunting, and respecting the larger mammals. "I know this bay pretty well. Me and my family fish nets in this water all summer, and there are always ducks around," George said. "I love to hunt deer in these hills. You just have to watch out for the bears."
View from Above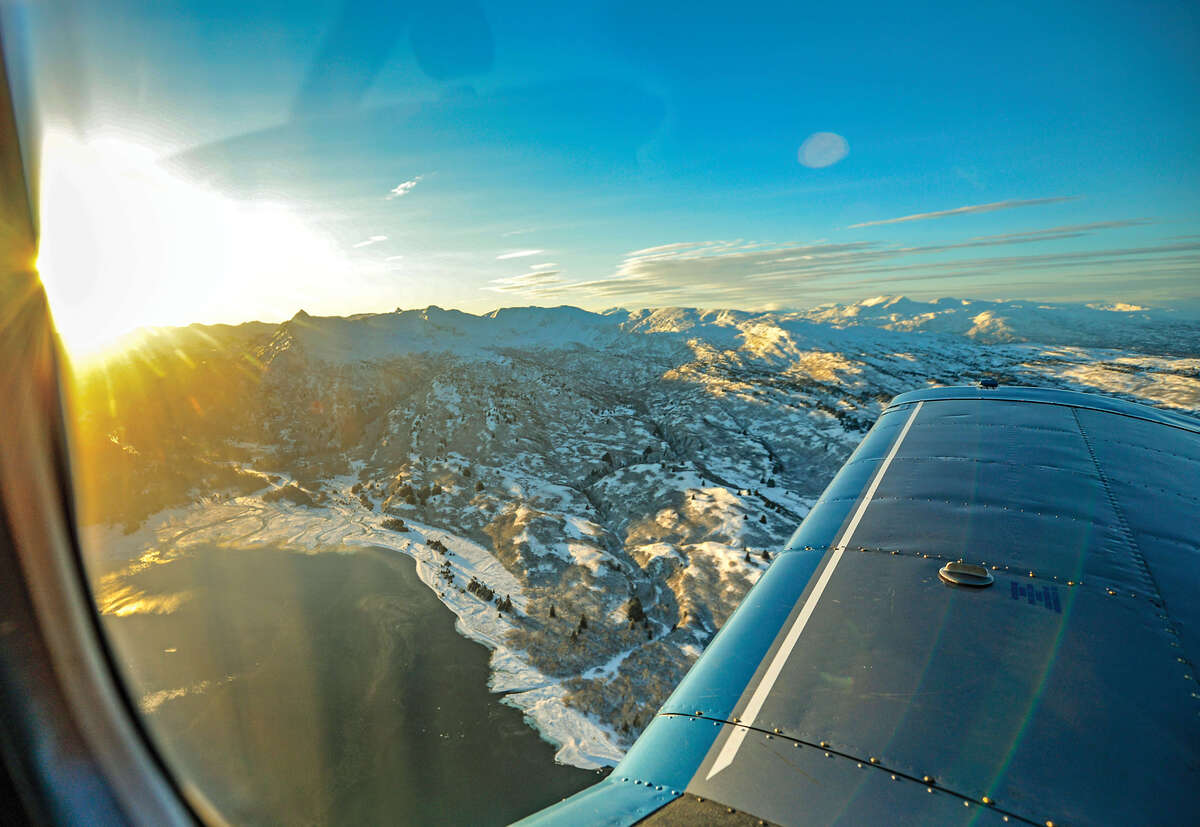 Beneath overcast skies and the occasional snow shower, our final day provided a strong closing argument to the question of "I wonder if we'll want to come back sometime soon."
The morning hunt returned a modest bag of mallards, buffleheads, and a stunning black scoter. After a brief break and regroup, Nick had a hunch about a favorite spot in Sharatin Bay, 45 minutes away by boat. Nick said that from the time he was a kid, this spot had always produced tremendous opportunities for various species of ducks.
Our destination was atop an outcropping about 25 feet above the water, requiring a slippery climb into position. The rock ledge protruded well out into the bay, with plenty of small trees and shrubs to provide cover. Once we carefully climbed up, we had a bird's-eye view of the bay and approaching waterfowl. Ducks crossed from the left and right just off the end of the outcropping, oblivious to our presence. For added ambiance, about halfway through the hunt a heavy snow started to fall.
We nearly limited out on surf scoters, longtails, harlequins, goldeneyes, mergansers, and other ducks. Generations of knowing this land led Nick to this spot, and we were the thankful beneficiaries.
Kodiak is a wild place full of magnificent creatures and exciting adventure. We arrived with expectations of beautiful and abundant birds. We left with a newfound appreciation for a land and a culture that are bigger than any of us could imagine.
---
Alaska Research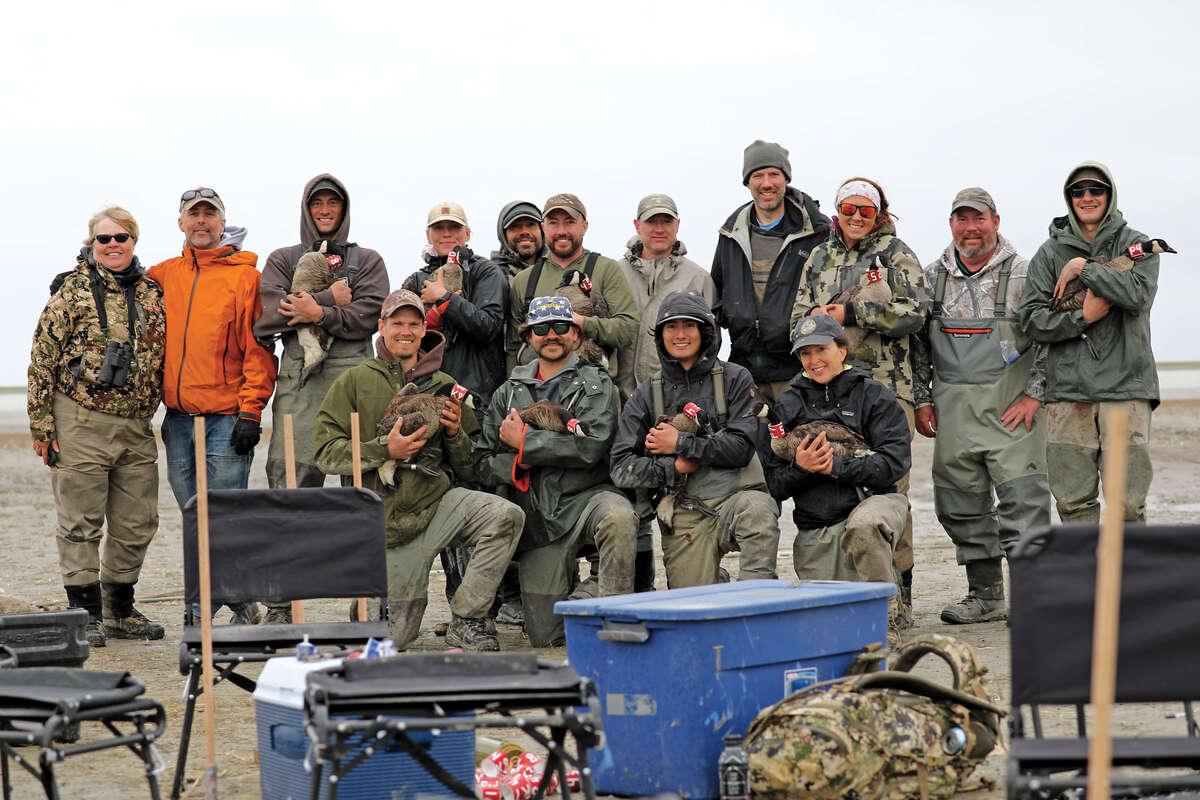 Alaska is an important waterfowl breeding area, and Ducks Unlimited supports a variety of research here. In July 2021, DU joined the Alaska Department of Game and Fish and US Forest Service to collar and band more than 600 dusky Canada geese near Cordova, Alaska. These birds nest primarily on the Copper River Delta and winter in Oregon and Washington. Dusky Canada geese have a very small population of only around 13,000 birds, which requires careful management.
DU is also currently supporting research on snow geese and Taverner's cackling geese. These studies use satellite trackers to monitor breeding, migrating, and wintering locations. In addition, DU is assisting the Sea Duck Joint Venture, administering a fellowship program for graduate and doctoral students doing waterfowl research in Alaska.
---
Visiting Kodiak Island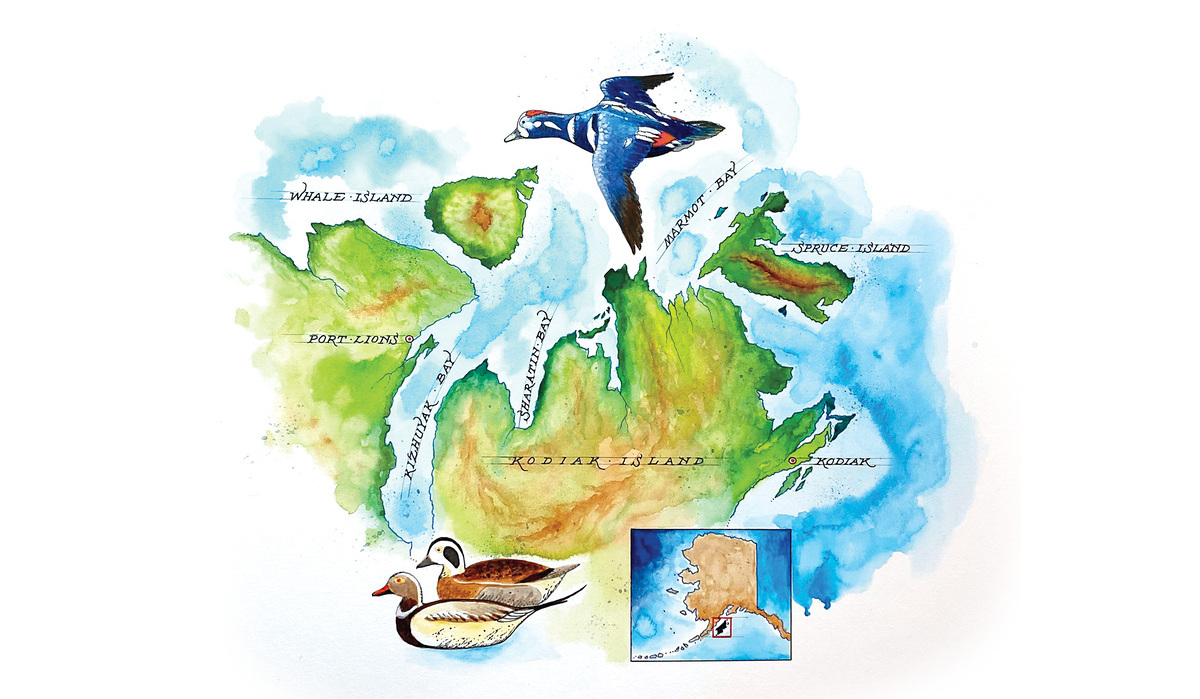 Getting to and hunting on Kodiak Island requires plenty of advance planning. Here are some tips from longtime resident Dan Menth, an avid waterfowler who lives in the village of Kodiak and is also Ducks Unlimited's treasurer for Alaska.
Know when to go. For sea ducks and other trophy Alaskan birds, plan to go after Thanksgiving. In December and January, ducks are present in large numbers and prime plumage. But note that the weather can get sketchy this time of year.
Travel. Allow plenty of time for delays getting into and out of Kodiak. The weather might be fine in nearby Anchorage, a mere 40-minute flight away, but the island weather is notoriously unpredictable. You're better off having an extra day or two of wiggle room so your actual hunt isn't cut short.
Bundle up. Be prepared for high winds, freezing surf, and plummeting temperatures. For your own safety, don't underestimate these conditions.
What to bring. Kodiak's villages are working towns. Beyond the actual city of Kodiak, you will find few, if any, tourist shops, restaurants, or stores. Bring or ship everything you need, especially shotgun shells. Don't expect to be able to get what you need on the island.
Guides. The island has a small number of guide services. Be sure to do your research and choose a respected, longtime guide who knows the climate and hunting conditions.
The hunt. Get out and practice your shooting before you arrive. If you're used to hunting decoying puddle ducks, the lead on sea ducks can be difficult.