North Dakota: Always a Top Waterfowl Hunting Destination
The duck factory is open

With cyclical weather patterns here on the Great Plains, some years are drier than others. Its a normal part of the climate cycle on the prairie when wetlands can regenerate nutrients and vegetation. These are the conditions Mother Nature brought in 2021. Despite dry conditions however, the states 2021 breeding duck survey show the duck population remains 19% above the long-term average and 62% above the 1965-1993 average.
Find world-class hunting and fishing in North Dakota.
North Dakota is the place for waterfowl hunting period. After a particularly wet stretch of time beginning in 1993, the 2020 water index showed very high levels of new and expanded wetlands. The nesting ducks and geese went gangbusters.
With drier weather, the duck index fell in 2021 to still-above-average levels. This winter is already bringing more precipitation than last year, so we can be hopeful the ducks could increase their broods before the fall hunt. To top that off, Canada geese populations have remained strong. North Dakota has a lot of birds.
So, as always, North Dakota is the place for waterfowl hunting.
The North American Central Flyway goes right through here. It is one of the busiest routes for birds of all feathers heading between northern Canada and the Gulf Coast or beyond. Every spring and fall, waterfowl come by the millions. Hunters should especially look for localized concentrations of ducks and geese as the migration ramps up.
North Dakota has many duck species throughout the migratory season.
Diverse Waterfowl Populations
Despite last years drought, the 2021 duck survey showed some species like blue-winged teal, redheads and gadwall are still far above average. The early migrating blue-winged teal were up 42% over the long-term average and could provide some exciting hunting during the first two weeks of the season.
Redheads were even higher at 56% above the long-term. Gadwalls are somehow tipping the scales with broods at a whopping 109% above the long-term average.
Duck species are diverse in North Dakota, with daily and possession limits on mallards, scaup, wood ducks, redheads, pintails, canvasbacks, blue-winged teal and mergansers. Other species may include coots, wigeon, buffleheads, goldeneye, gadwalls, green-winged teal, northern shovelers, ring-necked ducks and ruddy ducks.
As for those geese, numbers of temperate-breeding Canada geese, Western Prairie Canada geese and arctic nesting Tallgrass Prairie Canada geese, light geese (consisting of snow geese and blue geese) and Rosss geese all remain high.
Production of Canada geese in the state was fair this year, and large-type Canada geese in the state are very abundant as a result of banner production in the Dakotas the last two years.
Tundra swans and sandhill cranes also have annual hunting seasons in North Dakota for resident or non-resident hunters. Special permits are required for both, and tundra swans have a bag limit of one tagged bird with a lottery-drawn license.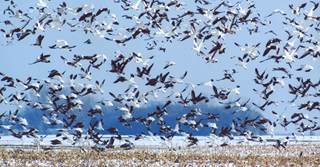 North Dakota is a waterfowl superhighway.
Licensing and Land
Hunters also find plenty great places to hunt, including wildlife management areas, PLOTS (Private Lands Open to Sportsmen), state school lands and more than 230,000 aces of waterfowl production areas.
To find these areas, the most up-to-date information is available through the North Dakota Game and Fish website in their PLOTS Guide Viewer and apps including ArcGIS Explorer, OnX Hunt and Avenza. A PLOTS map is also available in print at retailers throughout the state.
Non-resident regular seasons for ducks and geese typically begin in early October. With the early arrival of migrating Canada geese (as well as the resident bird population), an early Canada goose season typically opens in mid-August, depending on expected numbers. Official dates are published in August by North Dakota Game and Fish.
Across North Dakota, sporting goods stores and convenience stores alike offer licensing and printed resources on the spot. For convenience and the latest, most complete information, North Dakota Game and Fish offers online licensing, map resources, proclamations and guides. Outfitters, lodging and more services can be found on the state tourism website.

This content is a paid advertisement from North Dakota Tourism.