Aaron Fraser Pass Remembered
Aaron Fraser Pass, who lost his battle with cancer in early April, left a rich legacy of fine writing and useful advice on topics pertaining to sporting arms and ammunition. His business card was inscribed with the motto, "Have gun. Will travel." And he certainly traveled far and wide as a hunter and journalist. He pursued waterfowl in all four flyways, including the states of Georgia, South Carolina, Alabama, Mississippi, Arkansas, Louisiana, Illinois, Iowa, Nebraska, North Dakota, and California, and big game and upland birds across the United States, Canada, and Great Britain.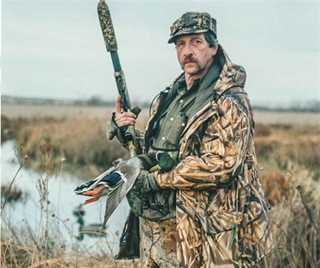 Aaron was born in 1946 on a sometimes idyllic, usually hectic, and often difficult north Georgia farm. He embraced the outdoor lifestyle early. His passion for firearms was rooted in his interest in history, our outdoor heritage, and the simple act of putting food on the table. Few men possessed his detailed knowledge of guns and ammunition. If you wanted accurate information, authoritative copy, or witty commentary on these topics, Aaron was your man. His intellect and judgment were keen. His humor was quick, came easy, and cut hard. His memory was unfailing. His character and ethics were genuine.
He began his writing career as an information officer with the Georgia Department of Natural Resources, and went on to work as an editor and freelance contributor for many of the nation's premier outdoor magazines. Aaron was named shooting editor of Ducks Unlimited magazine in 1998, following the late Don Zutz, and over time became DU magazine's longest-standing columnist. During his tenure, he wrote more than 80 columns on a variety of shotgun- and shooting-related topics of particular interest to waterfowl hunters. His column was consistently among the most popular in DU magazine, and he received dozens of letters from readers, which he always enjoyed reading and to which he often personally replied.
Aaron is survived by his wife Lynnell Pass; daughter Sarah Elizabeth Vogt, her husband Darin Vogt, and their daughters Ava and Sophia Vogt; and sons John Travis Pass and Michael Fraser Pass. Those wishing to offer a remembrance are asked to make a contribution in Aaron Fraser Pass's name to Ducks Unlimited at ducks.org/how-to-help/make-a-gift-to-du and/or the National Wild Turkey Federation at nwtf.org/support_nwtf.

Columns by Aaron Fraser Pass

Four Shooting Safety Tips

Picking the Right Shotgun for a New Hunter

Back to School for Duck Hunters

Accessorized Shooting