Learning to Call Ducks in the Digital Age
Fine-tune your calling skills during the off-season with online instructional videos

By Chris Jennings
Calling is one of the most challenging skills to master in waterfowling. No matter your age, experience, or abilities, practicing during the off-season will help keep your calling skills sharp and ready for opening day. Setting aside the time to practice is up to each individual, but finding a good duck calling instructor is now easier than ever.
Brad Allen, owner of Elite Duck Calls, is a three-time time winner of the Worlds Championship Duck Calling Contest in Stuttgart, Arkansas. He grew up about 65 miles away in Judsonia within driving distance of many of the worlds most prolific call makers and celebrated duck callers. When Allen decided to pursue his calling passion at an early age, he had the good fortune to receive instruction from the likes of Rick Dunn, Bernie Boyle, Trey Crawford, and Butch Richenback. Now he is sharing the knowledge that he received from these legendary callers through a series of free online videos: The Art of Flight Control.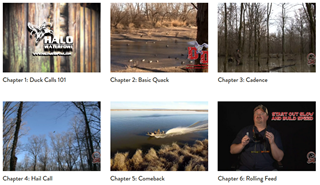 I had many great mentors over the yearsall of them were world champion callers, Allen says. I was incredibly fortunate, but there are many folks out there who dont have anyone to give them advice. Thats why I came up with this series.
The tutorial consists of 14 videos that provide step-by-step instructions on how to improve your calling skills, from how to hold a duck call and control air pressure to mastering more advanced skills such as the rolling feeding chatter and comeback call. Each video offers a specific lesson, and Allen guides viewers through each step with personal demonstrations and diagrams.
What I wanted to provide were a series of instructional videos in the exact order in which someone should learn how to call ducks, Allen said. When I was learning to call, I tried to skip some of the steps, but experienced callers taught me you cant take short cuts.
The Art of Flight Control is intended for duck callers of all skill levels. The series is not only a great resource for beginners but also provides a wealth of practical advice for experienced callers who would like to fine-tune their techniques and learn new skills. While Allen ranks among the worlds most successful contest callers, he stresses that he developed the instructional videos specifically for hunters.
I have spent a lot of time with some of the best duck callers and hunters in world, Allen says. I would like to pass along what they have taught me to others. Its their legacy that makes me want to help other people, because I know what it has meant to me.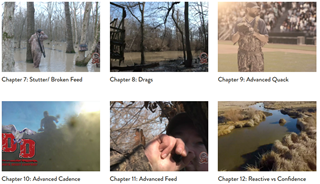 With his videos widely available on the Internet, Allen receives phone calls from hunters across North America and beyond seeking his advice on how to improve their calling skills. I think about when I was young, lying on the floor in my bedroom listening to a record on how to call ducks, he says. Now I have a chance to teach people what Ive learned, and the ability to reach so many people is amazing.
The Art of Flight Control is available free to anyone who signs up with a valid e-mail address. For more information, visit theartofflightcontrol.com