Ridiculously Smart Decoy Strategies
Try these unconventional spreads for decoy-shy ducks

By Chris Jennings - Illustrations by KevinHand.com

If ducks and geese in your area have learned to recognize traditional decoy spread configurations, it's time to leave complacency behind and invent a new decoy strategy. The following decoy spreads were devised by savvy waterfowl hunters to create a unique look in specific habitats to appeal to even the wariest birds.
Set a Long-Shot Goose Spread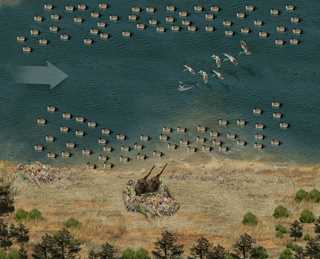 Field Hudnall, past world goose calling champion and co-host of DU TV, hunts the Ohio River near his hometown of La Grange, Kentucky. When the birds become decoy-shy in his area, Hudnall sets an all-Canada goose spread for ducks.
"We use all Canada goose decoys because of their size and visibility," Hudnall says. "After years of hunting the river, we've learned that ducks like goose decoys, but geese don't like duck decoys. With this spread we can decoy geese if they come by, but our primary target is ducks. And it works."
Hudnall and his hunting partners set half of their 100-plus Canada goose floaters against the shoreline. He prefers to use "rester" decoys in this part of the spread to look like a relaxed flock. He packs these decoys in tightly, typically within 15 to 20 yards of his blind. Hudnall sets the other half of his spread more than 50 yards beyond the first group of decoys, as far out in the river as he can. This creates two decoy masses with a 20-yard gap between them for a landing zone. With the wind blowing parallel to the river, ducks see the two groups of decoys and work right into the open water between them.
"This decoy spread is unusual because we put half of the decoys outside shooting range," Hudnall explains. "The idea is to get the birds' attention with large numbers of decoys, and then offer a landing zone within shooting range."
Go Big in an Open Field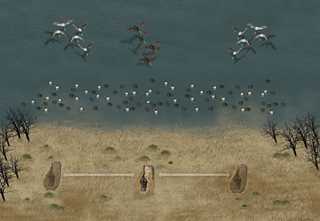 According to Kelley Powers, owner of Final Flight Outfitters, his decoy spread's primary job is to draw ducks into his field. To accomplish this objective, he uses decoys that can be seen by passing flocks from great distances.
"After looking at my decoys from a low-flying airplane, I noticed that the hens just blended into the water, so I switched to a spread made up entirely of oversized mallard drake and black duck decoys," Powers says. "When the sun is out, the mallard decoys really pop, and when there is cloud cover, the black ducks are dark enough to stand out against the muddy water."
Powers prefers to keep his decoys spread thin, rather than grouping them together. "I set them along a tree line or levee, 100 yards in either direction, but only 10 to 15 yards out into the field," he says.
With decoys placed across such a broad area, Powers isn't concerned about being in exactly the right spot when the first few flocks arrive. Hunting from a portable floating blind, he allows the ducks to dictate where he sets up.
"When the first few groups come over and pitch in, we move our blind right where the birds want to go," Powers explains. "Remember, the goal is to get ducks into your field. Once you do that, you can bring them into range with calling. This is all about making adjustments on the fly. You'll know when you've got it right."
Build a Spread Brick by Brick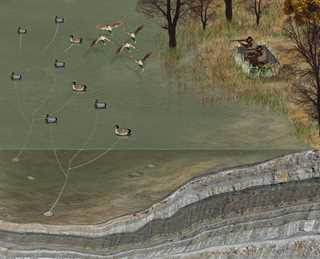 By the end of the waterfowl season, ducks in the heavily hunted Mid-South region have just about seen it all. DU zone chairman Jon Walker, who hunts primarily on the St. Francis River in eastern Arkansas and the Tallahatchie and Coldwater Rivers in northwestern Mississippi, has devised an outside-the-box spread to fool the decoy-shy ducks that frequent these fast-flowing waters.
While ducks prefer to feed and rest in freshly flooded backwaters, Walker has observed that the birds often land in the open river channel before swimming into the surrounding flooded woods. To decoy these birds, Walker uses what he calls his "brick rig," consisting of three groups of three decoys, each set on a 40-foot-long section of heavy trotline anchored with a brick. Walker ties three loops about four feet apart in the middle of each section of trotline and clips a decoy rigged on a 20-foot section of Tanglefree decoy cord to each loop.
"I started doing this because I was tired of chasing decoys, and it was tough to pick up two or three dozen decoys when the water was flowing hard," Walker explains. "This system keeps the decoys spaced well apart from each other, and when they get in the current, they really move. It's the same principle as long-lining, but on a much smaller scale."
Walker rigs each trotline with two oversized drake mallard decoys, and to mix things up, adds a Canada goose floater. "This time of year, I try to give the ducks something different to look at, and I've tried several different decoys, but the Canada goose floaters are so visible, they seem to work the best," he says.
Hunting from the riverbank with the wind at his back or at a quartering angle, Walker deploys his decoys about 25 yards from the shoreline where passing birds can clearly see them, but close enough to his position to get good shots. It's a simple spread that yields solid results, and for Walker, the ease of deploying and picking up the spread is an added bonus.
Create Confidence with Coots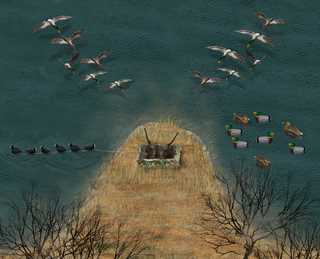 The big waters of Lake Michigan's Green Bay present a number of challenges for waterfowl hunters. For Mace Davis, one of the biggest is setting a decoy spread that stands out from the crowd, and to do that, he relies on confidence decoys, specifically coots.
"The number of hunters on the bay has increased dramatically in recent years, and ducks are seeing more decoy spreads than ever before," Davis says. "Puddle ducks and divers flock to large rafts of coots, so we started experimenting with coot decoys in our spreads."
Hunting from a point along the shoreline, Davis rigs six to eight coot decoys on a jerk string anchored about 25 yards off to one side of his position. On the other side of the point, he places six individually rigged hen mallard decoys in a group about 30 yards from the coot decoys. As ducks approach, he puts the jerk string to use, moving as much water as possible with his coots. Dabbling ducks and occasional flocks of divers often decoy between the coots and the mallards.
When tundra swans are passing through the area, Davis places a single swan decoy beside his coot decoys. This all-white, oversized decoy provides additional visibility and gives his spread an even more unconventional appearance. Using these creative decoy strategies helps Davis bag more ducks, even when hunting pressure is at its peak.