Late-Summer 2020 Waterfowl Production Outlook
An overview of late-summer habitat conditions across key waterfowl breeding areas
By DU Field Biologists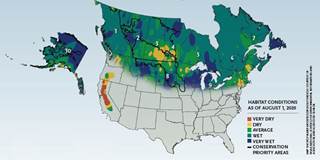 1. BRITISH COLUMBIA
Summer has been mild and wet across this province. Although some early nesters were likely affected by flooding, wetland conditions have been generally favorable for breeding waterfowl.
2. ALBERTA
Frequent rainfall over the summer has kept grasslands lush and wetlands full across this province. Waterfowl production appears to have been good, with large numbers of duck and goose broods observed on the grasslands in the south and in the parklands to the north.
3. SASKATCHEWAN
As in the spring, summer rainfall has been below average across much of the south and above average in the north. Although dry conditions limited wetland habitat for breeding waterfowl in this province, a strong nesting effort was observed among ducks and geese in areas with favorable wetland conditions.
4. MANITOBA
Following a dry early summer, heavy rainfall in July caused flooding in the southwest. Waterfowl appear to have responded with a strong late nesting effort in this area, and large numbers of breeding pairs were observed on landscapes with good wetland conditions.
5. ONTARIO
Great Lakes water levels continue to be at or above record highs. Although the high water has caused temporary loss of some coastal wetlands, extensive flooding of shoreline areas has provided good habitat for breeding waterfowl.
6. QUBEC
Despite limited summer precipitation, Saint Lawrence River levels remain close to normal. In contrast, other rivers and wetlands in the south had very low water this summer. As a result, plenty of nesting habitat was available in lowland areas. However, vernal ponds and streams used for brood rearing were less abundant on the landscape.
7. ATLANTIC CANADA
Spring and summer have been warm and precipitation has been below average. Water levels are also below normal across much of this region.
8. NORTH-CENTRAL US
Excellent spring habitat conditions across most of the Great Plains states have declined due to below-average summer rainfall. For example, abnormally dry to moderate drought conditions existed across the Missouri Coteau of North Dakota in July. As a result, average waterfowl production is expected in the region this year.
9. GREAT LAKES AND NORTHEASTERN US
Most of the Great Lakes (except Wisconsin) and the northeastern United States have experienced abnormally dry to moderate drought conditions during the last 60 days. These conditions may have limited brood habitat and renesting attempts for waterfowl.
10. WESTERN US
Drought conditions have intensified across much of the West, including in the Central Valley of California, where the waterfowl production outlook is generally poor. In Alaska, habitat and weather conditions have been generally good to excellent for breeding waterfowl.