Field Reports: Early Winter Habitat Outlook
An overview of wetland conditions in key areas for waterfowl across North America
By DU Field Biologists
1. WESTERN CANADA
British Columbia was warm and dry through October but cooled off dramatically in early November. Soil moisture was low at freeze-up, and many areas of the province may receive limited spring runoff without significant winter snowfall.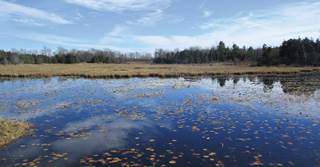 2. PRAIRIE CANADA
Following a warm, dry October, Prairie Canada received much-needed precipitation in November, with some areas of Alberta and Saskatchewan receiving twice the seasonal average. The waterfowl migration was initially delayed by above-average temperatures but progressed quickly as a series of powerful cold fronts swept through the region.
3. CENTRAL CANADA
In the south, fall precipitation was below average while areas to the north received average to above-average precipitation. Mild fall temperatures turned sharply colder in late November, increasing the pace of the migration, which was progressing rapidly at month's end.
4. ATLANTIC CANADA
Although shallow wetlands began freezing in late November, open water remained along rivers and the coast. In the aftermath of Hurricane Fiona, plenty of cereal crops remained on the ground, which provided additional food resources for field-feeding waterfowl. Colder weather and more snowfall will be required to push hardier species to the coast and points south.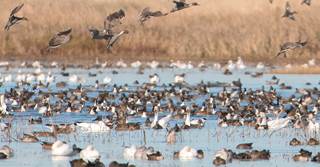 5. NORTH-CENTRAL US
Small prairie wetlands in the Dakotas and Montana froze in late October and early November. Most waterfowl had moved south or congregated on larger lakes and rivers by November 15. Unfortunately, the eastern Dakotas and northeastern Montana remain abnormally dry or in various stages of drought. Although a blizzard in early November brought nearly two feet of snow to central North Dakota, average to above-average precipitation will be needed to recharge wetland basins for breeding waterfowl next spring.
6. GREAT LAKES AND NORTHEASTERN US
Relatively mild temperatures in this region through mid-November resulted in limited snow cover and ice-free wetlands across the Great Lakes and northeastern United States. These conditions likely delayed the waterfowl migration through late November. Broad areas of abnormally dry to moderate drought conditions continue to grip the region. Abundant winter precipitation will be necessary to improve spring habitat conditions for the upcoming breeding season.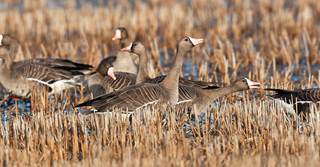 7. SOUTHERN US
Habitat conditions along the Louisiana Gulf Coast have improved as the marshes continue to re-
cover from past hurricanes. Water levels are normal, and there is good growth of emergent marsh and submerged aquatic vegetation. Additionally, more habitat is available in flooded rice fields and moist-soil areas than in previous years. While the Texas coast has received some much-needed rainfall, drought conditions persist across much of the state. The Mississippi Alluvial Valley is also dry, and despite recent rainfall, limited surface water is available across much of the region. Along the south Atlantic Coast, fall rains enhanced wetland habitats, and managed impoundments on public lands will provide good foraging habitat for migrating and wintering waterfowl.
8. WESTERN US
As fall gives way to winter, many ducks and geese have migrated through drought-stricken parts of the Pacific Flyway into the Central Valley of California, where waterfowl numbers are now building. While the Central Valley remains abnormally dry, recent rainfall and managed flooding of both wetlands and harvested rice fields have improved habitat conditions for waterfowl and other wetland wildlife.