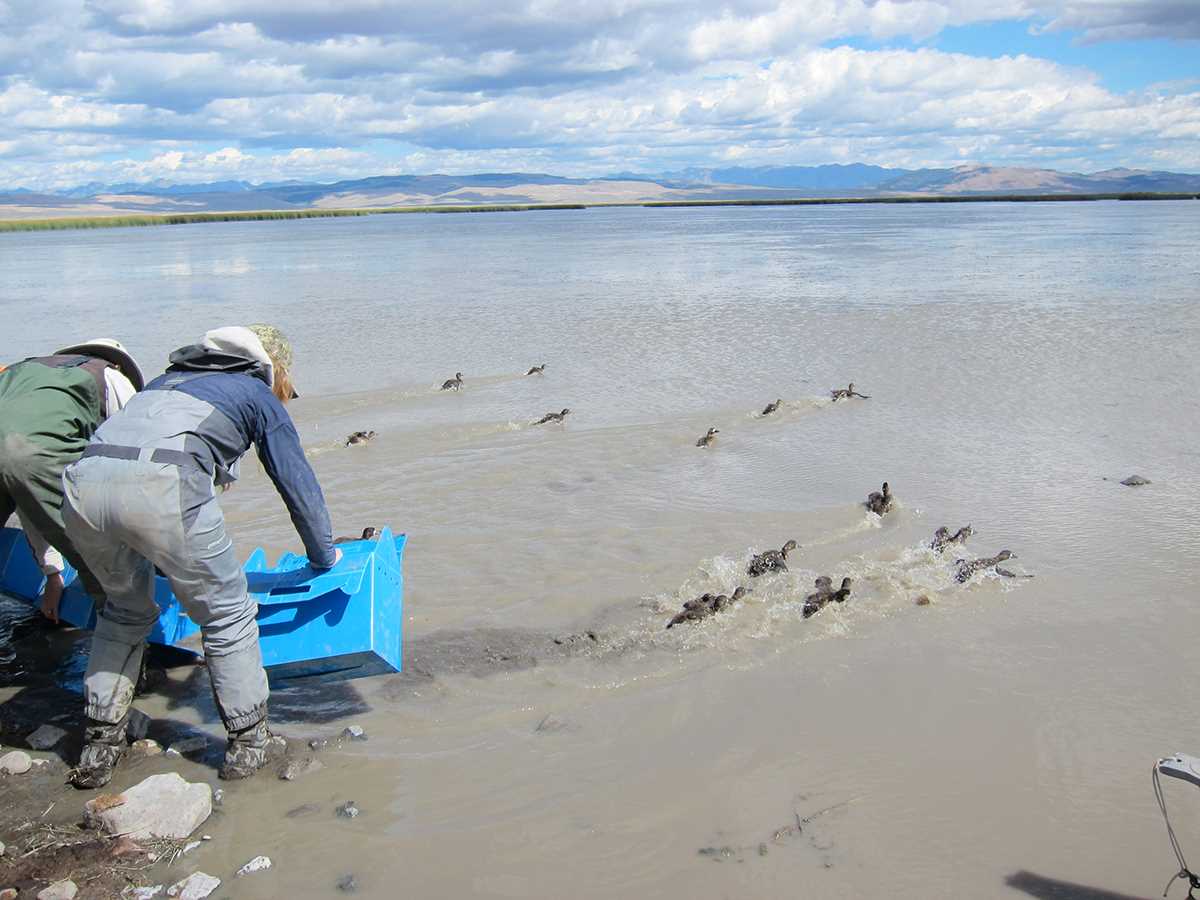 July 17, 2017 - This week on Ducks Unlimited TV, Field Hudnall heads to northeast Montana for some opening-day waterfowling magic, and Ainsley Beeman visits the southwestern part of the state to participate in a duck banding project.
Watch DU TV on the Pursuit Channel four times a week or any time at www.ducks.org/dutv.
Field meets up with DU biologists and friends for a spectacular opening day on the Montana prairies. "When we got to the airport in Montana, there are hunters everywhere," said Field. "But there's a lot of rifle cases and a lot of bow cases. I didn't see many waterfowl hunters. When you think of Montana, you think of big game. But we're going duck hunting, and it's going to be a lot of fun."
Ainsley joins DU biologists and volunteers working with the US Fish and Wildlife Service to band scaup. In late summer, when the birds molt their flight feathers, researchers use kayaks and canoes to corral the birds into traps. They take measurements and fit each bird with a leg band, which provides important data on migration, habitat use and more.
"Some of the baseline data we're gathering here not only tells us where these birds go, but also tells us something about these birds during their breeding time—brood survival, nest success and then ultimately how many birds come back here," said DU Biologist Bob Sanders.
Also on DU TV this week: DU CEO Dale Hall talks about the importance of Montana for North America's breeding and nesting ducks. Ducks Unlimited magazine Shotgunning Columnist Phil Bourjaily explains a simple technique for determining correct lead. And champion caller Buck Gardner demonstrates proper air control when blowing a duck call.
DU TV airs Mondays at 11 p.m., Tuesdays at 6:30 a.m., Wednesdays at 4:30 p.m. and Saturdays at 6:30 p.m. (all times Mountain). All episodes, plus bonus content and classic episodes, can be found at www.ducks.org/dutv.
DU TV is sponsored by Drake Waterfowl Systems, Mossberg Firearms, Purina Pro Plan, Buck Gardner Calls, Mossy Oak Camo, Mossy Oak Properties, Mossy Oak Biologic, Mossy Oak Nativ Nurseries, Kent Cartridge and Higdon Outdoors.
Ducks Unlimited Inc. is the world's largest nonprofit organization dedicated to conserving North America's continually disappearing waterfowl habitats. Established in 1937, Ducks Unlimited has conserved more than 14 million acres thanks to contributions from more than a million supporters across the continent. Guided by science and dedicated to program efficiency, DU works toward the vision of wetlands sufficient to fill the skies with waterfowl today, tomorrow and forever. For more information on our work, visit www.ducks.org.