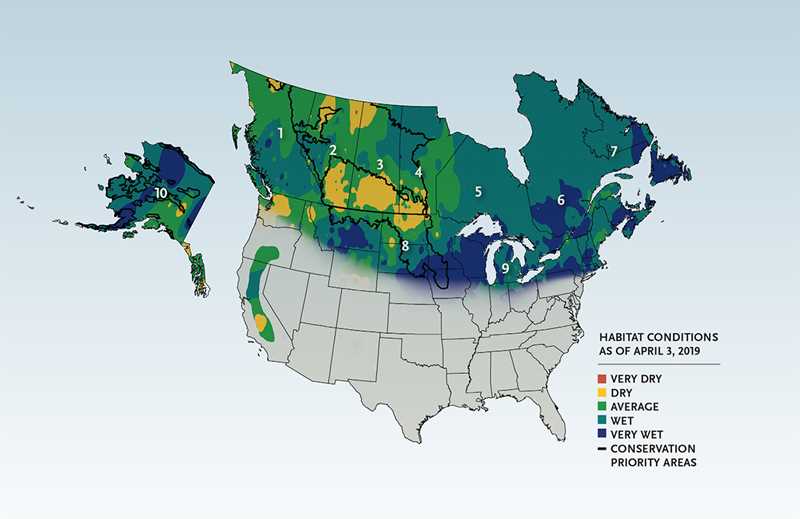 By DU Field Biologists
1. BRITISH COLUMBIA Although freezing temperatures arrived relatively late over the winter, a good frost seal appears to be present in the interior. With average snow accumulations in the Peace parklands and much of the interior, there should be ample runoff to recharge wetlands.
2. ALBERTA Southern Alberta received below-average precipitation over the winter, but prolonged cold temperatures allowed snow to accumulate in localized areas. Soil moisture levels range from average to below average in the south and average to above average in the parklands, which will likely impact runoff and wetland recharge.
3. SASKATCHEWAN In the south, conditions were dry at freeze-up and winter precipitation was generally below average. Soil moisture levels are below average in south-central areas but remain near or above average in the west and southeast. Snow cover began melting in early to mid-March before the arrival of migrating waterfowl.
4. MANITOBA Dry fall weather reduced water levels in many wetlands before freeze-up, and precipitation was variable over the winter. These conditions resulted in fewer acres of winter wheat being planted in the south, although an increase in winter rye should help offset some of the decrease in nesting cover.
5. ONTARIO Winter precipitation was near average in the south and above average in the north. Wetlands remain at full capacity across much of the province. In agricultural areas, sheet water is abundant, which will likely benefit early breeding mallards.
6. QUÉBEC The spring thaw began in early March, and reports indicate that most areas received average amounts of runoff. Early migrants began arriving mid-month, including snow geese and mergansers.
7. ATLANTIC CANADA Cold temperatures and heavy snow cover on agricultural fields limited waterfowl habitat in this region over the winter. Wetlands were at full capacity at freeze-up, and water levels are expected to remain high following the spring thaw.
8. NORTH-CENTRAL U.S. Late winter brought cold temperatures and above-average snowfall across the Great Plains states, which should help recharge wetlands following a dry fall. Currently, drought conditions have eased across the U.S. Prairie Pothole Region, and breeding habitat conditions look promising.
9. GREAT LAKES AND NORTHEASTERN U.S. Most areas of the Great Lakes and northeastern United States received above-average precipitation from October through early March. Continued wet conditions should provide ample breeding opportunities for waterfowl in these regions.
10. WESTERN U.S. In California, an exceptionally wet winter has created the best habitat conditions for breeding waterfowl in more than a decade. Wetland conditions are also much improved in many other parts of the West.